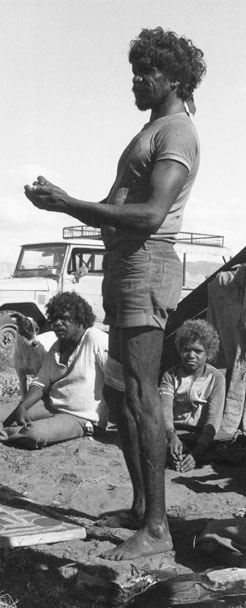 about 1935–2000
Tjapangarti was born at the claypan site of Parayirpilynga, near Lake Mackay. In 1958 he brought his family on foot to Haasts Bluff with Uta Uta (Wuta Wuta) Tjangala, his father-in-law.
Tjapangarti was a fiercely handsome man with a superb physique — 'a sort of Apollo', according to film-maker Ian Dunlop, and 'a classic Aboriginal warrior', according to Geoffrey Bardon.
He was part of the original group of painters at Papunya and used his language skills to help Bardon with Pintupi translation. Tjapangarti had a great love of ceremony and song, and used his command of the Warlpiri language to encourage sharing of ritual knowledge.
Click on the images below to see a larger version and more information, including dimensions. Please note this image is not to scale.
Return to

Top