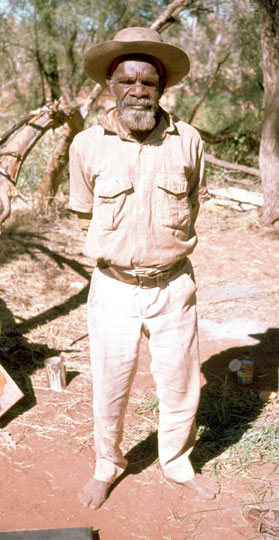 1920–87
Born at Walukuritji, south of Lake MacDonald, Tjungurrayi was about 30 years old when he came to Haasts Bluff in the late 1940s. He spoke almost no English and was one of the last senior Pintupi men to join the Papunya painting group in the early 1970s.
A ngangkari (traditional healer), he was renowned for his hunting skills, ceremonial knowledge and his spirited dancing. A kindly father to his children, he also raised his stepdaughter Linda (Tjungkaya) Syddick Napaltjarri and the orphaned Benny (Pinny) Tjapaltjarri, both of whom he taught to paint and who became artists in their own right.
Click on the images below to see a larger version and more information, including dimensions. Please note this image is not to scale.
Return to

Top