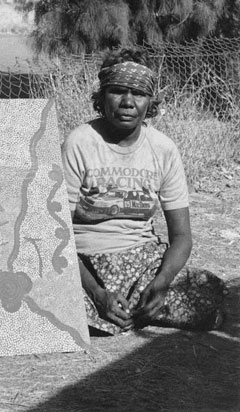 born about 1936
Born on Narwietooma Station, north-west of Alice Springs, Nakamarra was taught to paint by her husband Tim Leura Tjapaltjarri, one of the founders of the painting movement at Papunya.
The couple had moved to Papunya with their six children when the community building program commenced. She joined Papunya Tula Artists in the early 1980s and, with her husband's instruction, became one of the first of the company's female artists to achieve recognition.
Nakamarra is a senior law woman and a strong believer in respecting the imagery relating to ceremony by keeping it out of her paintings. Her artwork invariably portrays bush tucker themes.
Click on the image below to see a larger version and more information, including dimensions. Please note this image is not to scale.
Return to

Top