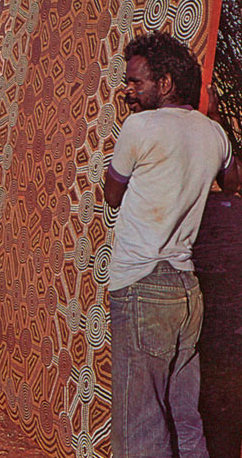 born 1949
Born north-west of Jupiter Well, in Western Australia, Tjapangarti came to Papunya in 1964 and began painting for Papunya Tula Artists in 1977, in the classic line-and-circle grid style of Pintupi men's art of the period.
In 1981 he accompanied Billy Stockman Tjapaltjarri and Andrew Crocker to the United States for an exhibition entitled Mr Sandman Bring Me a Dream.
Nearly 20 years later he was one of four Papunya Tula artists brought to Sydney to construct a traditional ground painting for Papunya Tula: Genesis and Genius at the Art Gallery of New South Wales during the 2000 Olympics.
He had his first solo exhibition in 2003, in Perth, Western Australia.
Click on the image below to see a larger version and more information, including dimensions. Please note this image is not to scale.
Return to

Top