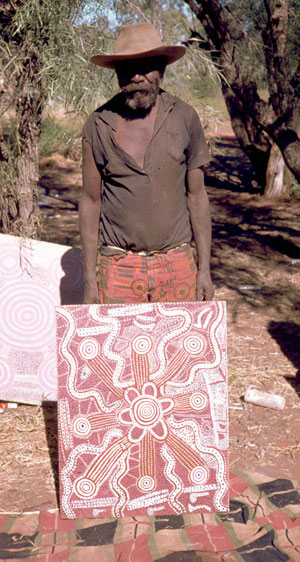 about 1925–99
Born west of the Kintore Range, near present-day Kintore, Tjungurrayi's family were among the first Pintupi people to migrate east, in the 1930s, to Hermannsburg. Tjungurrayi was well-known for his camels, taking supplies to his countrymen still living on their traditional lands.
His long acquaintance with Europeans made him a spokesman for the Pintupi group, mediating their interactions with the various Papunya Tula managers.
He was one of the founders of Papunya Tula Artists and, with the support of Andrew Crocker, the first to have a retrospective, which commenced its tour at Orange Regional Gallery, New South Wales, in 1987.
Click on the image below to see a larger version and more information, including dimensions. Please note this image is not to scale.
Return to

Top