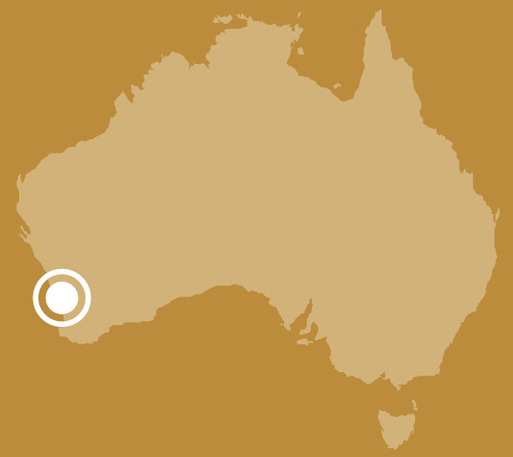 Noongar country
Noongar country extends across south-western Australia and includes the Swan River region. In 1829 Noongar people were confronted by the arrival of British colonists.
Explore how the two groups interacted and how Noongar culture is practised today.
Setting the scene
Richard Walley OAM, Noongar-Yamatji, 2013:
We see life in a boomerang, we see a story in a stick.
Miago, a young Noongar man from Wurerup (Upper Swan), took great interest in the British during the early days of the Swan River colony at present-day Perth. He learnt English and joined exploration parties, sailing up the Kimberley coast on HMS Beagle in 1838.
At the same time, aspiring young colonist Samuel Talbot visited the Wurerup region. He collected Noongar objects, including the kalga (honey-gathering hook). Talbot's detailed accompanying notes reveal a keenness to understand Noongar culture, with important implications for communities today.
Marie Taylor, Noongar woman, 2014:
I want to acknowledge the white people who sat down with the Aboriginal people, who wrote the stories down, who collected this information that still exists today. Down here in Noongar country, we may have lost all of that had it not been for many of these people.
Talbot's colonial ventures proved ultimately unsuccessful and he returned to Britain, where he died in 1863. Miago, frustrated by his treatment at the hands of the British, abandoned his relations with them and returned to Wurerup.
Kalga (honey-gathering hook)
This kalga is part of the oldest surviving collection of Noongar objects from the Perth region.
Samuel Talbot described in his 1838 notes, 'Implements used by the natives', how the honey hook was used:
A long rod, used for the purpose of gathering yellow flowers from the Banksia. It has [a] … piece of wood about 6 inches long tied and set on with gum for the purpose of pulling and hooking down the ripe flowers from the tops of trees from which they suck the honey.
Slideshow
Boyi Moort carved surfboard
Noongar culture remains vibrant and strong today, despite the disruption caused by European settlement. Artists combine traditional designs with modern techniques and materials.
Peter Farmer, Noongar man, 2015:
When I was a young boy, when we swam in the rivers or the ocean, we would see if we could see any turtles – a strong and significant totem in my father's country. There were always turtles of some sort, surrounded by their families ... Boyi Moort is a visual depiction of my time in the water with the turtles [boyi] … and a representation of my Noongar families [moorts].
Video stories
Learn about making a kodj (axe)
Watch this video of Noongar girl Lily Wilson talking about making a kodj (axe) with her grandmother, Noongar elder Laurel Nannup, and her father, Brett Nannup.
Activity: Make a movie about a skill or family tradition taught to you by your parents, grandparents or an older friend or relative. Explain the skill or tradition passed on to you and what materials you need to preserve it.
Kalga (honey-gathering hook)
Samuel Talbot described how people used the honey-gathering hook, above, in his 1838 notes 'Implements used by the natives'. Find out more about the types of food Noongar people ate. You can start your research on the South West Aboriginal Land & Sea Council website. What foods are similar to foods you eat today? What foods are different?
Boyi Moort (Turtle Families) carved surfboard
Look carefully at the Boyi Moort artwork above and read this quote by artist and Noongar man Peter Farmer, 2015:
When I was a young boy, when we swam in the rivers or the ocean, we would see if we could see any turtles — a strong and significant totem in my father's country.
Design your own surfboard, thinking about what animal you could use to represent your family. Draft your design digitally or use materials such as card, cellophane, pencils and pastels.
Miago and Samuel Talbot were interested in other people's cultures. Have you ever had an experience of a culture other than your own? What happened? How did it feel? Share your story with a classmate and listen to their story. What are the similarities and differences between your experiences?
Explore more on Community stories
Return to

Top