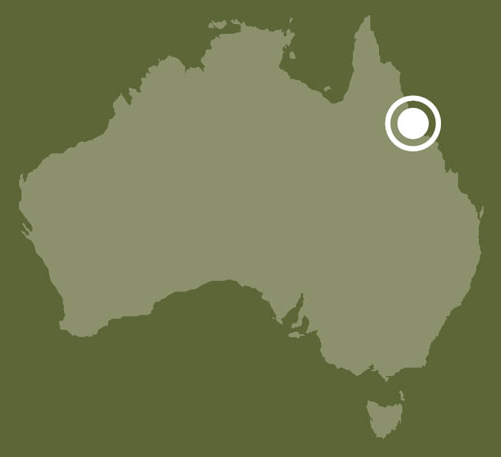 Yidinji country
The Yidinji people of the tropical rainforests of northern Queensland have a rich and vibrant cultural heritage.
Explore how that vibrancy continues today through the expression of artists who use contemporary techniques to reflect on the past.
Setting the scene
Dorita Wilson, Yidinji woman, 2013:
If a foreigner looks at this ... they'll think it's just an ordinary thing: a boomerang, painting, design. But that design tells a big story to the person who held that boomerang in their hand ... how he made it, what he used, and why he put the pattern on there.
In the 1890s in Cairns in far north Queensland, colonial entrepreneurs were acquiring objects from the Yidinji community and producing photographs of Yidinji people to supply collectors, tourists and new colonists wanting souvenirs to send back home.
Henrietta Marrie, Gimuy Walabura Yidinji elder, 2013:
It would have been my people, it would have been my grandfathers and grandmothers ... who were making these necklaces ... the shields and the message sticks.
These were among 90 objects collected by a young Englishman, Derwent Vallance, who paid the equivalent of a month's wages for them. He wrote to his sister, 'Do display them well as they are a very fine collection.' Objects such as these remain a source of pride among Yidinji people today.
Gudju-gudju (Seith Fourmile), Yidinji traditional owner, 2013:
Having these objects visiting here is the first step in negotiation between the sovereign Aboriginal nations of Australia ... It's a negotiation between us and the British Government all over again ... for these objects to come back home. This land holds their spirit.
Yalma (cross boomerang)
Gudju-gudju (Seith Fourmile), Yidinji traditional owner, 2015:
[Cross boomerangs] were used as children's toys, but they were also used at ceremony time in story-dances about the cyclone. At night, beeswax was stuck on the end of the arms and lit, spinning circles of fire.
David Mundraby, Yidinji elder, 2012:
They make a sound like a helicopter.
Shields
Allan Oliver, Yidinji man, 2013:

[These shields have] all got their stories and they come from this country. They all come from these trees. They all come from our ancestors' blood. They all come from life and death — and their rights … all taken. Only thing to survive … are their artefacts.
Gudju-gudju (Seith Fourmile), Yidinji traditional owner, 2015:
This shield [left] would have belonged to a wawun [scrub-turkey] man. The colours on the shield are the ochres and clays from country that people still use in ceremony. The white areas on the design are the djumbun [scorpion] design. The djumbun is a central totem for Yidinji people. Both this shield and the jaraga [scrub-hen] shield [right] are fighting shields.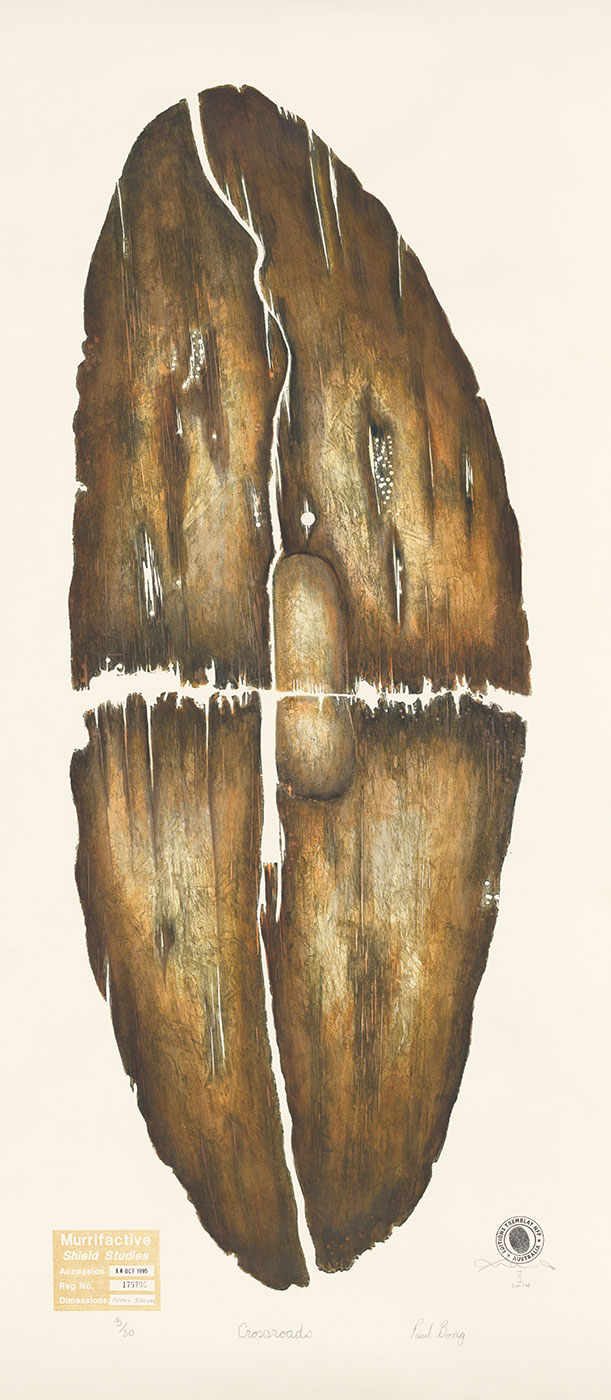 Crossroads shield etching
Today, Yidinji people continue to express their culture through art, combining traditional symbols such as the shield, with contemporary interpretations of both the past and present.
Paul Bong, Yidinji man, 2014:
My ancestors defended our country and our people with these shields. I defend my culture today with my shields — in art. The white dots on the shield represent the bullet holes the white men shot through our culture during invasion, killing out whole generations and clans of my people.

The bullet holes are in the shape of the Southern Cross because this all happened under the Southern Cross ... The breaks in the shield represent the breaks in my culture that happened through the presence of Christianity — hence the cross-shape.
cantchant shield sculpture
Vernon Ah Kee's artwork bears a striking rainforest shield design. On the back is the face of George Sibley, Ah Kee's great-grandfather, who was photographed by anthropologist Norman Tindale on Palm Island in 1938.
This surfboard-shaped sculpture is one of a series that critiques white Australian beach culture.
Vernon Ah Kee, Yidinji, Kuku Yalandji, Waanji, Koko Berrin and Gugu Yimithirr man, 2011:
Shields are meant to be articles of war, and they're about combat and action.
Aileen Moreton-Robinson, Geonpul, in Vernon Ah-Kee, Born in this Skin, 2009:
[The beach] is where the invaders landed. It is where Captain Cook planted a flag … to signify white possession. The beach marks the border between land and sea, between one nation and another. This place stands as the common ground upon which collective national ownership, memory and identity are on public display — a place of pleasure, leisure and pride.
Video stories
Learn about defending culture
Watch this video of Bindur Bullin man and Yidinji artist Paul Bong talking about shields and his art.
Learn about the meaning of objects
Watch this video of Gimuy Walabura Yidinji elder Henrietta Marrie talking about what it means to have objects taken from her traditional lands returned to Australia.
Activity: Have a class discussion about why Henrietta thinks objects in the British Museum collection are important to local communities?
cantchant shield sculpture
Examine Vernon Ah Kee's cantchant shield sculpture (pictured above). Investigate the life of a grandparent or older person in your community. Make an artwork using their image, or an object that belonged to them, that conveys a significant aspect of their life.
How and when do you think the objects pictured above might have been acquired? What does this tell us about the relationships at this time between Indigenous and non-Indigenous people? What is the legacy of such collections?
Explore more on Community stories
Return to

Top