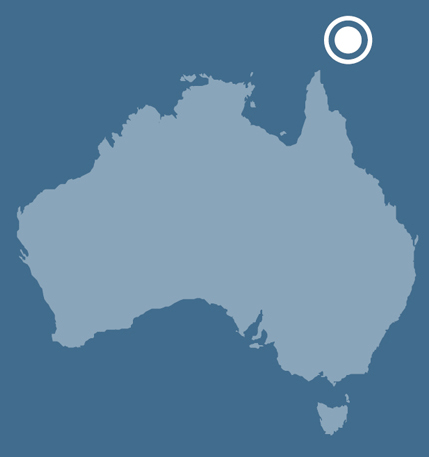 Mer (Murray Island)
The Mabo decision recognising native title is one of the most significant court cases in Australia's history.
Explore the way cultural knowledge was at the heart of this case, and the encounters that were important in its determination.
Setting the scene
Alo Tapim, Meriam elder, 2014:

When colonisation took place it was the understanding that there was no one living here, you know, the Mabo story … It's very important for us to give that message, that we are the first Australians.
Many Australians recognise Mer (Murray Island) as the birthplace of Eddie Koiki Mabo, who took on the Australian legal system – and won.
In 1992 the High Court overturned the concept of terra nullius (land of nobody) and recognised the rights of Indigenous Australians over their lands.
There is a longer history of Mer, influenced by the sea. The people of Mer have always been fishers, divers and traders. There are stories of a rich trade between Meriam people and early British visitors.
Lieutenant George Borlase Kempthorne, commander of the Tigris, described the lively exchange between the Islanders and his crew during a brief visit in 1836:

The Natives [held] up in their hands the articles they wished to dispose of, consisting of cocoanuts, yams, plantains, tortoise-shells, and their implements of war … In exchange they received small looking-glasses, empty bottles, beads, clasp-knives, axes, and old clothes; but iron was of all commodities … most prized.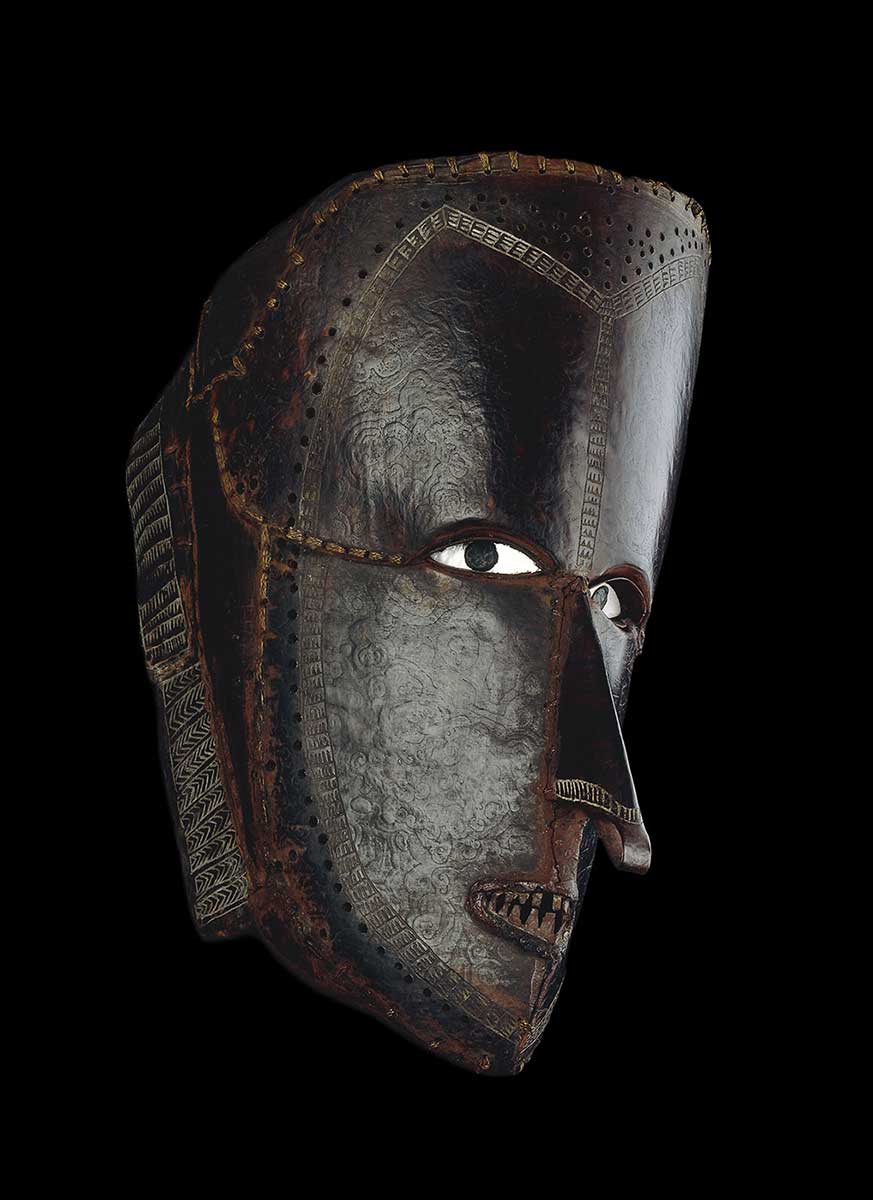 Pop le op (turtle-shell mask)
Aven S Noah, Komet Clansman and Meriam elder, 2015:
Intricate turtle-shell artwork was made on Murray Island. They didn't use sophisticated equipment, it was just fire and beeswax to mould and form the turtle-shell masks. I only just got to see some of them as a picture when I was young, but hadn't seen a real one. So the turtle shell is unique, it identifies that it came from Mer Island.
Alo Tapim, Meriam elder, 2014:
This mask, with that pattern, looks like a turtle shell ... hawkbill. Certainly not the green turtle, because green turtle the layer is very, very thin. It's like fingernail thick. And when you take it apart from the bone it just crumbles. This one there looks like a back section, straight down the spine from the top – that's that pattern it gives. Special cutting. And we'll just put in there the eyes and the nose and that mouth, made for teeth.
Turtle-shell ornament
The people of Mer, like other Torres Strait Islanders, are renowned for the intricate carvings they apply to turtle-shell masks and other objects. It is hard to believe that early visitors like Lieutenant Kempthorne believed that the 'wretched carvings … almost destroy the beauty of the shell'.
Panigob (hoe)
Alfred Cort Haddon, who collected this hoe, described it as an older style implement used for clearing scrub to make a garden. He noted that the head was made from part of the shell of a sea snail, and that the handle was made for him in the 'old time' fashion.
Aven S Noah, Komet Clansman and Meriam elder, 2015:
We class ourselves as great gardeners and great fishermen … You see [that] in the tools and some of the things that Haddon collected ... Gardens were the main source of providing food for your family – whether it was yam, cassava, corn, kumara, sweet potato. Gardening is traditional. How we plant – it's got to be handed to our generation today.
Haddon first visited the Torres Strait in 1888, and became captivated by the people and their customs. He returned to lead the 1898 Cambridge University Anthropological Expedition.
During his two visits to Mer (Murray Island), Haddon made a detailed study of Meriam culture. His published records became an essential part of the evidence used in the native title legal case fought by Eddie Mabo and others in the 1980s and 1990s.
Haddon's work, including the objects he collected, remains significant for Torres Strait communities.

Alo Tapim, Meriam elder, 2014:
What Haddon collected, it played a very important role … Otherwise, you know, it would have been lost … It's very, very important that people know … there was a civilisation, there was life, there was an ordered pattern of settlements, or people, living at the time.
Etching by Brian Robinson
Torres Strait Islander artist Brian Robinson has re-imagined anthropologist Alfred Cort Haddon's collecting project.
The full title of Robinson's work, presented in the style of a diary entry from Haddon's 1898 Cambridge University Anthropological Expedition, reads:
August 23, 1898 – Today I collected with much zeal, through the barter and exchange of gifts, ancient artefacts belonging to a race of Indigenous Australians known as Torres Strait Islanders. Wooden masks, pearl shell pendants, smoking pipes, dance objects, and a strange device called a USB flash drive, were among the items obtained. A.C. Haddon
Video stories
Learn about revitalising culture
Watch this video where Komet Clansman and Meriam elder Aven Noah says: 'If those artefacts can't come to our homeland, to Mer, then somehow we've gotta take our master craftspeople overseas.'
Activity: Discuss with a friend why is it important to Aven that the master craftspeople go overseas?
Visitors to the Torres Strait were struck by the richness of the culture there. Alfred Cort Haddon, who first visited the Torres Strait in 1888, wrote to British Museum Keeper Charles Hercules Read: 'I had definitely decided to take up anthropology seriously … Out of this year I shall spend quite ¾ of my time on anthropology.'
Haddon's published records consequently became an essential part of the evidence used in the native title legal case fought by Edie Koiki Mabo and others in the 1980s and 1990s.
Find out more about the Mabo case and land rights in Australia. See the Torres Strait Island Regional Council website. You could also visit the National Museum's Mabo Defining Moments page or the AIATSIS website. Why do you think Haddon's records became important to the Mabo land rights case?
August 23, 1898 by Brian Robinson
Take a look at Brian Robinson's artwork below. Identify the elements that reflect the past and the elements that reflect the present. Create your own artwork that represents your family, past and present. You could draw, paint or make a digital collage. You can find ideas for creating your artwork on the Museum's My story collage page.
Explore more on Community stories
Return to

Top