In 1920 W Hudson Fysh, Paul McGinness and Fergus McMaster established the Queensland and Northern Territory Aerial Services Ltd with two open-cabin biplanes.
Today Qantas is the second oldest airline in the world and the company and its flying kangaroo livery are Australian icons.
Sir Hudson Fysh, Wings to the World: The Story of Qantas 1945–1966:
We started operations at Longreach with a staff of three … and we owned two rather rickety aeroplanes of the 'cap and goggle' era as our stock in trade. In mid-1966 … Qantas Empire Airways had 8,873 persons on its payroll and nineteen Boeing 707 jet airliners were being operated on 72,220 miles of globe-encircling routes.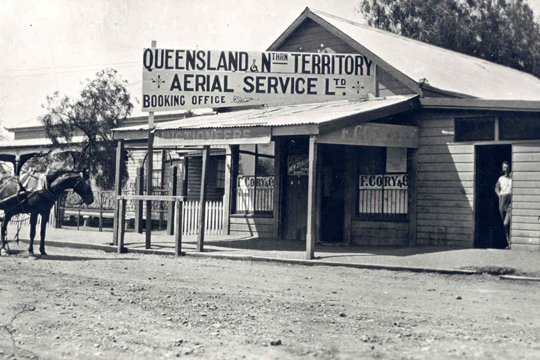 Qantas inspiration and founders
During the First World War, W Hudson Fysh and Paul McGinness flew together with the Australian Flying Corps. After the war, they tried to enter the 1919 Great Air Race, chasing the £10,000 prize money offered to the first Australian to complete a flight from Great Britain to Australia.
Unfortunately, after their race sponsor died suddenly, the pair were forced to withdraw their entry. Instead, Fysh and McGinness were commissioned by the Defence Department to complete a survey of suitable landing sites for the race throughout the Northern Territory and Queensland.
As McGinness and Fysh struggled to complete their work across the difficult terrain and long distances, their idea for an aerial service across the region and Australia began to form.
Airline's humble beginnings
Fergus McMaster, a grazier from Queensland, was a key figure in the establishment of Qantas, providing initial capital and lobbying for both private funding and government subsidies.
On 16 November 1920 at the Gresham Hotel in Brisbane, formal papers were signed by Fysh, McGinness, McMaster and others establishing the aerial service with McMaster as chairman.
Arthur Baird was employed as the company's engineer and was responsible for implementing Qantas's renowned focus on maintenance and safety. Although originally based in Winton, operations were moved to Longreach in 1921 due to the town's more suitable location in the proposed Qantas network.
Raising capital by operating joy flights and air taxi services, Qantas won the government contract for the Charleville to Cloncurry mail service and began scheduled flights in 1922. The first paying passenger on a scheduled Qantas flight was Alexander Kennedy, an 84-year-old grazier who continued to use Qantas well into his 90s.
In 1934 Qantas partnered with British Imperial Airways to establish Qantas Empire Airways. Its first international flight took place the following year.
Making aviation history
In 1928 one of Qantas's aircraft, a DH50 originally named Hermes, was leased to John Flynn and the Australian Inland Mission as the first flying ambulance for the Australian Aerial Medical Service (the precursor to the Royal Flying Doctors). Qantas continued to lease to the service until 1949.
During the Second World War, a majority of the Qantas fleet, including flying boats, were also commissioned to conduct reconnaissance, drop supplies, evacuate civilians and troops and maintain air links with England. A number of Qantas aircraft and crew were lost during this period.
In 1959 Qantas became the first airline outside the United States to use Boeing jets and, in 1979, Qantas introduced the world's first business class.
The flying kangaroo
Qantas's original 'kangaroo route' to England, with its multiple hopping stops, led to the use of the flying kangaroo as the company emblem. Initially based on the kangaroo featured on the Australian one-penny coin, the branding evolved into its most recognisable form in about 1984.
The Qantas livery has become one of the most widely recognised symbols of Australian business and is an iconic image both in Australia and internationally.
Qantas today
From its small beginnings in outback Queensland with three staff and two open-cabin biplanes, Qantas has expanded to become Australia's largest airline, now based in Sydney with a fleet of more than 130 aircraft.
Qantas, along with its subsidiary Jetstar, moved about 51 million passengers in 2015–16, operating more than 5,000 flights a week to both domestic and international destinations.
References
Qantas data book 2013 (PDF 1.93mb)
W Hudson Fysh, Qantas at War, Angus & Robertson, Sydney, 1968.
W Hudson Fysh, The Autobiography of the Flying Fysh: Qantas Rising, Angus & Robertson, Sydney, 1965.
W Hudson Fysh, Wings to the World: The Story of Qantas 1945–1966, Angus & Robertson, Sydney, 1970.
John Gunn, Challenging Horizons: Qantas 1939–1954, University of Qld Press, St Lucia, 1987.
John Gunn, High Corridors: Qantas 1954–1970, University of Qld Press, St Lucia, 1988.
John Gunn, The Defeat of Distance: Qantas 1919 to 1939, University of Qld Press, St Lucia, 1985.
Updated: 10 November 2022
Return to

Top