Explore some of the symbols that define Australia and its people, inspired by the collection of the National Museum of Australia. The Defining Symbols of Australia exhibition is available for tour and is on show at:
Museum of Fire, Penrith, New South Wales, 2 September to 25 November 2023
Explore Defining Symbols of Australia
Help shape the discussion about symbols of Australia. Your comments may be published on our website. Read our privacy policy.
Online shop
Support local designers and First Nations artists with our homewares and gifts, puzzles and books.
Donations
Donate now to support our collection and touring exhibitions.
Changing symbols of Australia
Australia is represented by many symbols. Some, like the flags, are official, enshrined in legislation. Others, like the kangaroo and wattle, have changed from popular to official symbols over time. In the 20th century, modern marvels like the Sydney Opera House joined natural wonders like Uluru as emblems of Australia.
National symbols are used to represent a distinctive national identity. Some symbols endure, others fade away and new ones emerge as attitudes and values change. Often a source of unity and pride, symbols can also divide and exclude.
These symbols were included in the earlier National Museum of Australia Symbols of Australia exhibition, on show in Canberra in 2009.
More symbols of Australia
Hosting the exhibition
Defining Symbols of Australia is an easily installed graphic panel exhibition that is suitable for all ages. It consists of made-to-order panels and plinths that can be complemented with objects from the host community's collections. An exhibition style guide and education resource are also available.
If you are interested in hosting the exhibition, please email touring@nma.gov.au.
Acknowledgements
Defining Symbols of Australia is a touring exhibition developed by the National Museum of Australia with support from the Museum's donor community and the National Collecting Institutions Touring and Outreach Program. This Australian Government program aims to improve access to the national collections for all Australians.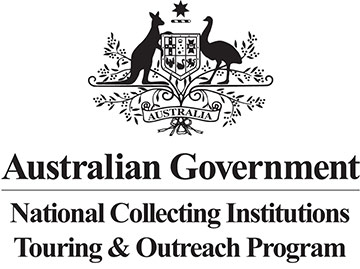 Return to

Top