Phar Lap is a legend of Australian sporting history. His sensational rise from humble beginnings captured the public's imagination during the difficult years of the 1930s Great Depression.
Phar Lap won 37 races from 51 starts, including the 1930 Melbourne Cup. His death in the United States in 1932 prompted an outpouring of anger and grief.
The history of Australasian racing does not contain such a galloping freak as Phar Lap, who bounds along like a greyhound and can run a two and a quarter mile record without turning a hair.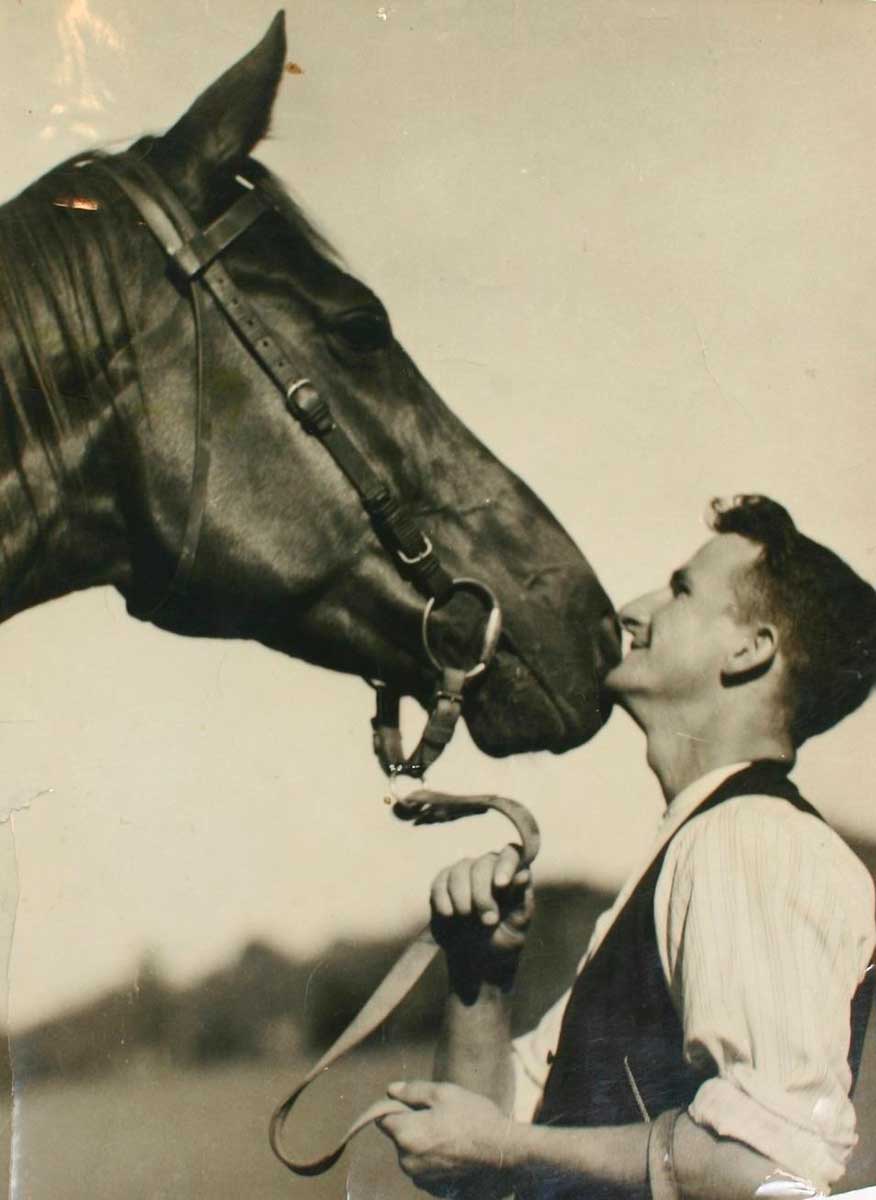 Bred in New Zealand
Phar Lap was born at Seadown Stud in Timaru, New Zealand, on 4 October 1926. In January 1928 he was sent to the yearling thoroughbred sale at Trentham.
Sydney-based Australian trainer Harry Telford received a copy of the sale catalogue, and was impressed by the colt's breeding.
He could not afford to purchase the colt himself, and so he approached American businessman David J Davis to finance the purchase.
Although initially reluctant to commit to the unseen horse, Davis eventually agreed to do so. The future legend was purchased for £160.
Striking appearance
Phar Lap was a rich red chestnut with a white star on his forehead. As a fully matured gelding, he reached 17 hands high (1.7 metres at the withers – a horse's shoulders) and weighed just over 600 kilograms.
When Phar Lap first arrived at Telford's stable, his large, lanky frame so unimpressed Davis that he handed responsibility for training, stabling and racing the horse over to Telford under a three-year lease.
Davis agreed to take 30 per cent of any winnings, no doubt thinking at the time that he'd never recoup the purchase price.
A young jockey, Aaron Treve ('Tommy') Woodcock, was employed by Telford as a strapper to care for his new prospect. Woodcock and Phar Lap soon established a legendary partnership.
Phar Lap the champion
On 23 February 1929 Phar Lap had an unpromising start as a two-year-old at the Nursery Handicap, Rosehill, where he came last. However, by September 1929 Phar Lap improved spectacularly with a three-length win in the Rosehill Guineas. In 1930 alone, he won 19 races from 21 starts.
During 1930 and 1931 Phar Lap was such a convincing winner – usually beating other horses by several lengths – that many owners and trainers withdrew their horses from races when they heard that he was starting.
One such race was the AJC Plate at Randwick on 26 April 1930 in which only two other horses ran. Phar Lap ran the first two miles (3.2 kilometres) of this race in record time and finished the race 10 lengths in front.
His greatest winning margin was 20 lengths over the two-mile-long King's Plate at Flemington in March 1930. During the course of his short life, Phar Lap won 37 races from 51 starts.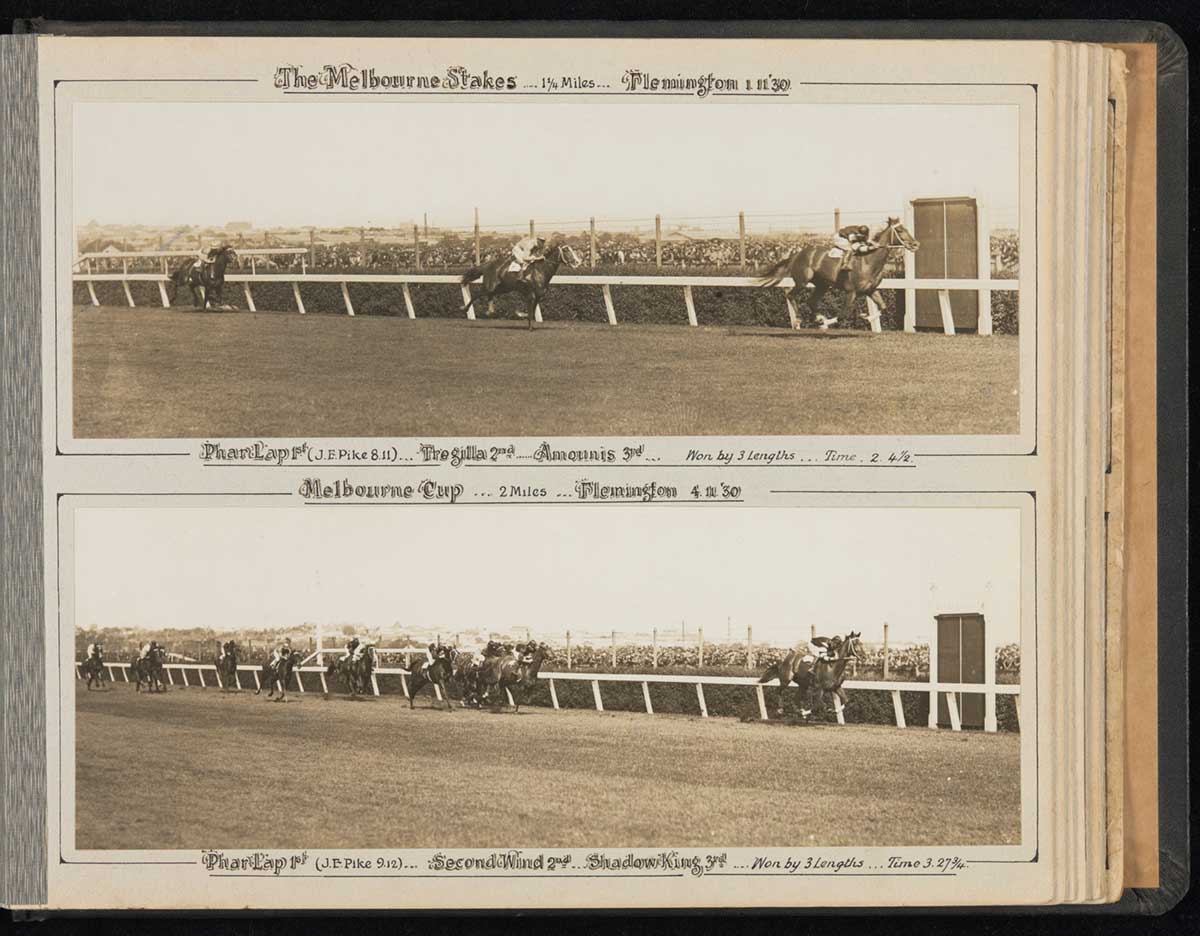 Respite from the Great Depression
Phar Lap's emergence as a champion coincided with the onset of the Great Depression in 1929.
His spectacular rise from humble beginnings spoke strongly to the hopes of ordinary people, who affectionately nicknamed him the 'Red Terror' and 'Big Red'.
He was as much a celebrity as the cricketer Don Bradman. Both sporting legends offered people some respite from their daily difficulties, made more accessible by the advent of commercial radio broadcasting and cinema newsreel coverage.
Phar Lap's image appeared on postcards, cigarette cards, cake tins, tobacco tins and advertising posters for beer and wine.
Melbourne Cup
There was little doubt that Telford would enter his champion in Australia's most famous race, the Melbourne Cup. Run over two miles (3200 metres), the Melbourne Cup is one of the world's few major handicap horse races.
Every horse entered in the race is 'handicapped' by being given different weights depending on its age, sex and previous form. Phar Lap was entered into the Melbourne Cup three times – in 1929, 1930 and 1931 – each time carrying a handicap which reflected his status as favourite.
The horse was so outstanding that at his third Melbourne Cup attempt in 1931, he was handicapped with the heaviest weight ever set for the race – 10 stone 10 pounds (just over 68 kilograms).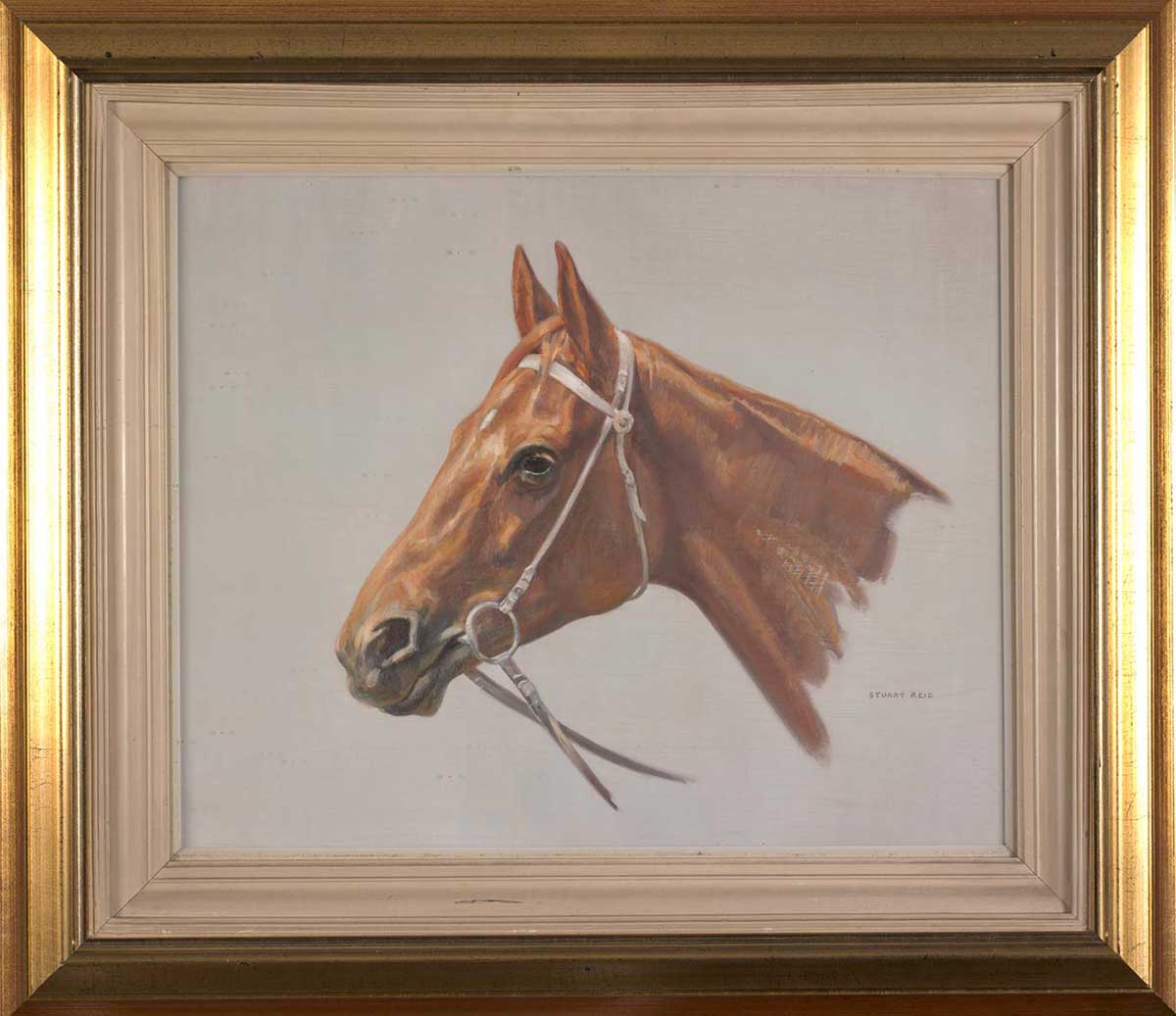 Threat to Phar Lap
Three mornings before the 1930 Melbourne Cup, Phar Lap was shot at from a passing car while Tommy Woodcock walked him along the streets of Caulfield.
The champion was saved from injury by Woodcock who drove his pony between Phar Lap and the road.
A police investigation of the incident was inconclusive but the media ran articles speculating on the event long afterwards.
Phar Lap went on to win the Melbourne Stakes on the same day by three lengths. He was then sent into hiding to prepare for the Melbourne Cup.
Sydney Morning Herald, 5 November 1930:
Never before has any Melbourne Cup, or, in fact, any racing fixture in Victoria, interested so many people or attracted so much public attention. The appeal to the imagination centred mainly round one horse, Phar Lap, who had become nothing short of an obsession in the public mind.
Phar Lap wins the Melbourne Cup
On Melbourne Cup day, 4 November 1930, Phar Lap arrived at the track late accompanied by a police escort. He was hurried to the blacksmith to get his racing shoes fitted, and made weighing out just in time.
Hail and rain earlier in the day had made the track wet and the horse had been set a very heavy weight of 9 stone 12 pounds (62.7 kilograms).
Phar Lap was ridden by his usual jockey, Jim Pike, who held the horse back at fourth place until about 400 metres from the finish, when he let Phar Lap shoot to the front to win the Cup in front of an ecstatic crowd by three lengths in three minutes 27 seconds.
Sudden death in America
Having won every major race in Australia, Davis and Telford, by now part-owner of Phar Lap, sent their horse to America to contest the 1932 Agua Caliente handicap in Tijuana, Mexico, the richest race in the world at the time.
Phar Lap, ridden by jockey Billy Elliott, won the race by two lengths. Sixteen days later, on 5 April 1932, Phar Lap died in mysterious circumstances in San Francisco. Tommy Woodcock, who was by his side, was heartbroken.
In Australia, Phar Lap's death was seen as a great tragedy, and rumours spread that the horse may have been poisoned. Debate continues today as to whether he died of an acute bacterial infection or from arsenic poisoning.
Phar Lap's Heart
Phar Lap was a late foal, born on 4 October 1926. He had been bred in New Zealand and sold for 160 pounds as Lot 41 at the annual Trentham Yearling Sales in 1927. Harry Telford, a down-on-his-luck Sydney trainer, had spotted the chestnut colt in the sale catalogue and thought that, with the horse's pedigree, it had the potential...
References
Phar Lap, Museums Victoria Collections
Phar Lap, Obituaries Australia
Phar Lap newspaper articles, National Library Australia
Jan 'Yarn' Wositzky, Me and Phar Lap: The Remarkable Life of Tommy Woodcock, (3rd ed.), The Slattery Media Group, Docklands, Vic., 2011.
Michael Reason, Phar Lap: A True Legend, (revised ed.), Museum Victoria, Melbourne, 2009.
Geoff Armstrong and Peter Thompson, Phar Lap, Allen and Unwin, St Leonards, NSW, 2000.
Updated: 28 September 2022
Return to

Top