On 29 December 1928 Don Bradman, Australia's, and some say the world's, greatest cricketer, scored his first international test century. It was against England at the Melbourne Cricket Ground (MCG) in the third test of the 1928–29 Ashes series.
Eric Midwinter, 2002 Wisden Cricketers' Almanack:
The Young Australia was struck by three hammer blows in its first half century (World War One, the Depression and World War Two) … from the 1920s to the post-war years, Don Bradman acted as a unifier of the nation, a focus for its battered self-belief and damaged social fabric.
Early life
Donald George Bradman was born in Cootamundra, New South Wales, on 27 August 1908. In 1911 the family moved to Bowral in the New South Wales, Southern Highlands.
Bradman was a naturally talented sportsman who loved cricket as a child and was known for his relentless batting practice. Using a cricket stump for a bat he would hit a golf ball against a water tank mounted in the paved area behind his house.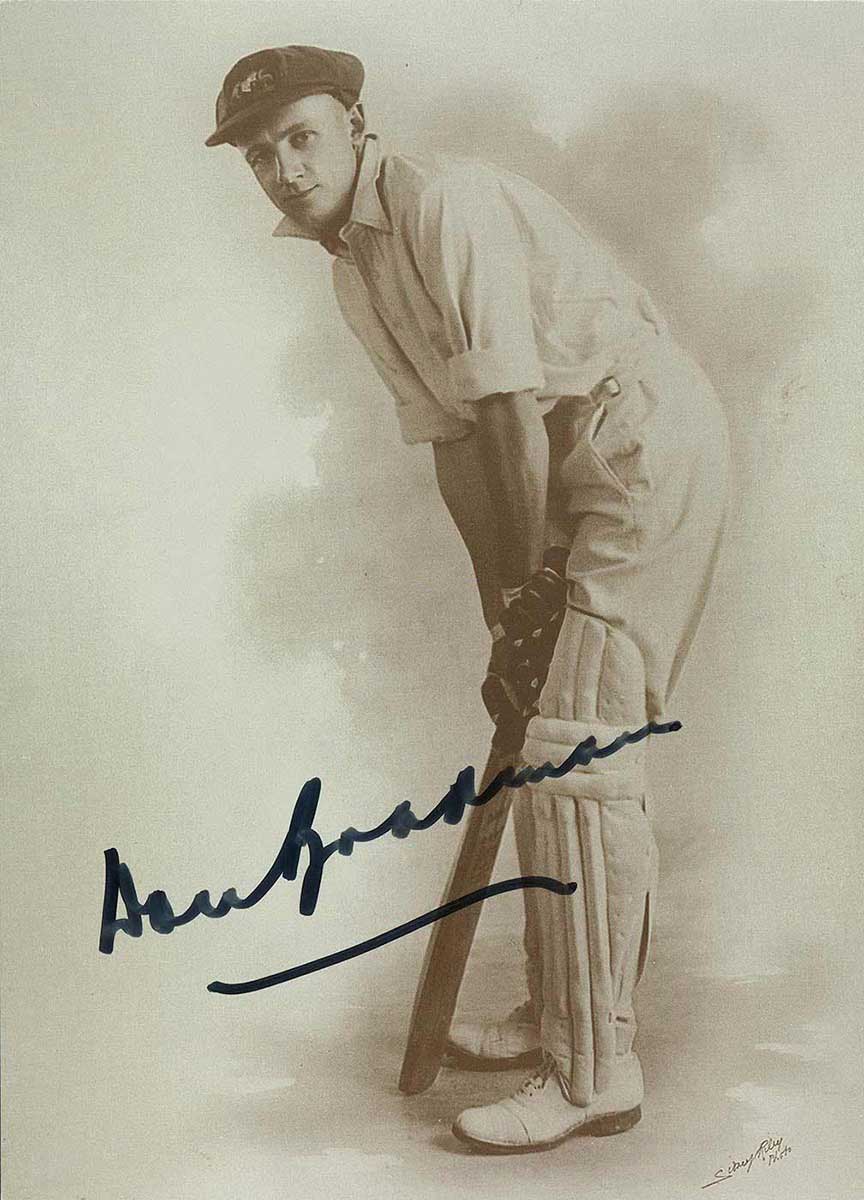 The tank and its supports were curved, the golf ball would rebound at odd angles forcing Bradman to quickly readjust his body and bat to try and hit the ball again. Bradman would do this for hours.
Early cricket
Bradman played his first senior game of cricket in October 1920 when he filled in for a local Bowral team member.
He became a regular member of his local team and also played tennis competitively between 1923 and 1926.
Bradman's big scores in the 1925–26 season of the Berrima District cricket competition brought him to the attention of the New South Wales selectors, who recommended he try out with other promising young players at the Sydney Cricket Ground in October 1926. This led him to focus on cricket.
Success in the try-outs gained Bradman a place with the first-grade St George District Cricket Club in Sydney where he played his first game in November 1926.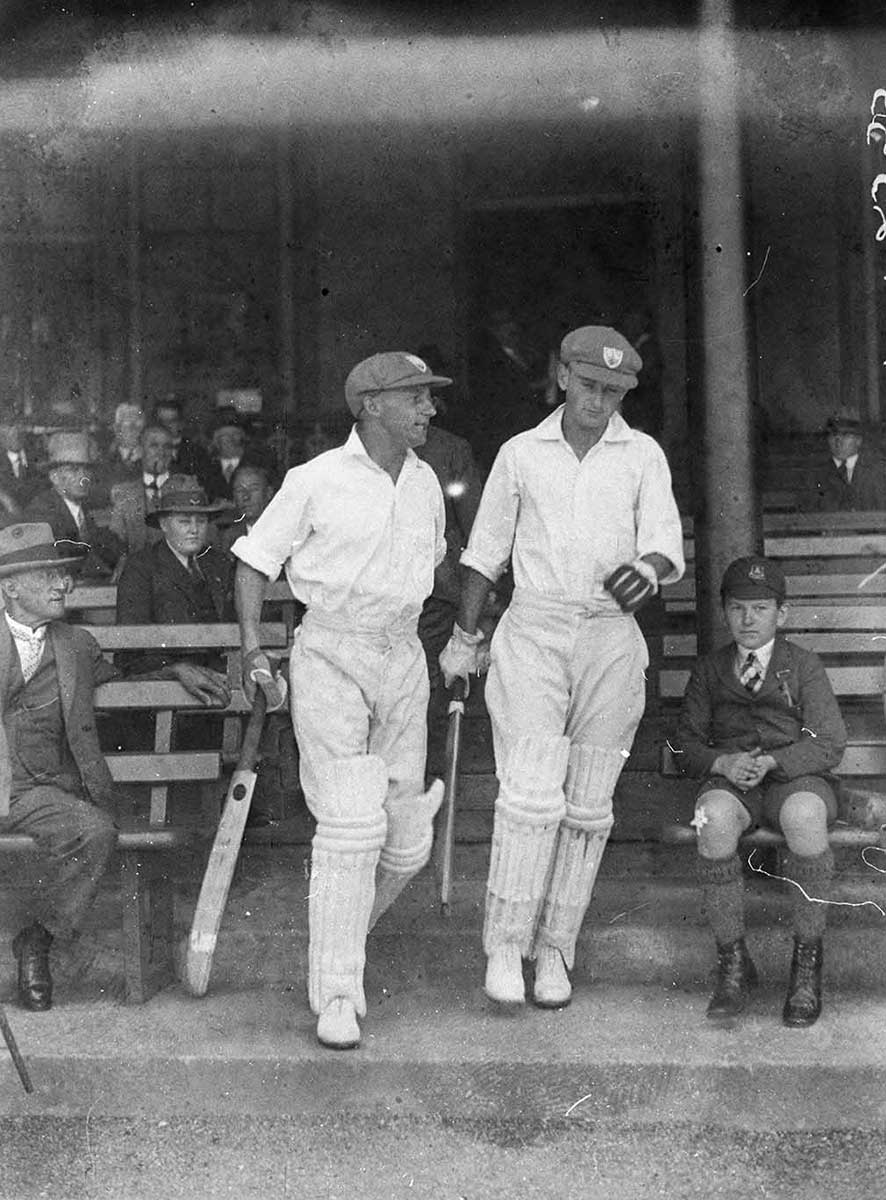 State selection
Bradman made his Sheffield Shield debut playing for New South Wales against South Australia in Adelaide on 17 December 1927.
Bradman had been listed as the twelfth man in the squad but an injury to Archie Jackson brought Bradman into the line-up. He scored 118 runs, making him the 20th Australian batsman to make a century in a first-class debut.
In the final match of the season, he scored his first century at the SCG, this time against Victoria, who held the Sheffield Shield.
Australian representation
To improve his chance for selection in the national team, Bradman moved to Sydney in 1928.
In the first game of the 1928–29 Sheffield Shield season he scored a century against Queensland. He continued that form with the New South Wales team against the touring England side with an 87 and 132 and was rewarded with selection for the Australian team's first test of the year against England.
The first test in Brisbane was an inauspicious debut for Bradman as Australia lost by 675 runs, the country's greatest ever loss by runs in test cricket. Bradman was only able to contribute scores of 18 and one, a performance that saw the young batsman dropped to twelfth man in the second test.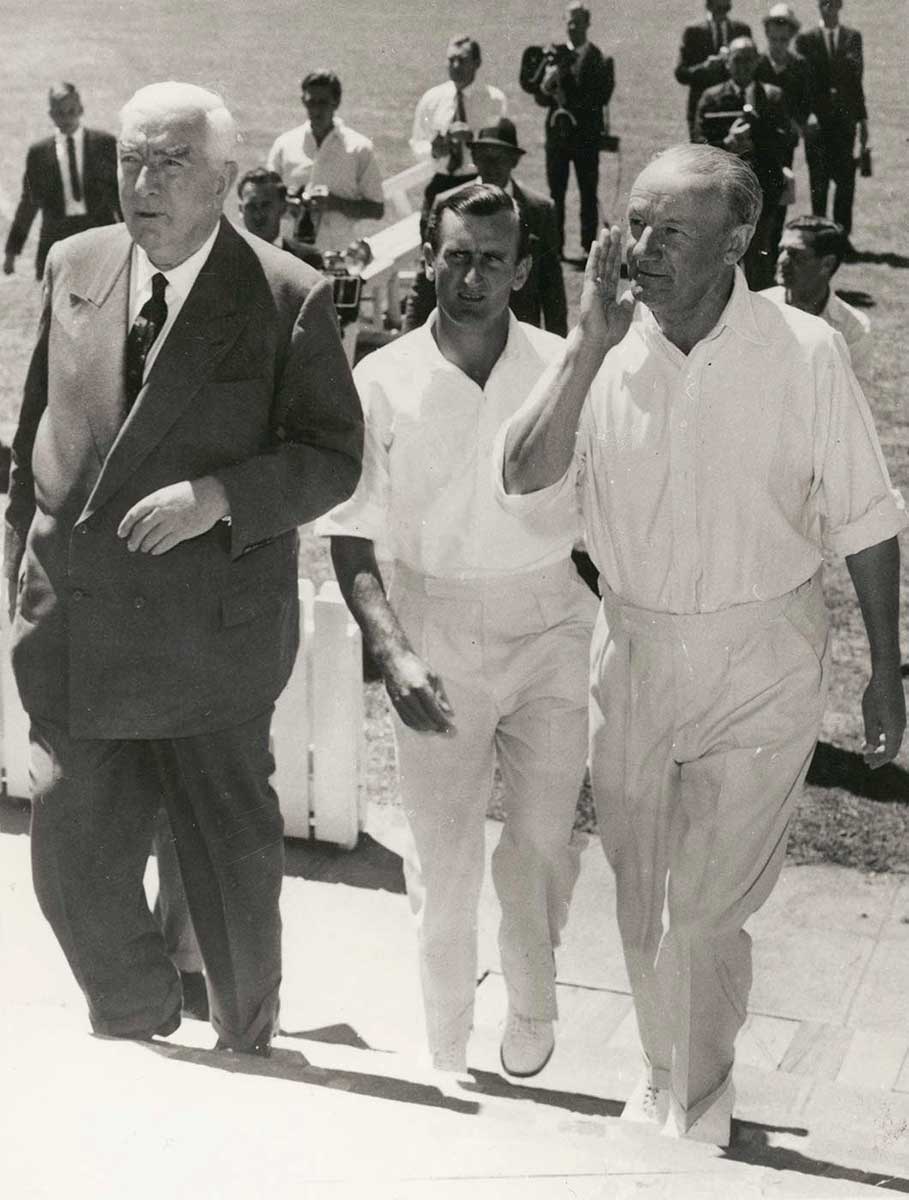 First test century
Recalled to the eleven for the third test at the MCG, Bradman scored 79 and 112. At that time he was the youngest person to score a test century.
The future Prime Minister Robert Menzies was in the crowd that day, and when some people sitting around him claimed that a few of Bradman's shots were 'agricultural', Menzies replied 'We'll be watching this fellow for the next 20 years. Because he's got it.'
Bradman's career
Bradman went on to represent Australia for 20 years and became the greatest test batsman of all time. His batting prowess led the 1932–33 English touring team to adopt the controversial 'bodyline' bowling strategy for that year's Ashes series.
He scored 6996 test runs and 28,067 first-class runs for New South Wales and then South Australia. Bradman continues to hold the record for highest test batting average at 99.94.
Bradman died in 2001 but continues to hold an iconic place in Australian sporting legend.
Autographed cricket bat used by Don Bradman
This bat was used by Sir Donald Bradman in the first Test Match, from 8-12 June, against England at Trent Bridge, Nottingham, during the 1934 Ashes series which was won by Australia. As a child in Bowral, NSW, Bradman had always played with second-hand bats given to him by older players. When he was 17, his mother promised to b...
References
Alan Eason, The A–Z of Bradman, Scribe Publications, Carlton North, Victoria, 2008.
Graeme Wright (ed), Bradman in Wisden, Hardie Grant Books, Prahan, Victoria, 2008.
Updated: 6 September 2023
Return to

Top