On 12 December 1959 at the US Grand Prix, the last race of the season, Jack Brabham became the first Australian to win a Formula One World Championship. Brabham went on to win two more world championships, in 1960 and then again in 1966.
In 1966 he won the Formula One World Championship in a car designed by his own company, the Brabham Racing Organisation (BRO). The engine was created by the Australian engineering firm Repco.
This is the first and only time a driver has won the Formula One World Championship in a car of their own design.
Doug Nye, co-author of The Jack Brabham Story, 2004:
Sir Jack Brabham has been described as the personification of the great Australian sportsman: relentless and often irresistible in competition, yet faultlessly friendly, approachable and a genuinely 'good bloke' after the battle.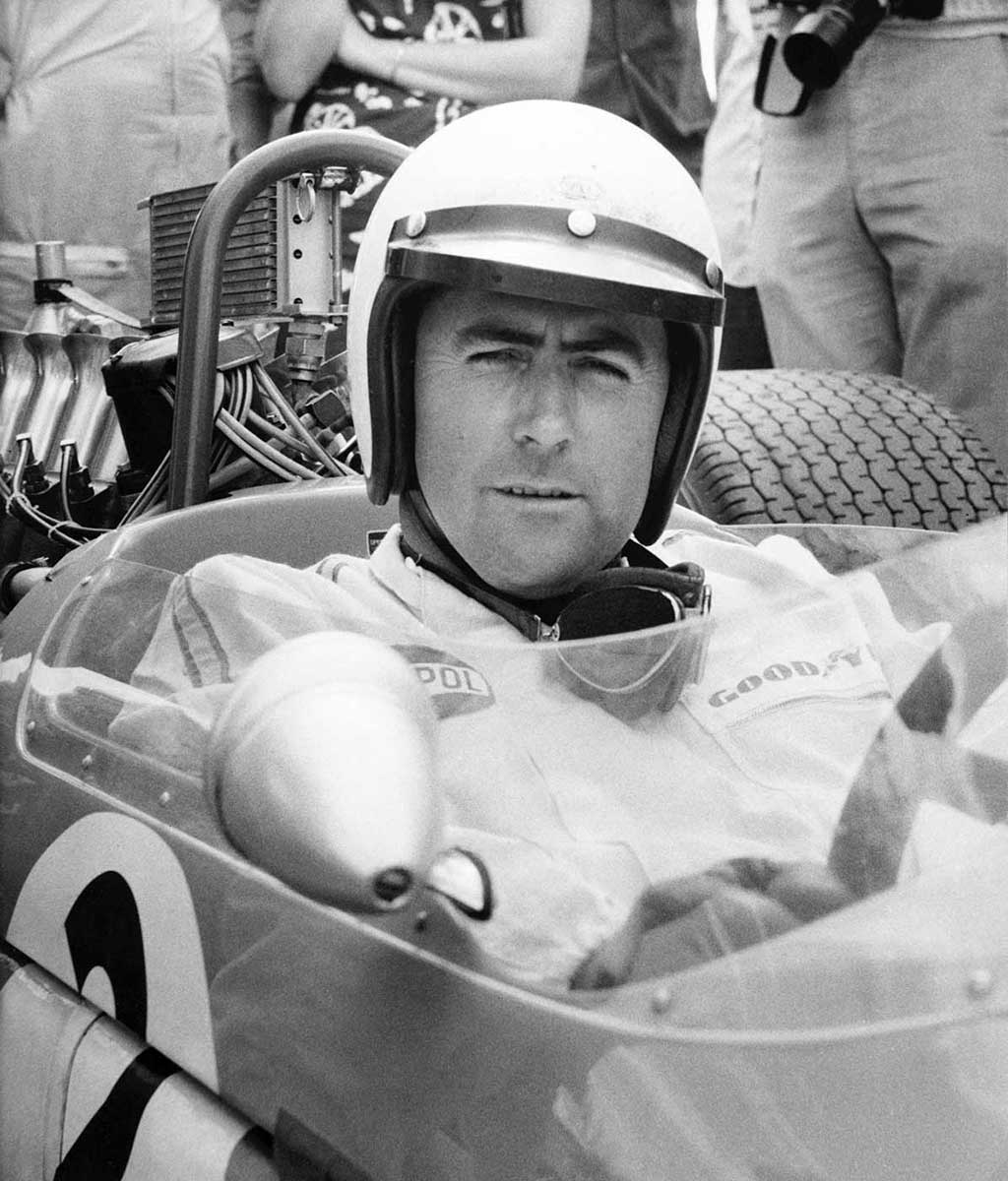 Early life
John Arthur Brabham was born in the southern Sydney suburb of Hurstville in 1926. Jack was interested in vehicles and motors from an early age, learning to drive the family car at the age of 12.
At 15 he left school and combined a day job in a garage while studying mechanical engineering through evening courses.
In May 1944 Brabham enlisted in the Royal Australian Air Force. He wanted to become a pilot but at that stage of the Second World War there was an excess of air crew in Australia, and so he became a flight mechanic.
After his discharge in April 1946, he started up a small workshop business behind his grandfather's house.
Early racing career
Brabham started his racing career in speedcars (also known as midgets), small, open-wheeled, single-seater cars that were raced on oval dirt tracks.
Brabham had been attracted to speedcars by his American friend Johnny Schonberg, who convinced him to build him a race car for the 1946–47 season. Schonberg retired from racing the next season, and Jack took over as the driver.
Almost immediately Jack had success, winning his first race on his third start at the Parramatta Speedway. In 1949 he won the Australian Speedcar Championship at the Sydney Showground. By this time the driving and maintenance of the race cars had become his full-time job.
Brabham decided to enter his midget in some hill-climb races and won the 1951 Australian Championship, which fuelled his interest in road-racing. He purchased and modified a series of road race cars manufactured by the Cooper Car Company.
After racing in the 1954 New Zealand Grand Prix, Jack was invited by the British Royal Automobile Club's competitions manager to race in Europe during the 1955 season.
In Europe
Brabham based himself in the United Kingdom, purchased another Cooper and raced independently.
It was during frequent trips to the Cooper factory in Surrey in search of spare parts that he developed his friendship with the owners, Charlie and John Cooper.
During 1955 Brabham spent more and more time at the factory. As John Cooper put it, 'He didn't so much start working for us as working with us. He just began coming in more often and we got used to having him around.'
Brabham began building one of the new style, mid-engined sports cars. He debuted this 'bobtail' mid-engined car at the 1955 British Grand Prix, but had to retire a third of the way through the race with clutch problems.
However, only a few months later, Brabham – again racing his Cooper 'bobtail' – drove in a non-championship Formula One race at Snetterton. He competed head-to-head with the winner of that year's British Grand Prix, Englishman Stirling Moss.
Brabham considered this race to be a turning point in his career. He realised that he could compete at the highest level.
Over the next four years Brabham honed his skill on the race circuits around Europe and back in Australia, driving open-wheeled Formula One and Two cars for Cooper, as well as enclosed-wheel sports cars for Aston Martin.
First championships
In 1959 Cooper increased the size of its engines in their Formula One cars from 2 to 2.5 litres, and this suited Brabham's racing style.
He won his first world championship race at the Monaco Grand Prix. He followed that up with a second place in Holland, and a third in France and Italy, before winning the British Grand Prix.
In the final race of the year, the US Grand Prix in Sebring, Florida on 12 December 1959, he ran out of fuel on the last lap. He famously pushed his car the last four hundred metres across the finish line to claim fourth and secure his first Formula One World Championship.
In 1960, with Cooper again, he won the driver's championship, winning five of the eight championship races. However, Brabham felt that the Coopers were losing ground to the new mid-engined Ferraris, Porsches and Lotus cars, and in 1961 he was 11th in the Formula One season championship.
Brabham Racing Organisation
In 1962 he left Cooper and formed his own racing team, the Brabham Racing Organisation (BRO). He drove cars developed by Motor Racing Developments, the race car manufacturing company he had established with his friend, Australian engineer Ron Tauranac.
The BRO team had many 'top 10' finishes over the next four years. However, a doubling in engine size for the 1966 Formula One Championship season from 1.5 litres to 3 litres dramatically changed the team's situation.
In 1965 the Australian engineering firm Repco had designed and built 2.5-litre engines for Brabham to race in the Australia–New Zealand Tasman series.
Leading up to the 1966 season Brabham persuaded Repco to manufacture a 3-litre version of the engine. This was the Repco 620 V8 which, because of its lightness and small size, could be bolted onto an existing Formula One chassis.
Conserving the Brabham car
1:38
'The first Repco V8 racing engines,' Brabham noted, 'used original Oldsmobile blocks modified in Melbourne. We stiffened the bottom end with a steel plate with apertures allowing the con-rods to pass through and to which the big-end bearing caps were bolted. It produced a rigid, reliable, yet lightweight unit which was powerful enough!'
European engine manufacturers were having problems with their new designs and the Repco, although not as powerful as other 3-litre engines, proved to be more consistent.
The combination of Brabham and Tauranac's car design, the new engine and Brabham's skill behind the wheel, proved to be a winning combination. Brabham won half the races that season to take the 1966 driver's championship, and the Brabham Repco team took out the constructors' championship.
It was the first and only time a driver has won a Formula One World Championship in a car of their own design. In 1966 Jack Brabham was awarded an Order of the British Empire, the first race-car driver to be granted the honour.
Brabham continued racing. In 1967 Repco–Brabham again won the constructors' championship, and team driver Denny Hulme won the driver's championship with Brabham in second.
Later years and retirement
Jack Brabham continued racing but retired in 1970 after placing fifth in the world championship. He and his family moved back to Australia, where he continued to drive in motorsport events until 2004.
He was knighted in 1979, and made an Officer of the Order of Australia in 2008. Brabham's sons and grandsons have also become successful race-car drivers.
Sir Jack Brabham died at home on the Gold Coast on 19 May 2014.
References
Sir Jack Brabham with Doug Nye, The Jack Brabham Story, Minidi Books, Windsor, NSW, 2004.
Jack Brabham, When the Flag Drops, Coward, McCann and Geoghegan, New York, 1972.
Rainer Schlegelmilch, The Golden Age of Formula 1, teNeues publishing, Kempen, Germany, 2017.
Return to

Top