In the 1940s evidence suggesting that adding fluoride to drinking water helped to prevent tooth decay emerged from US dental studies. The addition of fluoride to Australian drinking water first began in Beaconsfield, Tasmania on 30 September 1953.
The Examiner (Launceston), 1 October 1953:
Young people will be those who will benefit from the forethought of those responsible for the introduction of the chemical.
What is water fluoridation?
Water fluoridation is a scientific process that adjusts the amount of fluoride in drinking water to a level that helps reduce tooth decay. Fluoride occurs naturally in mineral salts found in rocks, soil, plants, natural water sources and animals.
The National Health and Medical Research Council of Australia officially supports the fluoridation of drinking water in Australian states and territories. The approved concentration ranges from 0.6 to 1.1 milligrams of fluoride per 1 litre of drinking water.
Discovered in America
The first instance of fluoride being added to drinking water was at Grand Rapids in the US state of Michigan in 1945.
Prior to this, in 1901, American dentist Frederick McKay set up a practice in Colorado Springs, Colorado. He noticed many of the residents' teeth were discoloured, a condition known as 'Colorado brown stain'.
After many years of treating this condition McKay concluded that it must be due to a problem with the water supply. Interestingly, he also discovered that patients whose teeth were stained generally had less tooth decay.
In 1930 the Aluminum Company of America (Alcoa) analysed the water supply that serviced Colorado Springs. It was found to contain a high percentage of fluoride.
This discovery, and McKay's observations, provided enough evidence to look seriously into fluoride as a way to protect teeth from decay.
Beaconsfield approves water fluoridation
Many residents of Beaconsfield, Tasmania believed that the local water had some property that led to increased dental issues in children. This was one of the reasons why the Beaconsfield Council decided to look into adding fluoride to drinking water in the area.
Frank Grey was the municipal chemist and filtration officer in charge of the water filtration plant at Beaconsfield. His interest in fluoridation was professional. He first learned about the new use of fluoride in a 1948 article by an American academic M Starr Nichols called 'Supplementing water supplies with fluorine', published in the Journal of the American Water Works Association.
Grey submitted a report to the Beaconsfield Municipal Council that detailed evidence from American studies. These showed that tooth decay in communities had decreased by 65 per cent after the introduction of fluoridated water.
With the support of the council, and with permission from the Director of Public Health and the Chief Health Inspector, Grey managed the scheme to introduce fluoride into the water supply. On the basis of US studies, the formula for safe water fluoridation was believed to be one part fluoride to one million parts water.
Many residents on the outskirts of town relied on tank water rather than the local water supply. This meant that a useful comparison of the effects of fluoridated versus unfluoridated water could be made over time.
Opposition to water fluoridation
Some people were opposed to putting fluoride in drinking water. In the 1960s it was claimed that water fluoridation caused acne, allergic rashes, backaches, boils, brittle bones, cancer, hardened arteries, heart disease, left-handedness, mottled teeth, paralysis, stammering, animal sterility, varicose veins and more.
A decade and a half after the introduction of fluoride, a Tasmanian Royal Commission into the Fluoridation of Public Water Supplies was held. Bruce Howard Brown, a retired public servant, provided testimony to the Royal Commission. He claimed that the program was being used to brainwash younger generations and undermine Christian values.
The Royal Commission found in flavour of fluoridation. This led to the passing of the Fluoridation Act 1968, which resulted in all of Tasmania's communal water supplies being fluoridated.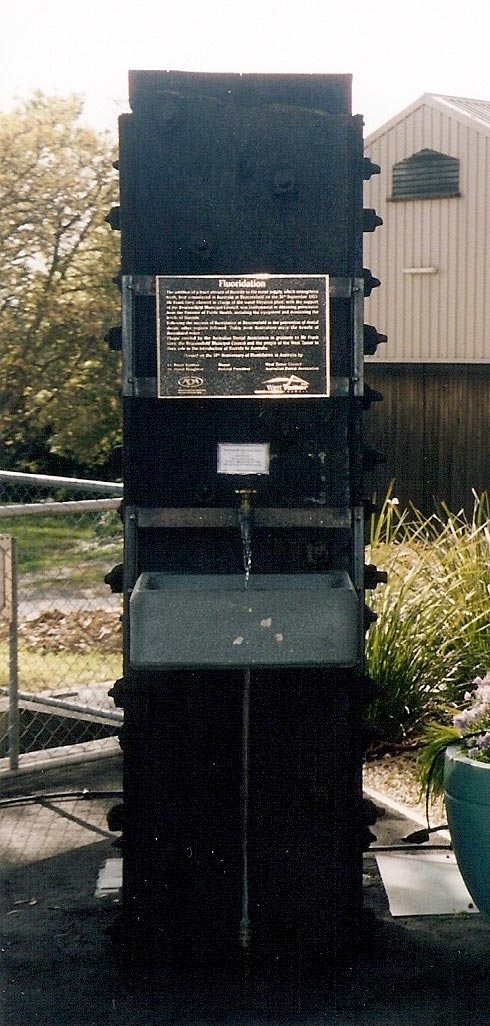 Legacy of water fluoridation
After the success of water fluoridation at Beaconsfield, other regions in Australia followed.
Community water fluoridation in Australia is regulated by acts of parliaments or administered government policy.
The Australian Capital Territory, New South Wales, Queensland, Tasmania, Victoria and Western Australia manage water fluoridation through acts of parliament. South Australia and the Northern Territory administer it through government policies.
In 2003 on the 50th anniversary of water fluoridation in Australia, the Australian Dental Association erected a monument to commemorate Frank Grey, the Beaconsfield Municipal Council and the West Tamar community.
Current debate
International anti-fluoridation group, Fluoride Action Network, states that the addition of fluoride to water is unethical as informed consent cannot be obtained. It also suggests that dosage cannot be controlled because water consumption by individuals varies widely.
The International Association of Oral Medicine and Toxicology, based in Canada, states that fluoridated water can cause other medical issues including acne, thyroid dysfunction and neurological issues.
A 2019 Canadian observational study published in JAMA Paediatrics argues against fluoridation, linking the consumption of fluoridated water during pregnancy to lower IQ in children.
Despite arguments against water fluoridation, scientific research supports fluoridation as an effective means of reducing tooth decay. This is the basis of Australian legislation and policies.
Controversial debates about water fluoridation persist in Australia, and around the world.
References
Companion to Tasmanian History, University of Tasmania
Rose Everleth, 'Dentists discovered the tooth-saving properties of fluoride by accident', Smithsonian Magazine, 22 May 2013
Water Fluoridation and Human Health in Australia, National Health and Medical Research Council, 2017
Malcolm Peter Crisp, Report of the Royal Commissioner into the Fluoridation of Public Water Supplies, Hobart, Government Printer, 1968.
Fluoride Families Save Dental Costs, Australian Dental Association, Toorak, Victoria, 1971.
Return to

Top