The annual Pritzker Architecture Prize honours a living architect whose built work demonstrates a combination of talent, vision and commitment, and who has produced consistent and significant contributions to humanity and the built environment through the art of architecture.
Glenn Murcutt is the first Australian to become a Pritzker laureate since the prize was established in 1979.
Jorge Silvetti, juror, 2002 Pritzker Prize:
The architecture of Glenn Murcutt surprises first, and engages immediately after because of its absolute clarity and precise simplicity – a type of clarity that soon proves to be neither simplistic nor complacent, but inspiringly dense, energizing and optimistic. His architecture is crisp, marked and impregnated by the unique landscape and by the light that defines the fabulous, far away and gigantic mass of land that is his home, Australia.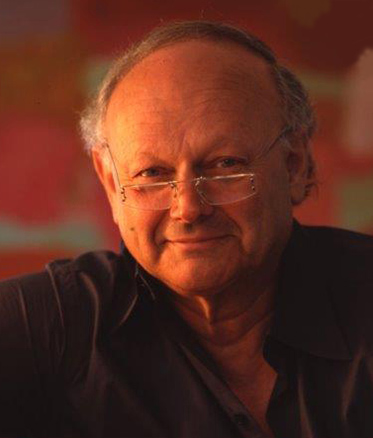 Murcutt family
Glenn Murcutt was born in London in 1936 during his parents' round-the-world tour.
From England, they travelled to Berlin for the Olympics and drove across the United States before returning to New Guinea where his father was managing a successful gold mine he had established in the remote upper Watut Valley.
The family remained at the mine until the Japanese advance in 1942 forced them to move back to Australia.
The five years Glenn spent living at the mine proved a strong influence, and he remembers well the family home built by his father, which had a roof of lightweight, corrugated iron and was perched on long stilts to keep out water and animals. His time in New Guinea taught Murcutt what he calls, 'the architecture of the essential'.
Arthur Murcutt, an adventurer, thinker and a man of broad interests and work experience, was a great influence on his son.
After the Second World War, he established a joinery shop in Manly and became increasingly interested in architecture, subscribing to magazines from America. He developed a fascination with modernism and went on to design and build several houses around Sydney.
Arthur had a keen interest in the environment and would walk up the hillside near their Clontarf house with his son to analyse plants and animals. One of Arthur's favourite authors was the American transcendentalist Henry David Thoreau whose writings on nature inspired Glenn.
Architecture school and practice
Glenn Murcutt began a part-time architecture course at the Sydney Technical College in 1956 and credits teacher Noel Bazeley as an influence, through his focus on environment in the architectural process. During his training he worked in the offices of influential Sydney architects Neville Gruzman and Bill and Ruth Lucas.
Glenn graduated in 1962 and married in the same year. He and his wife then travelled to Europe where he worked briefly with the modernist architecture firm Ian Fraser and Associates in London before travelling to France, Scandinavia and Greece to study buildings.
Returning to Sydney in 1964, Murcutt joined the Ancher, Mortlock, Murray and Woolley (AMMW) practice, which would be instrumental in the creation of the 'Sydney School' of architecture.
The 'Sydney School' was a reaction to Internationalism in architecture; they developed a regional style of building that utilised bushland sites and focused on naturally coloured materials used in their unaltered state.
At AMMW, Murcutt was involved in some of the practice's key projects including buildings at the University of Newcastle and the headquarters of the Royal Australian Institute of Architects in Canberra.
Sole practice
In 1969 Murcutt left AMMW to start his own architectural practice. He has remained a sole practitioner ever since. 'I work alone,' he says, 'because I love silence; time to think'.
As a sole architect, he believes he has more artistic and financial freedom than if he worked in a large firm: 'As a one-man office, I have been able to experiment with wind patterns, materials, light, climate, spaces and the characteristics of the site.'
This independence to experiment has contributed greatly to the development of Murcutt's distinctive style. However, in the few larger projects he takes on, the Newport Mosque in Melbourne for example, he often works with younger architects.
Touch the earth lightly
Glenn Murcutt's architectural style is built on his deep understanding of the natural environment: 'My architecture has attempted to convey something of the discrete character of elements of the Australian landscape, to offer my interpretation in built form.'
His houses respond to the conditions in which they exist, as he said in 1996:
I'm very interested in buildings that adapt to changes in climatic conditions … Layering and changeability: this is the key … Architects must confront the perennial issues of light, heat, and humidity control and yet take responsibility for the method and the materials by which, and out of which, a building is made.
According to Architecture Week magazine (17 April 2002), 'Murcutt selects materials that have consumed as little energy as possible in their manufacture, and will consume as little as possible in the operation of the house.'
Murcutt's early travels had a distinct influence on his style. Over time, he has been able to combine the modernist features he observed in Pierre Chareau's Maison de Verre (1932) in France, and Craig Ellwood's Californian houses, along with architectural answers to local environmental issues he discovered on the Greek Islands and in Jean Prouvè's Maison Tropicale (1949).
Murcutt combined these aesthetic, structural and environmental solutions within the distinctly Australian vernacular structure of the corrugated iron woolshed, although his use of corrugated iron is as much a practical decision as it is related to the material's regional history.
Murcutt has said: 'In iron roof sheeting you have one of the thinnest, most economic, rigid materials that could be carried and fixed by one person in a single sheet.'
All of these ideas and materials came together in the 1974 Marie Short farmhouse near Kempsey, NSW, which has become an icon of 'Australian' architecture, and as the critic Philip Drew has said, 'became the generating force for all that subsequently followed'.
Murcutt and the Pritzker
On 29 May 2002 Glenn Murcutt became the first Australian to be awarded the Pritzker Prize – one of the most prestigious awards in world architecture.
Jury member and architecture critic Ada Louise Huxtable said, 'Glenn Murcutt has become a living legend, an architect totally focused on shelter and the environment, with skills drawn from nature and the most sophisticated design traditions of the modern movement.'
References
Philip Drew, Leaves of Iron: Glenn Murcutt, Pioneer of an Australian Architectural Form, Angus and Robertson, Sydney, 1985.
Philip Drew, Touch the Earth Lightly: Glenn Murcutt, In His Own Words, Duffy and Snellgrove, Sydney, 1999.
Jim Nicholls (ed.) and Glenn Murcutt, Glenn Murcutt: University of Washington Master Studios and Lectures, Department of Architecture, University of Washington, 2009.
Return to

Top