Australia's 17th Prime Minister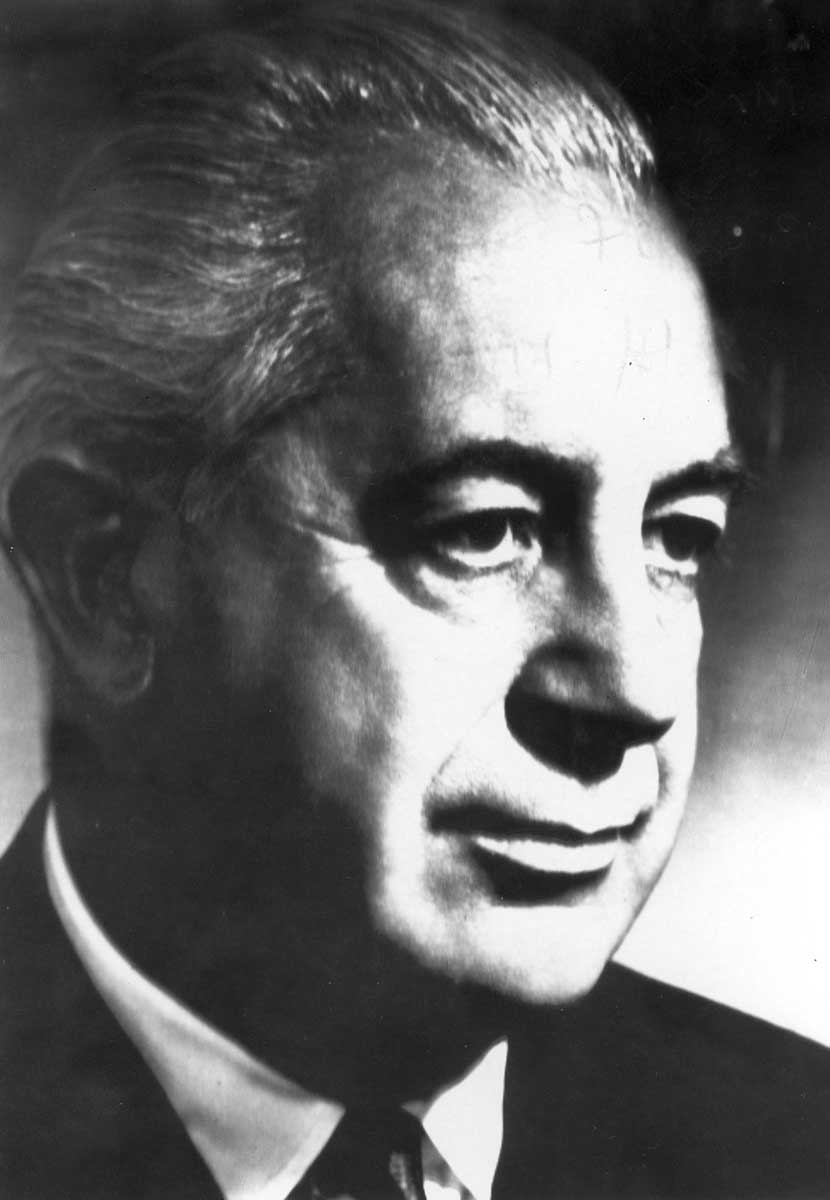 26 January 1966 to 19 December 1967
Harold Holt had plenty of time to find out what being Prime Minister would be like – he served for 10 years as Deputy Leader of the Liberal Party under Menzies.
Holt took office as Prime Minister when Menzies retired in 1966, and later that year won a sweeping victory at the polls on the issue of support for the Australian and United States involvement in the Vietnam War.
Late in 1967 he disappeared while swimming in the ocean, making him the third Australian Prime Minister to have died while still in office.
Holt's beginnings
Harold Edward Holt was born in Sydney on 5 August 1908. Both his parents were schoolteachers, although his father later worked for the theatrical firm JC Williamson. His parents divorced when he was 10.
He attended Wesley College, Melbourne, where he won awards for sporting ability, character and leadership. He went on to study law at the University of Melbourne, where he played football, cricket and tennis for Queens College.
Holt graduated as a lawyer in 1930, and was admitted to the Bar in 1931. He worked as a solicitor, became secretary to the Cinematography Exhibitors' Association, and was an active member of the Young Nationalists.
In 1934 Harold Holt stood against former Prime Minister James Scullin for the seat of Yarra in federal parliament, but lost. He also unsuccessfully contested an election for the Victorian parliament.
Holt's entry into federal politics
Holt was elected to federal parliament in 1935 when he stood as the United Australia Party (UAP) candidate for the seat of Fawkner, Victoria. Holt won the next four general elections, holding Fawkner from 1937–1946. He then switched to the seat of Higgins, which he held through eight general elections – from 1949–1966.
Holt served as Minister without Portfolio in 1939 and 1940, assisting the Ministers for Supply and Development, Trade and Customs, and Scientific and Industrial Research.
In 1940 he enlisted in the 2nd Australian Imperial Force (AIF), but after five months in the Army Menzies recalled him to parliament. He then became Minister for Labour and National Service and Minister in Charge of Scientific and Industrial Research in both Menzies' and Fadden's UAP–Country Party coalition governments.
While Menzies was still in office, Holt brought in a national child endowment scheme for second and subsequent children.
He married Zara Fell in 1946 and adopted her three sons from a previous marriage.
Conscription and the White Australia policy
When the Menzies–Fadden Liberal–Country Party coalition government came to power in 1949, Holt again became Minister for Labour and National Service. He held this position for nine years, introducing conscription into the army for all males aged 18 in 1951. This scheme continued until 1959.
He was also Minister for Immigration 1949–1956 and worked on various migration schemes. He also began to work on changing the White Australia policy, a scheme that had been in practice since 1901. The idea of the policy was to keep 'undesirable' immigrants (people without a European background) out of Australia, by giving them a dictation test they could not possibly pass. Holt abolished this test.
In 1956 Holt became Leader of the House of Representatives and deputy Liberal leader. He also took over from Arthur Fadden as Treasurer in 1958 and held this position for the next seven years. As Treasurer, Holt dealt with a recession in 1960, brought on by drought; a fall in wool production; and rising prices.
Holt worked at ways to turn the situation around. Using a strategy known as 'credit squeeze' (colloquially as 'Holt's Jolt'), he imposed credit restrictions, raised loan interest rates and heavily increased sales tax on motor vehicles. The economic slump continued through 1961. The unemployment rate reached 3.5 per cent, the highest figure for 30 years.
Prime Minister Harold Holt
When Robert Menzies retired as Prime Minister on 26 January 1966, Holt took over leadership of the Liberal Party, having been Deputy Leader since 1956.
As the war in Vietnam grew more intense, Holt visited the USA in June 1966 to discuss the situation with US President LB Johnson. Holt confirmed his government's full support for USA's Vietnam policy and adopted the slogan, 'All the way with LBJ'.
By the end of 1966, 6,000 Australian soldiers had been sent to Vietnam, including the first conscripts (non-volunteers).
On the 14 February 1966 Holt introduced decimal currency – dollars and cents.
As more and more people in Australia began to protest against sending Australian troops to Vietnam, Holt campaigned for a general election on 26 November 1966, with Australian involvement in the war as a major issue. It seemed that, for the most part, the people of Australia agreed with his war policy, as his government was returned with an impressive 10-seat gain.
On 27 May 1967, during Holt's period of leadership, Australians voted 'Yes' in a referendum to change the Commonwealth constitution. 'Full-blood' Aborigines could now be counted in the national census, which meant that the federal government was now just as responsible as the states for Aboriginal affairs.
By late 1967, with continuing opposition to sending troops to Vietnam, Holt's government was under attack over various other issues, including its handling of the Voyager disaster, VIP aircraft flights, and a proposal to break the nexus between the two federal houses of parliament.
Holt's disappearance
Harold Holt disappeared while swimming in heavy surf near Portsea, Victoria, on 17 December 1967. Despite a major search, his body was never found. He was pronounced dead on 19 December 1967.
His memorial service in St Paul's Cathedral, Melbourne, on 22 December 1967, was attended by US President LB Johnson, the Prince of Wales, Prince Charles, UK Prime Minister Harold Wilson and other heads of state and government.
Legislation passed under Holt
The Migration Act 1966 relaxed immigration laws to allow entry of non-European settlers, effectively ending the White Australia Policy.
The Industrial Research and Development Grants Act 1967 gave assistance to the manufacturing and mining industries. This year saw the first offshore oil rig established.
Return to

Top