Australia's 18th Prime Minister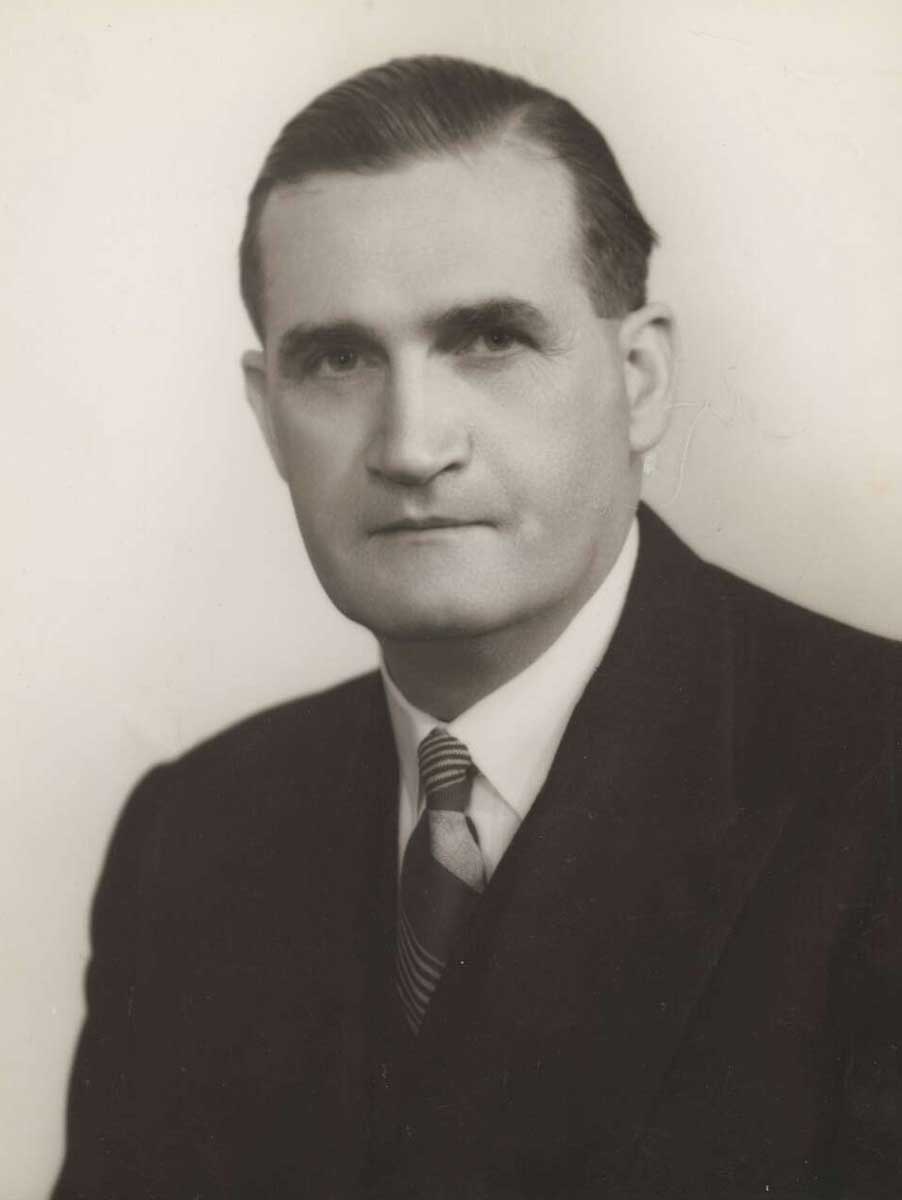 19 December 1967 to 10 January 1968
Australia's third caretaker Prime Minister was John McEwen. He took over the role of Prime Minister in 1967 after Harold Holt disappeared while swimming in heavy surf.
McEwen, who had been leader of the Country Party and Deputy Prime Minister for nine years, was replaced after only 23 days by the Liberal Party's new choice – John Gorton.
McEwen is well-known as the architect of a high tariff policy established in the 1950s to protect Australian industry.
McEwen's beginnings
John McEwen was born in Chiltern, Victoria on 29 March 1900. He was the son of David McEwen, a pharmacist and immigrant from Northern Ireland, and Amy Ellen Porter.
McEwen was only 18 months old when his mother died. His father died when he was seven. His mother's mother, a widow, then took McEwen and his younger sister in.
McEwen left school at 13 but continued his education at night school while working as a switchboard operator for a pharmaceutical firm. After passing an examination for the Commonwealth Public Service at 15, he started work in the Commonwealth Crown Solicitor's office.
McEwen enlisted in the 1st Australian Imperial Force in August 1918, but the war ended before he set off for service overseas. He was granted a soldier settler block of 35 hectares at Stanhope in the Goulburn Valley, Victoria, where he cleared land and established a dairy farm, and later moved into sheep farming. He led a campaign to establish a cooperative dairy factory and became its chairman of directors.
In 1932 McEwen stood as the Country Party candidate for election to the Victorian state parliament. He was unsuccessful, but succeeded in doubling the Country Party vote.
He married his first wife, Ann McLeod, in 1921, and his second, Mary Byrne, in 1968, following McLeod's death in 1967.
McEwen's entry into federal politics
John McEwen entered federal parliament in 1934 at the general election as the Country Party candidate for Echuca. After electoral redistribution he won the seat of Indi at the general election in 1937, and held it through the next three general elections: 1940, 1943 and 1946.
Following further redistribution he took the seat of Murray in 1949, and held it through the next eight general elections: 1951, 1954 (unopposed), 1955, 1958, 1961, 1963, 1966 and 1969.
McEwen was Minister for Interior in Joseph Lyons' United Australia Party–Country Party coalition (29 November 1937 – 26 April 1939), when Earle Page took the Country Party out of the coalition in protest over the United Australia Party's appointment of Robert Menzies as leader, after the death of Lyons.
When Page resigned as Country Party leader on 13 September, McEwen stood for leadership. He was narrowly defeated by AG Cameron.
When Cameron resigned in October 1940, McEwen stood again for the leadership, this time against Page. When the vote was tied, the Deputy Leader, Arthur Fadden, was chosen as acting leader and was later confirmed as leader.
On the Country Party's re-entry into the coalition with the United Australia Party on 14 March 1940, McEwen was appointed Minister for External Affairs and held the position until 28 October 1940. He was then appointed Minister for Air and Minister for Civil Aviation.
He held these portfolios until the fall of Fadden's United Australia Party–Country Party coalition government on 7 October 1941. McEwen also served on the War Council in 1940, then on an all-party Advisory War Council until the end of the war in 1945.
Postwar politics
On the election of the Liberal–Country Party coalition government led by Robert Menzies in December 1949, McEwen became Minister for Commerce and Agriculture and served in that portfolio until 11 January 1956.
McEwen became both Country Party leader and Deputy Prime Minister when Fadden retired as Country Party leader on 26 March 1958. He held these positions in both Menzies', and then Harold Holt's, Liberal–Country Party coalition governments.
McEwen was the key figure in negotiating Australia's international trade agreements throughout the 1950s–1960s. During the 1940s the UK had taken over 50 per cent of Australia's exports and provided 40 per cent of its imports. But by the early 1960s these figures had dropped to 20 per cent and 30 per cent respectively.
UK efforts to join the European Economic Community (EEC) prompted Australia to diversify its markets, establishing new outlets for its wheat, wool, beef, iron ore and bauxite in Japan, USA, China and the Eastern European Communist bloc. By 1967, six years before the UK entered the EEC, Japan had replaced the UK as Australia's principal trading partner.
McEwen travelled widely in Europe, Asia, North America and Pacific regions, attending conferences on trade and tariffs. A determined, hard bargainer in such venues and a vigorous defender of Australian interests in agriculture, industry and commerce, he became widely known by the nickname 'Black Jack'.
McEwen led Australian delegations to General Agreement on Tariffs and Trade (GATT) conferences in Geneva in 1954 and 1967. He served as Acting Prime Minister on many occasions while Menzies and Holt were overseas.
Prime Minister John McEwen
As Deputy Prime Minister when Harold Holt disappeared, and was presumed drowned, McEwen was commissioned as Prime Minister until the governing parties appointed a replacement. He held the position for three weeks, from 19 December 1967 to 10 January 1968, when the Liberals elected John Grey Gorton as their new leader.
McEwen played a critical role in Gorton's accession by announcing on 20 December 1967 that he and the Country Party would quit the coalition if the Treasurer, William McMahon, became Liberal leader. He and McMahon had been in serious conflict over economic policy during the year, and he believed that McMahon's views on economics were antagonistic to Country Party interests.
McEwen's life beyond politics
After leaving parliament (only five weeks before McMahon replaced Gorton as Prime Minister), McEwen retired to his grazing property at Stanhope, where he resided until his death almost 10 years later. He died in Melbourne on 20 November 1980.
Return to

Top