Happy Birthday Play School: Celebrating 50 Years marks a milestone birthday for this iconic ABC children's television program. Find Big Ted, Little Ted, Humpty, Jemima and the Rocket Clock.
Look through the round, square and arched windows as we bring our childhood stories alive. This exhibition will be on show at:
Explore more Happy Birthday Play School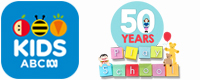 Happy Birthday Play School is a travelling exhibition developed by the National Museum of Australia and the ABC.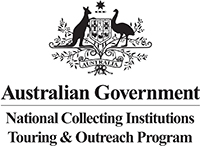 The exhibition was on show at:
Museum of the Goldfields, Kalgoorlie, Western Australia, 6 March to 9 May 2021
South Australian Maritime Museum, Port Adelaide, South Australia, 7 December 2019 to 31 Jan 2021
National Wool Museum, Geelong, Victoria, 28 June to 7 October 2019
Bundaberg Regional Art Gallery, Queensland, 11 August to 7 October 2018
Mildura Arts Centre, Victoria, 26 May to 22 July 2018
Tamworth Regional Gallery, New South Wales, 10 February to 15 April 2018
Rockhampton Art Gallery, Queensland, 4 November 2017 to 28 January 2018
Cobb+Co Museum, Toowoomba, Queensland, 25 March to 15 October 2017
Gold Coast City Gallery, Queensland, 3 December 2016 to 5 February 2017
National Museum of Australia, Canberra, 7 May to 24 July 2016
Happy Birthday Play School is supported by the National Collecting Institutions Touring and Outreach Program, an Australian Government program aiming to improve access to the national collections for all Australians.
Return to

Top