Play School is hosted by a team of talented professional actors. Many of today's presenters grew up watching Play School and are thrilled to be working with childhood idols such as Big Ted and Jemima.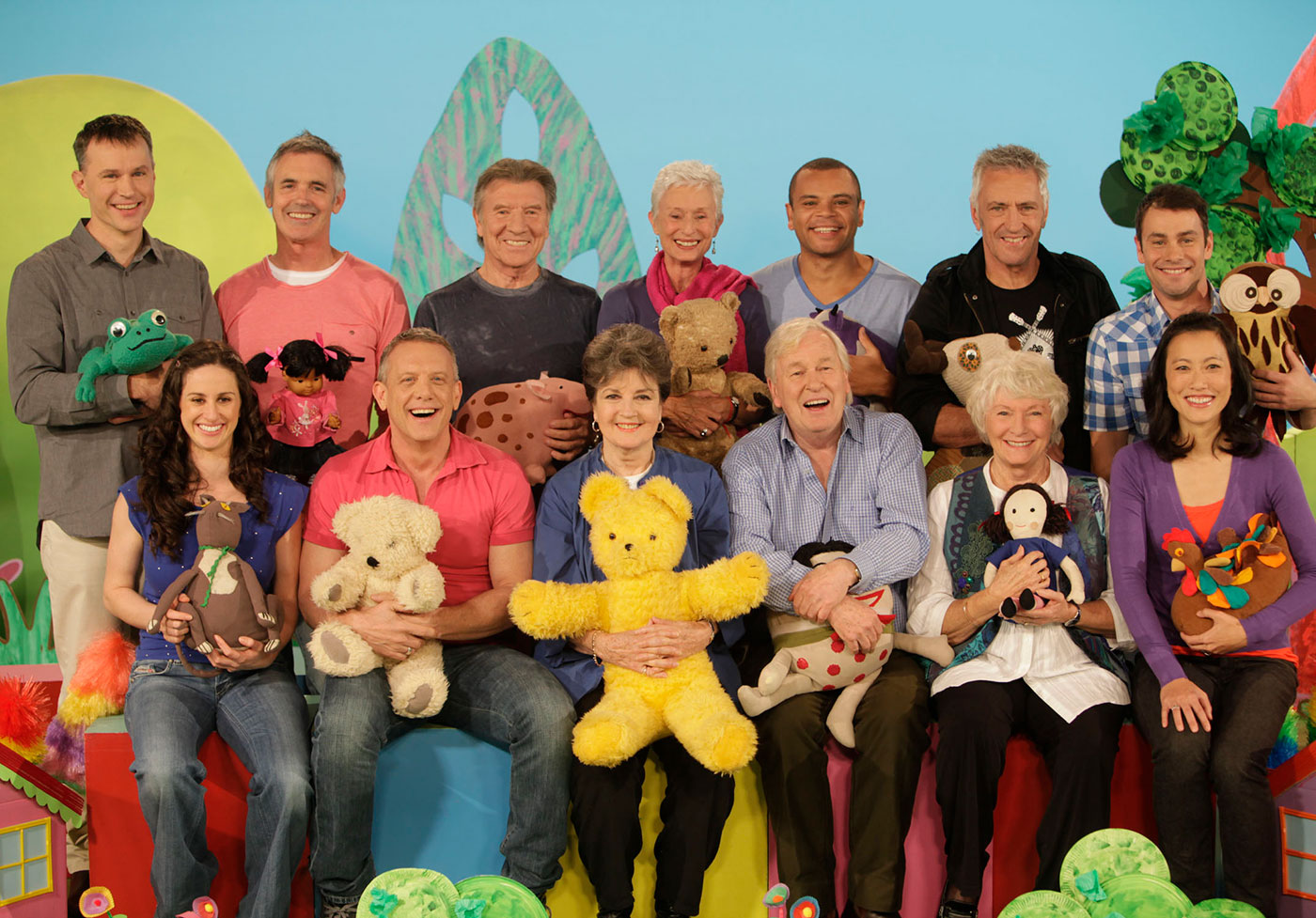 Presenters past and present (clockwise from back left) Colin Buchanan, Andrew McFarlane, Don Spencer, Benita Collings, Luke Carroll, John Waters, Teo Gebert, Karen Pang, Jan Kingsbury, John Hamblin, Lorraine Bayly, Simon Burke and Emma Palmer
Play School presenters give children their full attention by talking directly to the camera. They are warm, funny, generous people, who often stay with the show for years. Presenters must be willing to join in on a teddy bear hunt, be a little teapot, or transform into a dinosaur or elephant on demand.
List of presenters
Nearly 100 different people presented Play School between 18 July 1966, when the first episode was transmitted, and 2016. Their names are listed below, with the dates they were associated with the show, where known.
Miranda Tapsell (2016–)
Eddie Perfect (2015–)
Takaya Honda (2015–)
Michelle Lim Davidson (2013–)
Zindzi Okenyo (2013–)
Essie Davis (2011–12)
Emma Palmer (2011–)
Rachael Coopes (2011–)
Jonny Pasvolsky (2011–)
Jolene Anderson (2010–)
Luke Carroll (2010–)
Hugh Sheridan (2009–13)
Abi Tucker (2009–)
Georgie Parker (2006–12)
Brooke Satchwell (2005–08)
Alex Papps (2005–)
Christine Anu (2004)
Teo Gebert (2003–)
Matt Passmore (2002–11)
Ling-Hsueh Tang (2002)
Dasi Ruz (2001)
Andrew McFarlane (2000–)
Jay Laga'aia (2000–)
Mark Owen-Taylor (2000)
David Whitney (2000)
Leah Vandenberg (1999–)
Justine Clarke (1999–)
Rhys Muldoon (1999–)
Deborah Mailman (1998–2001)
Karen Pang (1998–)
Glenn Butcher (1997–2000)
Jamie Oxenbould (1997)
Joy Hopwood (1995–97)
David James (1994–2000)
Angela Moore (1994–2000)
Nicholas Opolski (1994)
Jeremy Scrivener (1994)
Colin Buchanan (1992–99)
Carlton Lamb (1992–93)
Georgie Goldstein (1992)
David McCubbin (1991–95)
Sofya Gollan (1991–)
Sarah Chadwick (1991)
Pauline McLeod (1990–2003)
Monica Trapaga (1990–98)
Tara Morice (1989, 1993)
James Valentine (1989, 1992)
Simon Burke (1988–2007, 2013)
Liz Burch (1988)
Trisha Goddard (1987–98)
Anna Maria Monticelli (1987)
George Spartels (1986–99)
Merridy Eastman (1985–89)
Liddy Clark (1984)
Tyler Coppin (1982)
Philip Quast (1981–96)
Lynette Curran (1981)
Elaine Hudson (1981)
Barbara Frawley (1980–92)
Jennifer Ludlam (1980s)
Mervyn Drake (1980)
Colin Friels (1980)
Noni Hazlehurst (1978–2001)
Judy Cannon (1978)
Ros Gentle (1977)
Lyn McCarthy (1976)
Mary Ann Severne (1975)
Peter Sumner (1974)
John Waters (1972–90)
John Hamblin (1970–99)
Richard Bradshaw (1970s–96)
Benita Collings (1969–99)
Janet 'Jan' Kingsbury (1969–86)
Ken Shorter (1969)
Don Spencer (1968–99)
Darlene Johnson (1968)
Tom Oliver (1967)
Alister Smart (1966–93)
Lorraine Bayly (1966–78)
Diane Dorgan (1966–69)
Kerry Francis (1966–69)
Anne Haddy (1966–69)
Donald Macdonald (1966–69)
Peter Drake (1966)
Evan Dunstan (1966)
Patsy King (1966)
Nehama Patkin (1966)
Ann Stroh (1966)
David Yorston (1966)
Geoff Jenkins (date not known)
Lloyd Morris (date not known)
Reg Gorman (date not known)
Bob Maza (date not known)
Annette Shun Wah (date not known)
All images © Australian Broadcasting Corporation 2018
Return to

Top