Music is vital to Play School and a key to its success. 'There's a Bear in There', with music by Richard Connolly and lyrics by Rosemary Milne, must be one of Australia's best-known television theme songs.
Musical instruments, usually a piano, accompany singing and dancing, and create simple sound effects for the action taking place.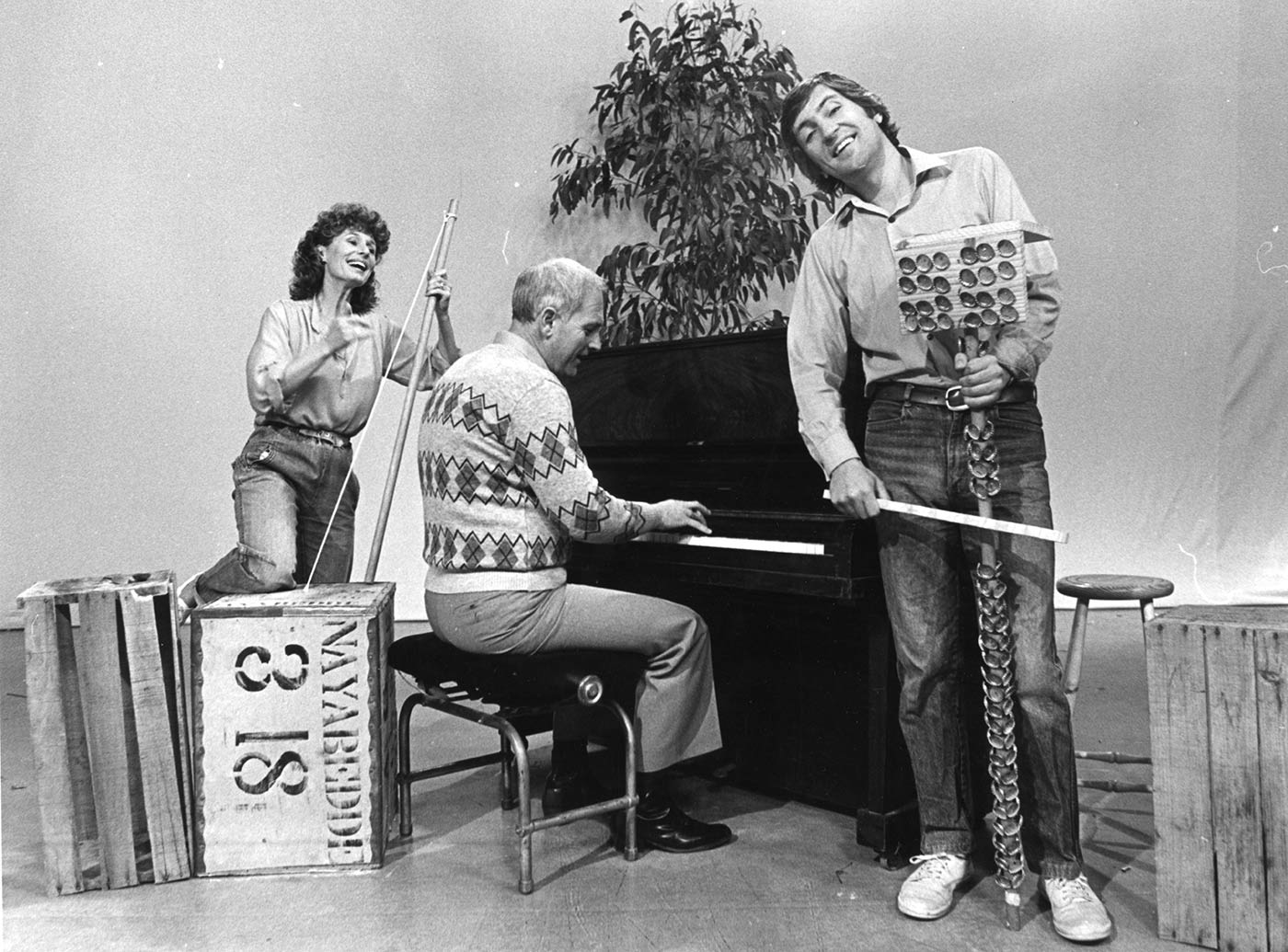 Benita Collings, Warren Carr and John Waters perform 'Give Me a Home Among the Gum Trees'
Singing along
Play School has also employed musicians like Don Burrows, Jane Rutter, George Washingmachine and Katie Noonan for special performances.
From 1972 until his death in 1993, Warren Carr was the much-loved pianist and musical director of the show. His face was only sometimes seen on camera, but his music was heard on every episode.
Max Lambert (1991–99) and the current musical director Peter Dasent bring the same talent and energy to Play School's musical world.
There's a bear in there …
During Play School's 50-year history there have been 5 versions of the opening title sequence.
Some things, like the words to the song, have stayed the same, but the arrangement, singers and images have all changed – even the accent has gone from British to Australian.
Going bananas
The 'Bananas in Pyjamas' song, written by Carey Blyton, was first used on Play School in 1976.
Banana became a popular toy from this time, chasing the Teds around the set on numerous happy and exciting occasions. In 1992 a new program went to air featuring two bananas – B1 and B2.
In 2010 the Banana toy was retired from Play School when the new animated Bananas in Pyjamas show was released.
Animations
Play School has often used short stop-frame animations to accompany popular songs. Some sequences, such as the 'Ning Nang Nong', have achieved almost legendary status.
Stop-frame animation is simple to do, but very time-consuming. A model is filmed, then moved slightly and filmed again. It can take days to complete a scene.
Animators meet with the Play School team to explore which songs to use and even step out some of the dances the characters might perform.
Several puppets from a series of stop-frame animations made for Play School were on show in the exhibition. This included the teapot and cup from 'I'm a Little Teapot', made by Phillip Beadsmore.
All images © Australian Broadcasting Corporation 2016
Return to

Top