In 1931 the First Australian Ballet company staged a performance of Coppelia, the first Australian production of a complete Russian ballet.
Louise Lightfoot and Mischa Burlakov originally founded the company as a dance school in the late 1920s. Performing regularly at the Sydney Conservatorium and at theatres across the city, the Ballet was one of the pioneers of Australian dance.
The Sun, Sydney, 1 Nov 1931:
'Coppelia' or the 'Girl with the Enamel Eyes' will be presented by an all-Australian ballet at the Savoy Theatre on Wednesday night by the pupils of Louise Lightfoot and Mischa Burlakov. This will be the first time anything so ambitious in ballet work has been attempted by local talent.
Early dance in Australia
The first full-length ballet performed in Australia was The Fair Maid of Perth in 1835. Set in Scotland and based on a novel by Sir Walter Scott, the production took place at the Theatre Royal in Parramatta.
The gold rushes that began in 1851 led to a sharp increase in the Australian population, and by the middle of the decade many theatres had been established to satisfy the growing demand for entertainment. Theatres competed to attract the best acts, most of which were performed by newly arrived migrants.
The 1850s also saw a marked increase in the number of international dance stars from places such as the UK and Italy touring Australia. Many performers stayed in the country for long periods.
During the second half of the 19th century, amateur dance schools began teaching ballet to colonial children, despite the teachers often having had no formal training. However, touring dancers such as Madame Strebinger and Emilia Pasta occasionally took on dance pupils while in the country.
The late 1800s saw a rise of homegrown talent, with Australian dancers and performers becoming stars of the stage. Some, like Tilly Earle and Julia Matthews, went on to enjoy international careers.
In 1888 JC Williamson founded his Australian entertainment company and opened dance schools in Melbourne and Sydney with professional teachers to instruct the students. Williamson's dancers then performed in his variety shows and operas, with most productions debuting at Melbourne's Theatre Royal.
Russian influence
In 1893 Catherine Bartho, a Russian ballerina, toured Australia with a repertoire of dances from the classical ballet, a dance form that then became extremely popular across the continent. She was followed by the hugely influential Anna Pavlova in 1926 and 1929. The Ballet Russes made several visits in the 1930s and continued the Russian influence on Australian dance.
These large-scale touring productions boosted the popularity of ballet in Australia, and the number of dance schools across the country increased significantly after the 1920s.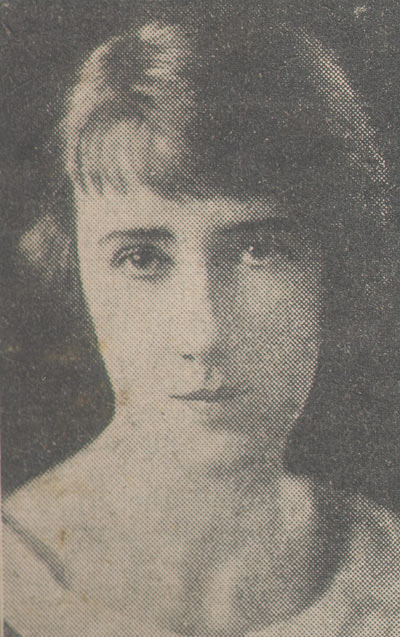 Louise Lightfoot
Inspired by Anna Pavlova's Australian tour in 1926, amateur dancer Louise Lightfoot sought formal training in ballet.
She took lessons from Ivan Sergieff and Alexis Dolinoff, professional male dancers who accompanied Pavlova on her tour, and attended classes at the Sydney Conservatorium of Music.
While studying, Lightfoot also occasionally taught ballet and character dance to children.
Lightfoot was born in Yangerry, near Warrnambool, Victoria in 1902. After excelling at drawing and mathematics during her secondary education, she went on to study architecture at Melbourne University, and was the first woman to gain a Diploma of Architecture from the university in 1923.
During her studies, Lightfoot also worked in the Melbourne offices of Walter Burley Griffin, the designer of Canberra.
In 1925 Louise accompanied Marian Mahoney Griffin to Sydney, living in and working on the development of the experimental community of Castlecrag on the lower North Shore.
Mischa Burlakov
Marion was supportive of Louise's talent and passion for dance. Suggesting Lightfoot study Greek dance to expand her skills, she also introduced her to Ukrainian dancer Mischa Burlakov during preparations for a community concert at Castlecrag.
Burlakov was born around 1884, moved to London in the early 1890s, and then to Australia about 1913. A cabinetmaker by trade, Burlakov was involved in amateur folk and character dance, and began taking ballet lessons from Daphne Dean at the Sydney Conservatorium.
Burlakov danced in opera and musical productions during the 1920s, including shows presented by JC Williamson, and at venues such as the Russian club in Sydney.
In the late 1920s Lightfoot and Burlakov formed a dance partnership and often performed at private gatherings for Sydney's wealthy elite, as well as public venues.
Lightfoot–Burlakov Classic Dance School
In 1928 Lightfoot gave up her architectural career and committed to dance full-time. She and Burlakov opened the Lightfoot–Burlakov Classic Dance School in Circular Quay, Sydney. Using the Cecchetti method to give their students strength, balance, poise and elevation, both dancers often merged classical ballet with modern and interpretive dance when teaching their students.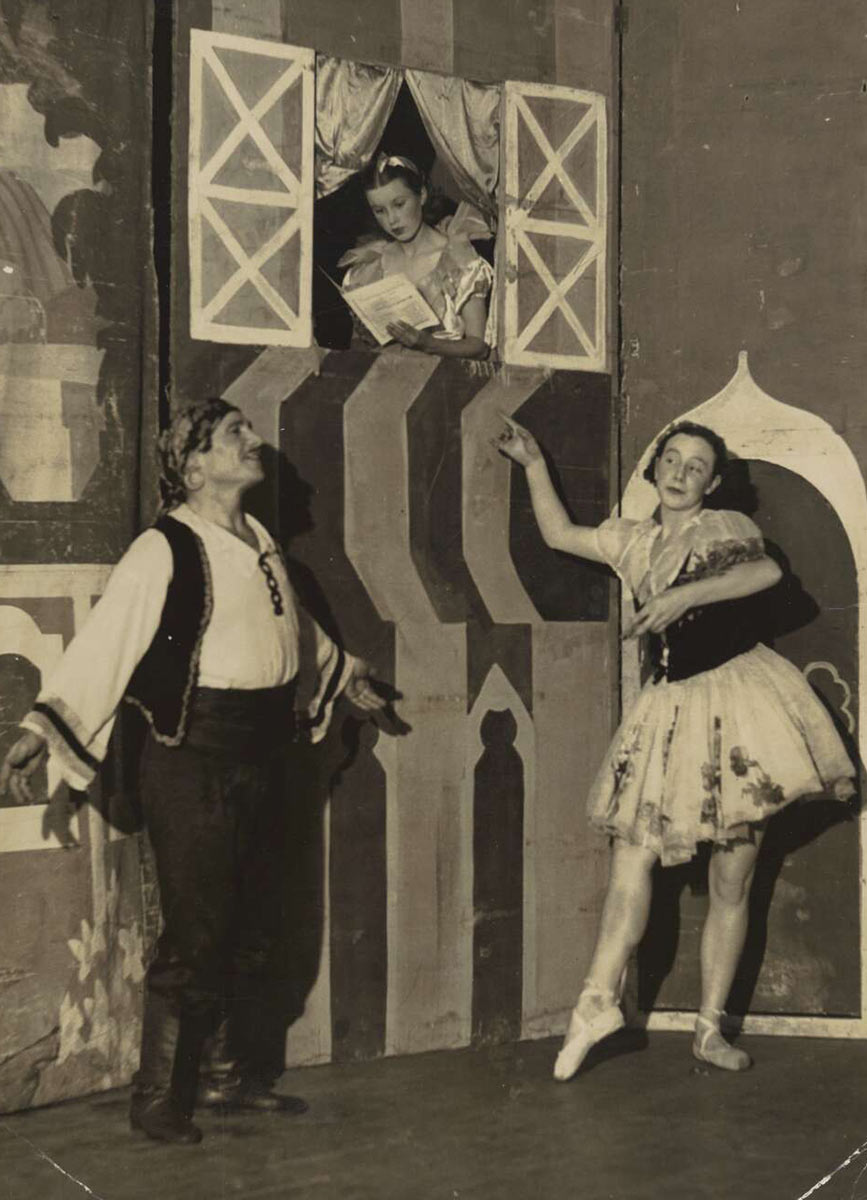 First Australian Ballet company
Lightfoot and Burlakov encouraged their dance students to perform, often producing charity recitals for causes such as the Red Cross and the Women's Hospital and shows whose funds helped maintain the school.
These amateur concerts also included ensemble performances in opera and variety shows, and a regular recital schedule at the Sydney Conservatorium.
Burlakov often used his cabinetmaking and carpentry skills to design and build sets for these performances.
The Lightfoot-Burlakov school's first performance as the First Australian Ballet was on 4 November 1931 when they staged a production of the classical ballet Coppelia at the Savoy Theatre in Sydney.
Produced and choreographed by Lightfoot, it was the first full-length Russian ballet performed in Australia. Burlakov danced with the students, in the main role of Franz.
Newspapers reacted positively to the ballet, with the Sydney Morning Herald announcing:
The theatre was completely filled, and the performance that was given in this highly specialised medium of artistic expression was watched and absorbed with interest, and was greeted with unmistakable tokens of warm admiration.
Following the success of Coppelia, large-scale ballets (including Les Sylphides and an adaptation of Swan Lake called Lake of Swans) were performed regularly by the First Australian Ballet. These ballets were usually produced by Lightfoot, based on photographs, reviews and her memories of performances from overseas.
In the late 1930s the Ballet began performing original works with titles such as Roxanda and Fruit of Forgetfulness, which were choreographed by Lightfoot and Burlakov and set to music commissioned from Australian composers such as Ray Maling and Ramsay Pennycuick.
After a 1937 trip to Europe to secure the performance rights to more ballets and receive further dance training, Burlakov and Lightfoot stopped in India on their journey home.
Lightfoot began working Indian dance forms into shows produced by the First Australian Ballet, including a more authentic recreation of The Blue God, a ballet originally performed by the Ballet Russes that was based on Indian folklore.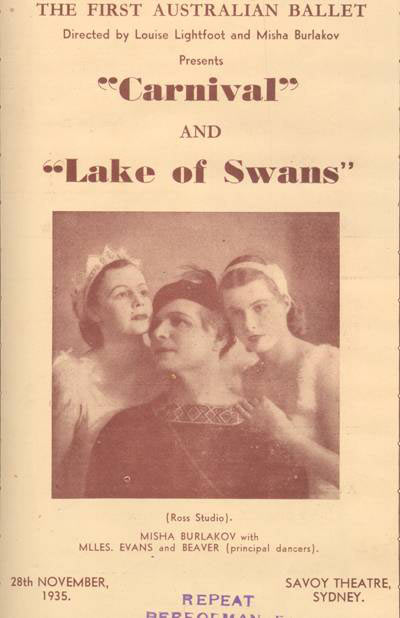 Indian influence
In 1938 Lightfoot left the First Australian Ballet and moved to India where she studied traditional dance.
In the late 1950s she opened an Indian dance school in San Francisco with Shivaram, a Kathakali dancer she had met in India.
Lightfoot was also responsible for bringing traditional Indian dancers to perform for Australian audiences, touring in 1947, 1951 and 1957.
Returning to Australia in 1968, Lightwood lived in Victoria and continued to teach Indian dance to Australian pupils until her death in 1979.
Company disbands
After the departure of Lightfoot, Mischa Burlakov continued the First Australian Ballet with the help of Barbara McDonnell, one of his former pupils.
Burlakov was a popular figure in Sydney, and his portrait, painted by artist Vincent Juradowitch, was a finalist for the 1947 Archibald prize.
The Ballet continued to teach students and stage performances until it was disbanded in about 1956. Burlakov continued to teach ballet and folk dance in his own studio until his death in 1965.
Pair of soft toe, leather ballet shoes with elastic straps
A pair of soft toe, leather ballet shoes with elastic straps. The shoes are made from black leather that has been painted bright pink. They are lined with a neutral coloured canvas and have a grey synthetic inner sole. The leather soles of the shoes have been stamped with the manufacturers name "SAIVIO".
References
First Australian Ballet, Trove
Louise Lightfoot, Australian Dictionary of Biography
Louise Lightfoot, Dictionary of Sydney
Louise Lightfoot and the First Australian Ballet, Cecchetti International
Alan Brissenden and Keith Glennon, Australia Dances: Creating Australian Dance, 1945–1965, Wakefield Press, 2010.
Edward H Pask, Enter the Colonies, Dancing: A History of Dance in Australia 1835–1940, Oxford University Press, Melbourne, 1979.
Updated: 21 September 2022
Return to

Top