Australia's 16th Prime Minister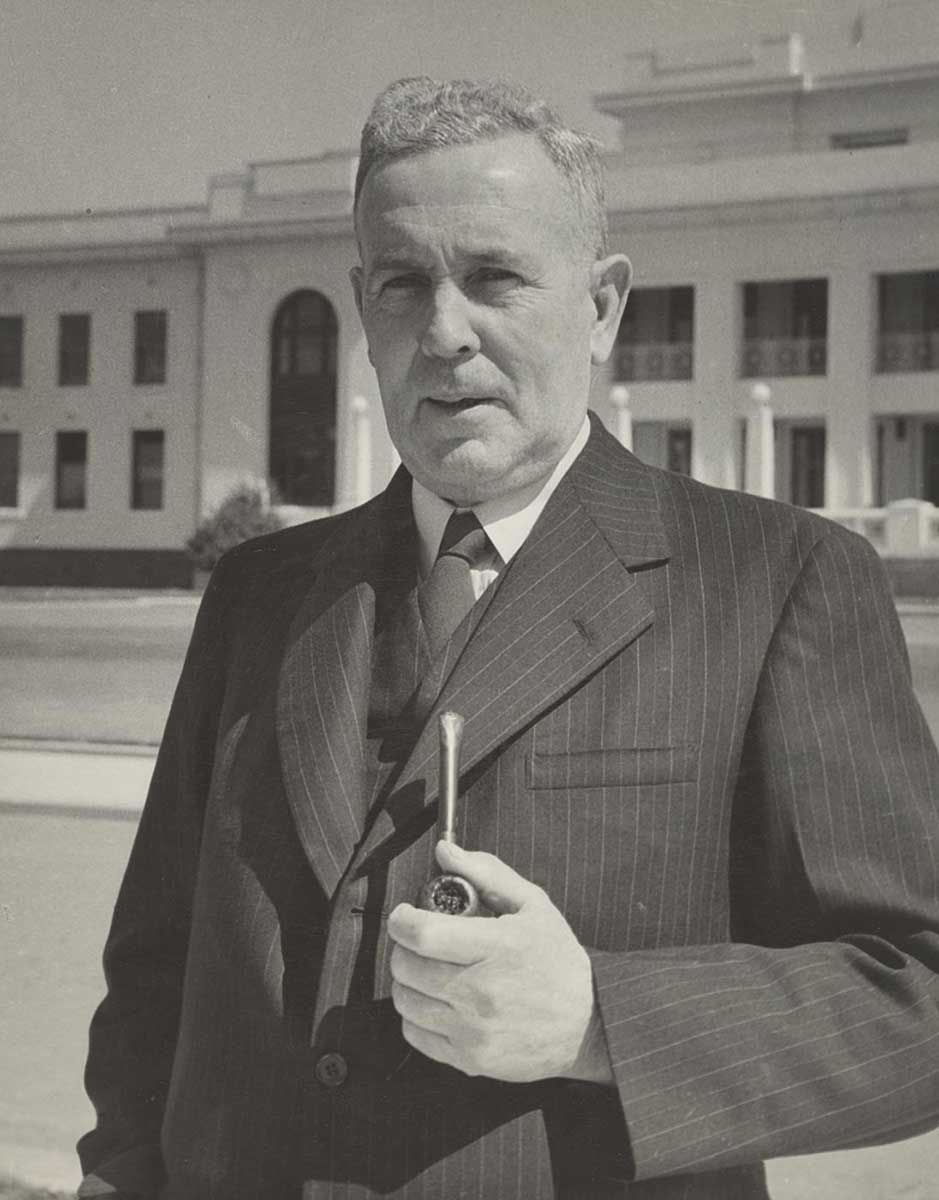 13 July 1945 to 19 December 1949
When Prime Minister John Curtin died in office in 1945, Chifley was elected by the Labor Party to take the job, which he inherited after an eight-day caretaker prime ministership by Deputy Leader Frank Forde.
After the war, Chifley, who remained Treasurer, introduced a number of social welfare reforms and laid a strong basis for postwar reconstruction.
Labor eventually lost the support of the electorate over the issue of strong government regulation of the economy.
Chifley was known to be a humble man, who never forgot the fact that he had been a train driver before he was a politician.
Chifley's beginnings
Joseph Benedict Chifley – always known as Ben – was born in Bathurst, NSW on 22 September 1885. Chifley's parents were both of Irish descent. His father, Patrick Chifley, was a blacksmith. His mother was Mary Anne Corrigan.
Chifley lived and worked on his grandfather's farm at Limekilns, near Bathurst, until he was 13, sometimes attending the local bush school. He then spent two years at the Patrician Brothers School, Bathurst, before starting full-time work as a cashier's assistant in a general store.
He joined NSW Government Railways as a shopboy at 17, then worked as a cleaner and fireman before becoming a locomotive driver. At 24 he was the youngest first-class locomotive driver in the NSW railways. He was also an outstanding rugby union player.
Union advocacy
At 27 Chifley became an advocate for his union, the Locomotive Enginemen's Association. He was dismissed from the railways because of his part in the union's national strike in 1917, but was reinstated as a cleaner on appeal.
After deciding to fight for unionists' rights by entering parliament, he prepared himself by learning economics and finance. He became a highly competent and successful private investor and financial manager. He endeavoured to gain Labor preselection for state seats in NSW in 1922 and 1924 without success.
In 1914 he married Elizabeth McKenzie.
Chifley's entry into federal parliament
Chifley became a candidate for election to the House of Representatives in his home district electorate, Macquarie, in 1925, but was not elected. He won the seat at the 1928 election, and retained it in 1929 when James Scullin's Labor government came to power, becoming Scullin's Minister for Defence.
Chifley became embroiled in the long-running conflict within NSW Labor over policies for dealing with the Great Depression, which began in 1929. He supported the 'Federal' faction of the party against the 'Lang' faction (a group led by JT Lang, the NSW Premier).
Chifley lost his seat in the electoral landslide against Labor in 1931. Determined to defeat Lang, he contested Lang's seat of Auburn at the 1935 state elections, but lost.
As State President of 'Federal' Labor, Chifley was instrumental in restoring unity to NSW Labor in 1936. He regained his Macquarie seat in 1940 and held it through the next four general elections in 1943, 1946, 1949 and 1951.
During his nine years of federal politics in the 1930s, he added to his reputation as a fine economist and administrator by serving as a member of the Royal Commission on Monetary and Banking Systems in 1935–1936, and as the director of labour supply and administration for the Department of Supply in 1939–1940.
Chifley became Treasurer in John Curtin's Labor government, with major responsibility for gearing the economy to wartime production. He remained Treasurer until his loss of government in 1949. He also served as Minister for Post-war Reconstruction 1942–1945.
Prime Minister Ben Chifley
Chifley became Prime Minister following Curtin's death, succeeding the caretaker Prime Minister, Francis Forde, on 13 July 1945.
He visited the UK, USA, Japan and New Zealand while on four overseas trips to attend conferences from 1946–1949.
Chifley was responsible for accelerating postwar reconstruction and in 1945 the Commonwealth government became a signatory to the charter setting up the United Nations.
Chifley's government announced its objective of raising the Australian population to 20 million, and signed an agreement with the UK for free and assisted passages for immigrants, while the War Service Land Settlement Act introduced the soldier settlement scheme.
The first Holden car was launched by Chifley in 1948, and the Snowy Mountains Authority was founded in 1949.
Chifley retained office at the 1946 elections, but lost to Robert Menzies' Liberal-Country Party coalition in December 1949.
The defeat followed a series of events and issues through which Labor's popular support declined. These included a long-running coal strike, Communist influence in the union movement, the continuation of wartime rationing controls over the sale of petrol, and Chifley's personal crusade to nationalise private sector banking.
Chifley's later political life
Chifley continued in parliament as Leader of the Opposition after his defeat by Menzies. He died on the way to hospital after a heart attack in his hotel room in Canberra, 13 June 1951, while a ball celebrating the Jubilee of Commonwealth parliament was in progress in Parliament House.
Legislation passed under Chifley
The following notable legislation was passed during Chifley's prime ministership:
The Commonwealth and State Housing Agreement Act 1945 provided for the subsidisation of house constructions by grants from the Commonwealth matching state grants.
The Hospital Benefits Act 1945 provided grants to states to subsidise public hospitals.
The Banking Act 1945 was strongly opposed by the opposition because it placed banking systems under the Commonwealth Bank in a 'reserve bank' role.
The Education Act 1945 set up a Universities Commission for expansion of university education, a measure strongly supported by the opposition.
The Snowy Mountains Hydro-Electric Power Act 1949.
The National Health Service Acts 1948 and 1949 laid the foundations for a national health scheme, which was never implemented for constitutional reasons.
The National Emergency (Coal Strike) Act 1949 penalised unions supporting the NSW coal strike.
The Nationality and Citizenship Act 1948 enacted a new code of nationality and citizenship law.
Return to

Top