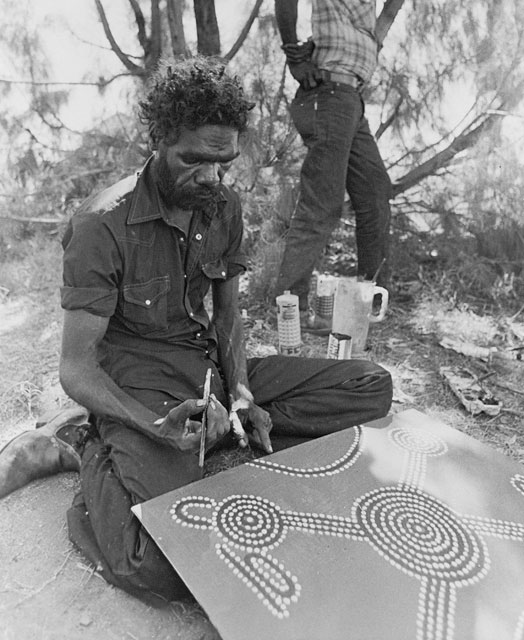 about 1943–2001
Turkey Tolson worked as a stockman at Haasts Bluff cattle station and later as a labourer at Papunya. One of the youngest of the original Papunya Tula shareholders, his name first appears on the company's books as a painter in 1973. In 1979 he was an artist-in-residence at Flinders University in South Australia and he went on to become Papunya Tula Artists' longest-serving chairman (1985–95).
Dreaming at Kamparrarrpa, 1976

Kamparrarrpa refers to both a place where ceremonies were carried out and a small edible berry, commonly known as bush tomato, which grows in the region. The painting depicts 5 large waterholes and 16 women's camps. As part of their ceremonies the women re-create, in song and ritual, the activities of various ancestral beings. Designs representing each ancestor are applied to the bodies of the participants.
Kampurrarrpa, 1976

This painting is named after a site where a large group of women camped and performed ceremonies in the Dreaming. The concentric circles indicate the women's camps and the straight lines are their digging sticks. The women are represented by the U shapes, which mimic their seated marks in the sand and are further defined here as their breasts. Kampurrarrpa is also the name given to the edible bush tomato, a species of solanum that grows in the surrounding plains.
Tjunyinkya, 1977

by Johnny Scobie Tjapanangka and Turkey Tolson Tjupurrula

This painting is named after a cave and rock waterhole site where Tingarri Men gathered during the Dreaming. Their activities are said to be visible in the form of standing rocks on the hills that surround the cave. The key participants are shown by the U shapes that adjoin the concentric circles (the cave). The background dots represent spinifex grass and sandhills.
Two Women Mythology at Putja Rockhole, 1977

The legendary Two Women ancestors made camp, hunted goannas, fetched water and gathered bush foods around the rock waterhole that features in this work. They used a form of sand drawing to lure a group of travelling Tingarri Men, by arranging leaves on the ground in a love-magic design. Further details of the painting were not revealed by the artist.
Return to

Top