On Country: Connect, Work, Celebrate showcased contemporary Indigenous land and sea management practices across Australia. These practices build a connection to Country and this connection is strengthened through caring for Country, being on Country, and celebrating Country.
By blending millennia of traditional knowledge about ecology with modern technology and research, these practices are helping to protect Australia's fragile environments for our future.
On Country was previously on show at the National Museum of Australia from 22 November 2013 to 20 July 2014.
Read The Museum magazine article about this exhibition
by Barbara Paulson, Curator, Australian and Torres Strait Islander Program, The Museum magazine, Issue Four, September 2013–February 2014
On Country is a photographic exhibition exploring themes of Aboriginal and Torres Strait Islander engagement with country, and illustrating the hard work that goes into caring for it. Aboriginal and Torres Strait Islander communities are working in and leading land and sea management programs and practices that address significant environmental issues such as climate change, biodiversity, quarantine control, management of invasive animals and plants, protecting endangered native species, and natural resource depletion.
The tradition of land management practices extended for many millennia before first contact. The Aboriginal and Torres Strait Islander peoples who were able to regain control over country through land rights and native title legislation now manage the land using skills and techniques that blend traditional knowledge, modern technologies, scientific research and innovative practice methods. Non-Indigenous people are also learning from Aboriginal and Torres Strait Islander peoples better ways to manage the country for a sustainable future.
The 'Caring for country' movement, as it has become known over the last two decades, emerged as a sequel to the land rights era. Knowing communities can create their own prosperity in their country, in accordance with cultural practices, makes 'agency' in today's decision-making about land and sea management much more significant for Aboriginal and Torres Strait Islander peoples. Cultural groups who no longer have control over their country are accessing the land through private arrangements, and sharing information for the mutual benefit of all.
Caring for country is a cultural practice as well as an environmental one, and the ranger programs show how the passing of knowledge from generation to generation and conserving culture and ecology are interlinked. The On Country exhibition is an opportunity for visitors to see how Indigenous peoples' involvement within these programs are integral to the strategies Australia has in place to protect our natural heritage.
The Dhimurru Rangers won the 2007 Indigenous Banksia Environment Award for their work with ghost nets — commercial fishing nets discarded at sea. The rangers clear away several tonnes of ghost nets each week, which drift ashore, often entangled with dead or injured turtles, sharks, dugongs and fish.
This exhibition was supported by the Australian Government Department of the Environment.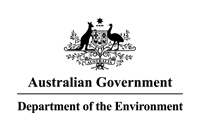 Return to

Top