On 5 May 1991 the Australian Government requisitioned BHP's defunct single men's quarters in Port Hedland to use as a detention centre for refugees fleeing civil conflict in Cambodia.
This significant moment in Australian history was a key step in the development of a policy of mandatory detention applied to people arriving in Australia without a visa, regardless of their method of arrival.
Successful asylum seeker, cited in Long Term Health Costs of Extended Mandatory Detention of Asylum Seekers, Tony Ward, October 2001:
I'm very happy because I have my liberty, but I feel that the detention adds to my problems now of fear. What I experienced there is very difficult to forget. Every day I think about my life in prison. Even this morning I thought about it and started crying. And I think about the people who are still there and who are suffering, and that makes me afraid. Things have improved for me because I have my liberty, but I still think about it.
Legislation
The Labor government under Bob Hawke introduced the Migration Legislation Amendment Act in 1989 to change the system of processing boat arrivals. It allowed immigration officials, at their discretion, to detain anyone suspected of being an 'illegal entrant'.
The Act was intended to address the uncontrolled arrival of large numbers of Cambodian refugees, although only 26 Cambodians arrived by boat that year.
The introduction of the Migration Amendment Act 1992, which passed with bipartisan support, made detention mandatory for people who had arrived by boat since November 1989. The Act was passed two days before the High Court was due to rule on a case brought by one of the Cambodian refugees, Chu Kheng Lim, on the legality of his detention.
Lim's case asserted that mandatory immigration detention was a contravention of Chapter III of the Constitution. However, the High Court found that the system came within the aliens power in section 51 (xix), and that Chapter III of the Constitution was not contravened because the detention system did not include an infliction of punishment by a non-court.
The Act removed limits on the amount of time that a person could spend in detention and the result of this was an increasing number of individuals in prolonged detention:
In 1989 the average length of stay in immigration detention was 15.5 days, but for the Cambodian asylum seekers who arrived by boat in 1989, the average length of stay (until a primary decision was made on refugee status) proved to be 523 days.
With the subsequent passage of the Migration Reform Act 1992 – which largely came into operation in September 1994 – mandatory detention was extended to all unlawful non-citizens, defined as any non-citizen who does not hold a valid visa, regardless of their method of arrival into the country.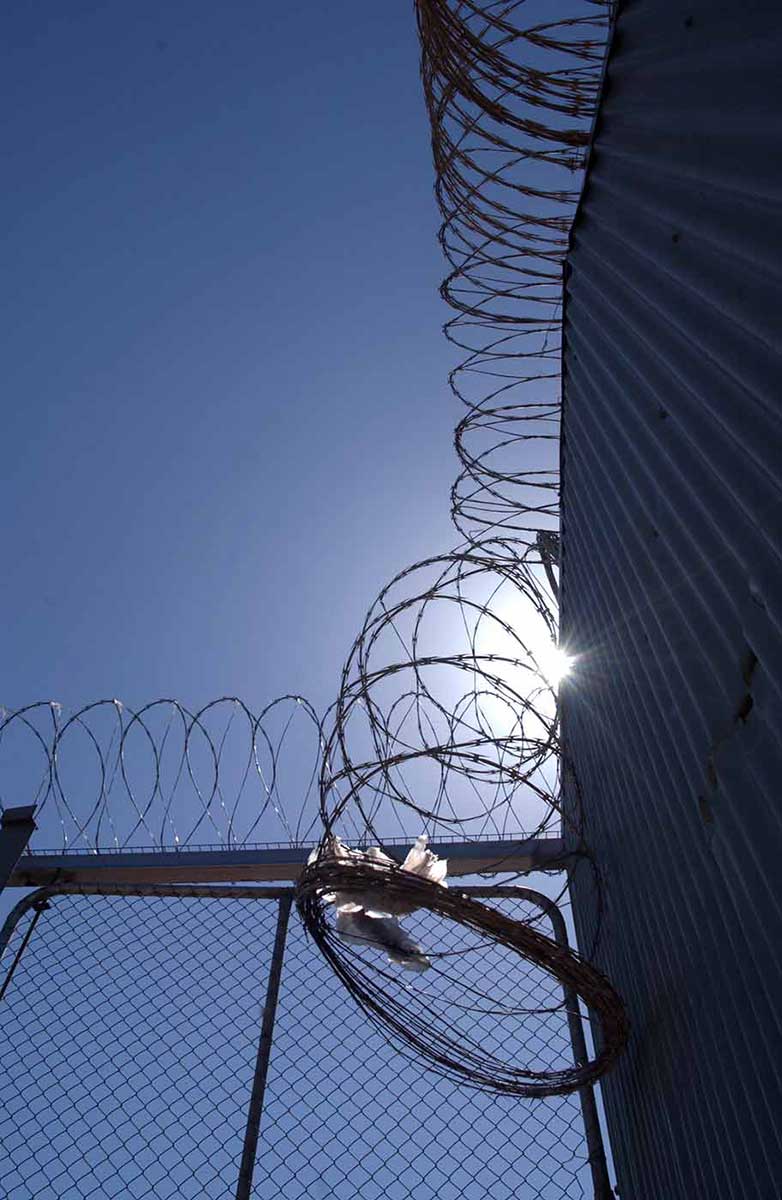 Development of detention centres
Port Hedland was the first of several detention centres that were established to hold illegal entrants.
Most were located in remote locations, such as Woomera in South Australia, which opened in 1999 and closed in 2003, and Curtin in Derby, Western Australia, which still operates.
As part of its 'Pacific Solution', the Australian Government excised certain places, such as Christmas Island, from the Australian migration zone and removed asylum seekers to detention centres in Nauru and Papua New Guinea.
Implemented during 2001–2007, this excision and use of third-party territories for detention and processing had bipartisan support from the Liberal–National government and Labor opposition.
Opposition to detention policy grows
At Port Hedland between 1992 and 2001 there were protests, both peaceful and violent, and escape attempts by detainees in response to their detention.
Similarly at Woomera between 2000 and 2002 detainees were active and vocal in protesting against their situation, using such methods as escape, hunger strikes, riots and sewing their lips together.
A number of refugee advocacy groups formed in response to growing community concerns, and many existing organisations developed policies against mandatory detention. For example, the Royal Australian and New Zealand College of Psychiatrists specifically called attention to the impact of detention on children.
Church and welfare groups took a broader approach in opposing the policy, questioning both the ethics of detention and its high human cost, and arguing against its effectiveness as a deterrent.
References
Janet Phillips and Harriet Spinks, 'Boat arrivals in Australia since 1976', Parliamentary Library, Parliament of Australia, 23 July 2013.
Amy Nethery, 'Immigration detention in Australia', PhD Thesis, Deakin University, 2010.
Julian Burnside, From Nothing to Zero: Letters from Refugees in Australia's Detention Centres, Lonely Planet Publications, Melbourne, 2003.
Anna Hayes and Robert Mason, Cultures in Refuge: Seeking Sanctuary in Modern Australia, Ashgate, Surrey, England, 2012.
Peter Mares, Borderline: Australia's Treatment of Refugees and Asylum Seekers, UNSW Press, Sydney, 2001.
Janet Phillips and Harriet Spinks, 'Immigration detention in Australia', Parliamentary Library, Parliament of Australia, March 2013.
'Successful asylum seeker', cited in Tony Ward, Long Term Health Costs of Extended Mandatory Detention of Asylum Seekers, Yarra Institute for Religion and Social Policy, Box Hill, Vic., October 2001.
'Immigration and Refugee Law', in The Law Handbook, Thompson Reuters (Professional) Australia Limited, Sydney, NSW, 2019.
Return to

Top