As a penal settlement, the colony of New South Wales was intended to be economically self-sufficient but as the colony developed, it became apparent that formal financial institutions were needed to promote growth.
In April 1817 Australia's first bank, the Bank of New South Wales (now Westpac), opened in Sydney.
Governor Lachlan Macquarie and Judge-Advocate John Wylde were instrumental its formation.
Governor Lachlan Macquarie, 12 March 1810:
There being no other circulating medium in this colony than the notes of hand of private individuals, and this practice having already been productive of infinite frauds, abuses and litigation I am very apprehensive it may at some future period occasion a general bankruptcy … I shall therefore … recommend the adoption here of the same system of banking and circulating medium, as is now so successfully and beneficially pursued at the Cape of Good Hope.
Money and the early colony
The penal colony of New South Wales was established in 1788 by Captain Arthur Phillip with few resources other than largely unskilled convict labour, some tools, and a selection of trees, vines, seeds and stock acquired from the Cape Colony (now South Africa).
The British Government did not supply coinage, partly to keep down costs but also to remove a source of temptation to the criminally inclined, and expected the colony to be self-sufficient as soon as possible.
Trade in the early colony was conducted through barter and using a variety of coins including English pennies and shillings, Dutch guilders, Indian rupees and Spanish dollars that arrived with merchant ships.
As merchants required payment for imported cargoes, they sailed from the colony with whatever hard currency was available and thus there was a constant shortage of reliable currency in Sydney.
As a result, trade in commodities (cattle and rum) and personal promissory notes became common. For many of those settlers paid for their crops in rum, the temptation to drink their income led to poverty and the loss of their land.
As more free settlers moved to the colony and agricultural development increased, the need for a stable form of currency to facilitate trade became more and more pressing.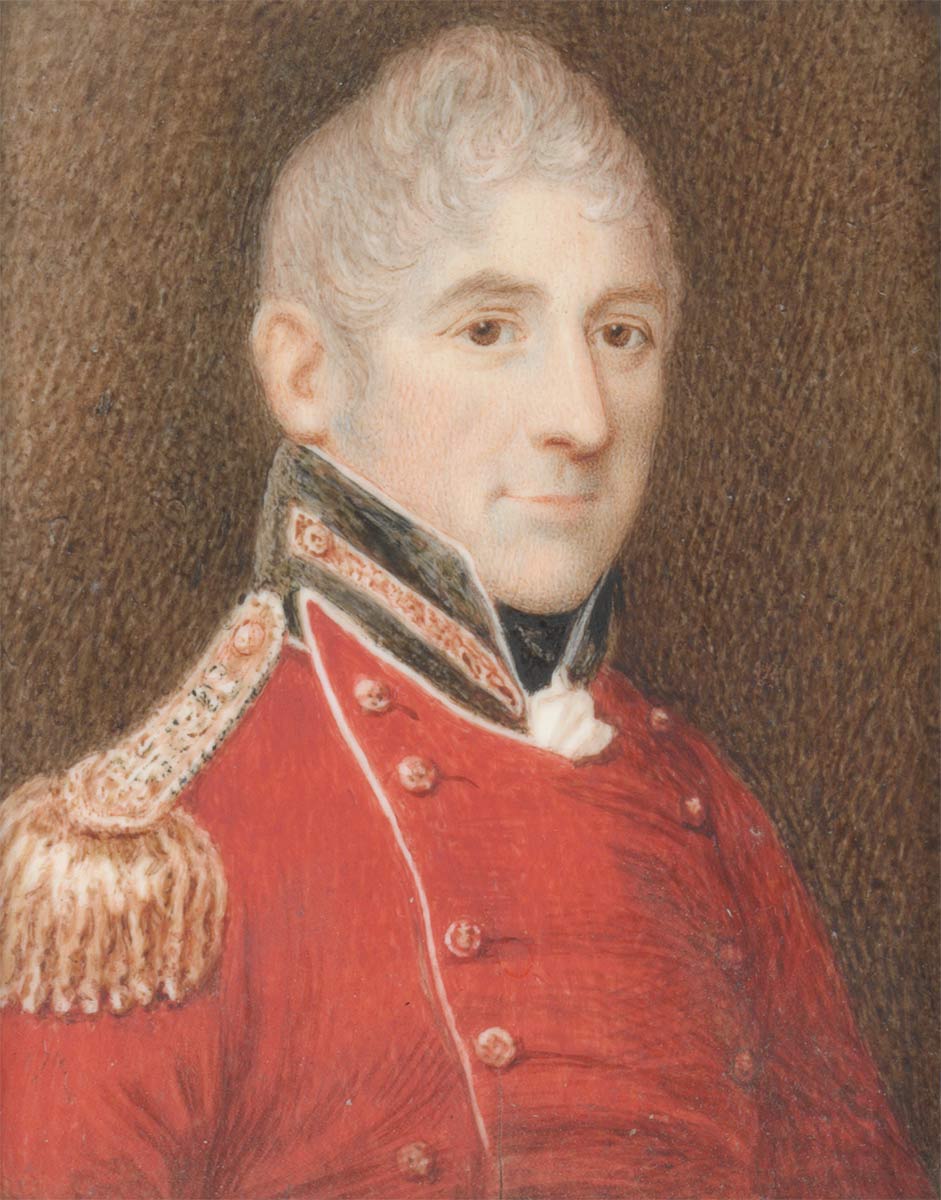 Governor Macquarie
When Governor Macquarie arrived in Sydney in 1810 he discovered that the colony's main form of exchange was rum.
The colonial government actually paid for the construction of the Sydney to Liverpool road in 1813 with 400 gallons of the liquor.
Macquarie had experience in economic affairs having been deputy paymaster for the British army of the Bombay Presidency in India, and so had some ideas about how to stabilise the currency situation.
In March 1810, only three months after his arrival, Macquarie recommended in a dispatch to Lord Castlereagh, the Secretary of State for the Colonies, that a bank should be established. He followed this up with a more formal proposal on 30 April.
Holey dollars
The British Government did not accept Macquarie's initial proposal to establish a bank but, in an acknowledgement of the problem, promised £10,000 in Spanish dollars to relieve the currency shortage.
These arrived in 1812 and to ensure that they could only be used within the colony Macquarie had the centre of each dollar cut out, creating what became known as holey dollars. The smaller centre or 'dump' was valued at one shilling and three pence while the remaining outer ring was valued at five shillings.
The holey dollars and dumps were circulated from 1814 to replace the need for private promissory notes, but their number proved insufficient to the growing needs of the colony.
Bank of New South Wales
Relying on unstable promissory notes for the majority of business in the colony was inhibiting economic growth. The impetus for change came with the arrival of John Wylde, the new colonial Judge-Advocate, in October 1816.
In November 1816 he wrote to Henry Goulburn, the under-secretary at the Home Office in London, stating that 'currency' promissory notes were the subject of more suits than any other matter in the court system. Discussions between Wylde and Macquarie led to the revival of the idea of establishing a bank.
On 20 November 1816 Macquarie invited a group of 'magistrates, principal merchants and gentlemen of Sydney' to a meeting at the Judge-Advocate's chambers. No minutes are available from this meeting but the group met again two days later and announced their approval for the formation of a colonial bank.
Macquarie had no specific power under his commission to grant a charter of incorporation for such an entity, but Wylde considered the governor possessed an implied power. Macquarie went ahead and began organising.
On 7 February 1817 seven directors were elected with John Thomas Campbell, the Governor's secretary, elected president and chairman of the board of directors. On 15 February Edward Hall Smith was appointed the bank's first cashier and secretary.
On Tuesday 8 April 1817 at 10am, the bank opened in rented rooms in the house of ex-convict Mary Reiby in Macquarie Place.
First bank in Australia to Westpac
The bank moved to larger premises in George Street in 1822. During the 1820s competition increased as more local banks opened but the Bank of New South Wales survived.
The 1850s gold rushes led to a major expansion of the bank. From one branch in Sydney in 1851, it grew to 37 branches in Australia and New Zealand 10 years later.
The bank survived the depressions of the 1890s and the 1930s and eventually in 1982 merged with the Commercial Bank of Australia, becoming Westpac Banking Corporation. Westpac is still one of the largest banks in Australia.
References
Reginald Frank Holder, Bank of New South Wales: A History (2 vols), Angus and Robertson, Sydney, 1970.
Return to

Top