Yalangbara: Art of the Djang'kawu was an exhibition of captivating Aboriginal artworks by the Marika family from north-east Arnhem Land exploring the journey of the Djang'kawu ancestors.
Yalangbara was on show at the National Museum of Australia from 7 December 2010 to 25 September 2011 in the First Australians Focus Gallery.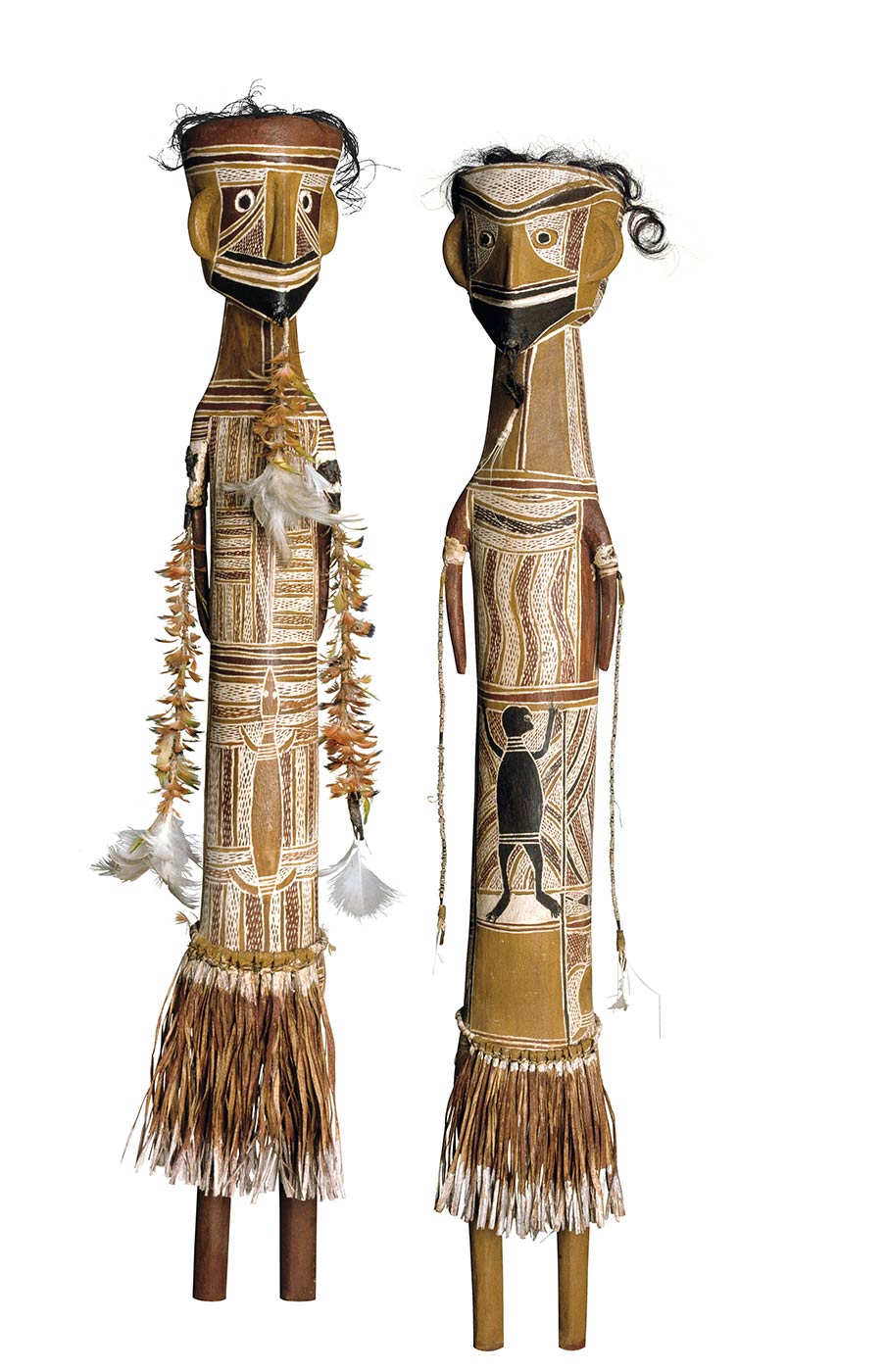 The Marikas are highly regarded as talented artists, educationalists, cultural ambassadors, environmentalists, and activists.
The exhibition centred upon the family's most significant clan estate at Yalangbara, or Port Bradshaw, south of Yirrkala in north-east Arnhem Land. The region is regarded as the original site of human and cultural origins associated with the Djang'kawu ancestors.
The exhibition featured works produced at the Yirrkala mission in the 1930s, rare crayon drawings commissioned by Dr Ronald Berndt, monumental barks from the 1950s, and a series of contemporary prints, fibre items, barks, and carvings.
Land rights, copyright and the interrelationship between people, their art and the land were also explored in the exhibition which included the Djang'kawu digging stick, normally exhibited next to the famous Yirrkala bark petition in Parliament House.
About the exhibition
Discover how this exhibition celebrates one of the most significant places in north-east Arnhem Land.
The Yalangbara region
Explore the spectacularly beautiful region of Yalangbara and its cultural significance.
The Yolngu
Learn about the Yolngu, or people, of the Miwatj or north-east Arnhem Land region.
The Marika family
Discover the Marika family and the important role that art has played in their lives.
Art and meaning
Explore the themes and symbolic meanings of the Yalangbara paintings, prints and sculptures.
Objects and meaning
Explore the significance of the iconic items the Djang'kawu brought to Yalangbara.
Djang'kawu sites
See some of the most commonly illustrated sites in the greater Yalangbara region.
Glossary
Browse a glossary of Indigenous language terms used in this exhibition.
Catalogue
Read about and purchase the exhibition catalogue.
Acknowledgements
Many people and organisations helped bring this exhibition to life.
A touring exhibition presented by the National Museum of Australia, developed by the Museum and Art Gallery of the Northern Territory in partnership with the Marika family and supported by the Northern Territory Government.
Supported by Visions of Australia, an Australian government program supporting touring exhibitions by providing funding assistance for the development and touring of Australian cultural material across Australia.

Yalangbara was also on show at the Museum and Art Gallery of the Northern Territory from 24 November 2011 until 15 July 2012 and at the Western Australian Museum in Perth from 1 September to 4 November 2012.
Return to

Top