Yalangbara is important for my family. It is a significant place and our culture and our paintings comes from here because of the Djang'kawu Sisters arrival ... Even though I'm not doing painting, every painting is in my heart, and in my body and in my head, because I am from there, from Yalangbara.
Yalangbara: Art of the Djang'kawu celebrates one of the most significant places in north-east Arnhem Land. Yalangbara was where the Djang'kawu brother and his two sisters began their miraculous overland journey shaping the land with their magical objects.
As they travelled across north-east Arnhem Land the elder sister gave birth to all the clans of the Dhuwa moiety and bequeathed them their languages and customs. The first of these clans was the Rirratjingu who were born in the sand dunes at Yalangbara. Because of this the Yolngu regard Yalangbara as the original site of human and cultural creation.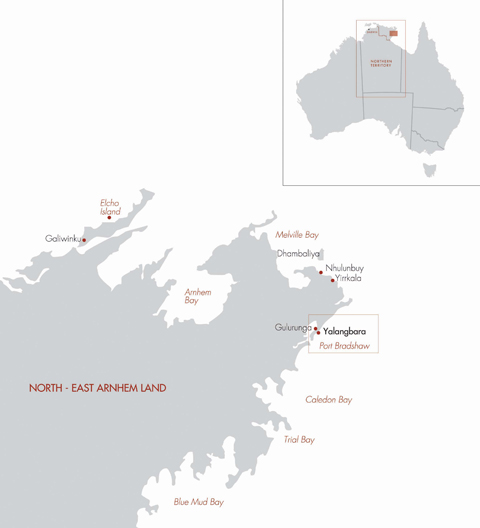 The Rirratjingu are better known today by their Marika family name and many of them, including Mawalan 1, Wandjuk, Banduk and Dhuwarrwarr Marika, are nationally renowned and respected artists.
Yalangbara: Art of the Djang'kawu is the family's first major survey show honouring three generations of their artists. The 60 or so works in the exhibition illustrate the activities of the Djang'kawu at many of the 50 or so named sites across the peninsula.
These works about place, land ownership, religion and social identity show how important art is to the Yolngu way of life.
The story behind the project
Yalangbara is a project that I thought about back in 1989–90. I had spoken about this idea since my brother, Wandjuk Marika, passed away in 1987. I wanted to see it become a reality because Yalangbara is the most important site in the north-east Arnhem Land for Dhuwa moiety people.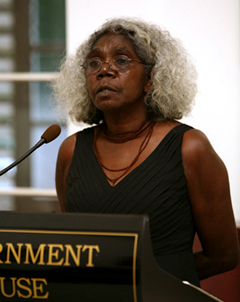 It's the site where the first ancestors, the Djang'kawu, landed and people as far away as western Arnhem Land and south, down to Numbulwar, refer to Yalangbara as the place of the first people, the first people who were born or created there — these people were Rirratjingu, my own family group.
The Djang'kawu then moved on to different countries, giving birth to different people, creating and naming places and giving people their own specific languages.
For me as an artist, it was also important to show that art is not just done for the money. That art is really about our land and our heritage that has been passed down by our fathers and their fathers to their children, from generation to generation.
This is our country, our inheritance and our responsibility and we must look after it.
This is our law and our strength. You could say that by showing the art, we're entering into our parliament — the Rirratjingu people's parliament. We are giving public access to information that has been forbidden for thousands of years because it's time to show the public that Yalangbara is important.
This story is important and this is why our fathers painted all these artworks, to show how these paintings relate to particular sites and what they mean. At the time, they did not have a translator to tell their stories properly and so we want to tell their stories properly now and hopefully through this exhibition Yalangbara will get the protection and the recognition that it deserves.
Banduk Marika
Explore more on Yalangbara: Art of Djang'kawu
Return to

Top