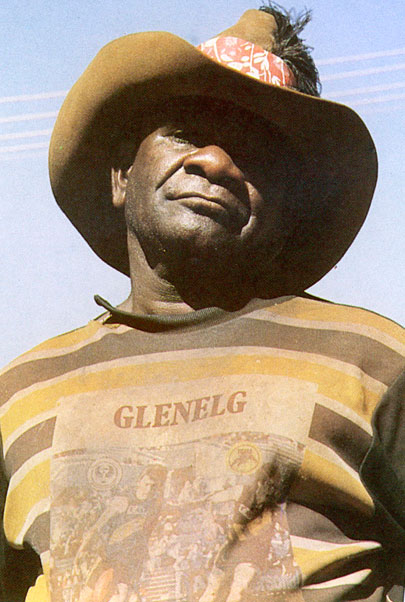 about 1935–1987
Tjapaltjarri was born at Patjarr in the Clutterbuck Hills, far to the south-west of Kintore. He was one of the original Papunya Tula shareholders and painted a small number of works in the early days of the art movement.
In the 1970s he lived mostly at Docker River and painted only occasionally when he visited Papunya. He was usually listed on the company's books as a carver rather than a painter during this period.
A talented and original artist, he later moved to Kintore and painted more regularly for Papunya Tula.
Snake Dreaming at Tjuntina container, about 1978

The painting on both sides of this container represents the Dreamings associated with an important sacred site. The figure on the outside is part-man, part-snake, with large arcs indicating shin-bones, and the ovate bars the forearms and forehead. The depiction of body parts as separate to the actual body is common in Western Desert art. On the inside, the painting concerns the Two Men Dreaming. The dotted circle on one figure represents the body paint applied during ceremonies.
Return to

Top