Ngaliya and Warlpiri people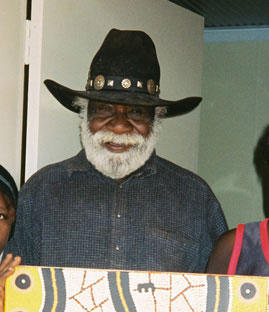 1932–2020
The artist's name 'Long Jack' comes from his unusually tall stature. A former stockman, he was one of the founding members of Papunya Tula Artists, and its chairman in 1975 and again in the early 1990s. During his childhood he lived with his family on their traditional lands, before moving to Haasts Bluff settlement when he was in his teens. In 1984 he was ordained as a Lutheran pastor and in the same year won a major art award. He was the last of the founding group of Papunya artists to continue to paint.
Wilkinkarra Men's Camp, 1975

This painting depicts an event in the travels of two men in the Dreaming. After making camp near a waterhole, the men lit a fire to flush out kangaroos. The men are shown in the centre of the painting eating kangaroo, surrounded by a vast area of burned-out clumps of shrubs and grasses. The artist has chosen to reduce the size of the waterholes, men and spears to stress the loneliness of the 2 men camped in the bleak salt-lake country of Wilkinkarra.
Making Spears, 1975

During the Dreaming a group of ancestral men camped at Wilkinkarra and lit a fire to flush out kangaroos. The fire quickly got out of control but posed no threat because of the sparse vegetation. The background of the painting shows the burnt patches from the bushfire. Some distance from the main camp (the main circular shape in the painting) another group of men were making spears by straightening wooden shafts over a fire. The spears are represented by the radiating lines.
Return to

Top