Warrabarna Kaurna! Let Kaurna be spoken!
Jack Buckskin, Kaurna Miyurna, 2015:
From day one, people were coming in, taking our stuff and sending them overseas. So we've probably got more stuff overseas than we have in our own country ... We're forever stumbling across little bits and pieces.
The Kaurna Miyurna people know the land where Adelaide now sits as 'Tarntanya', which means 'place of the male red kangaroo'. By the time the murlapaka (shield) shown below was collected during the 1840s, settlers had been in Kaurna Miyurna country for a decade. These are some of the oldest known Kaurna Miyurna objects.
Old objects
Samuel Hexter gave this shield to the British Museum in 1848, together with a digging stick and marriage stick as well as a Tasmanian necklace and two objects from India.
We don't know much else about these objects or their donor, although Hexter may have been related to W Hexter, a butcher in Adelaide during the early 1840s.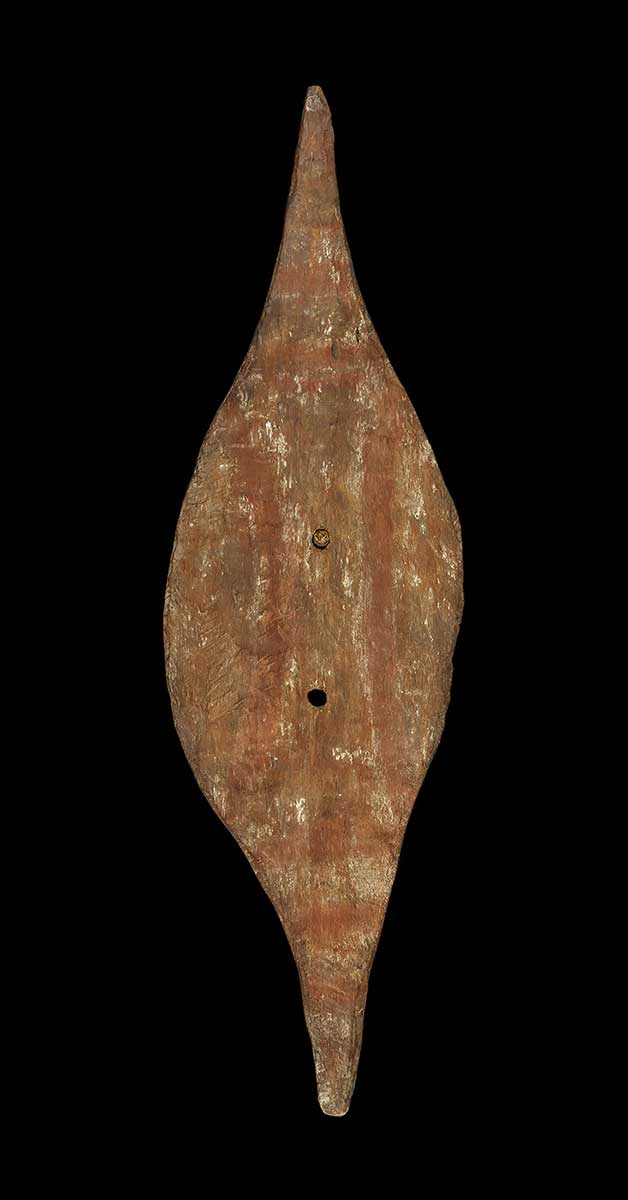 Uncle Lewis O'Brien, Kaurna Miyurna Elder, 2014:
You can only know the meaning if you use these objects, know how it was made and how long it takes to make and what kind of skill you need to make it.

It isn't just a piece of wood, it's crafted and well balanced for specific use. It was made by someone who put themselves and their spirit into it. Can you see that? Can you see the meaning?
A few early settlers made an effort to learn and record Kaurna Miyurna language, and those records have contributed to the language still being spoken today.
Alitya Rigney, Kaurna Miyurna Elder, 2015:
Language is power ... development of language is vital if we are going to continue to grow and affirm our Aboriginality. Warrabarna Kaurna! Let Kaurna be spoken!
New objects
Steve Goldsmith, Kaurna Miyurna, 2014:
The old stone axes chipped away at the tree and then they cut it into shape with stones or shells, scrape it to finish it off, and create those little handles. We have a couple of those shield-makers around. Today, of course, we have steel axes, hammers, wedges, and nowadays sandpaper rather than shells or the sharp rocks they used to smooth them off, but still the same distinct look, just new technologies to create those same artefacts.
Extract from 'Letters Patent under the Great Seal of the United Kingdom erecting and establishing the Province of South Australia and fixing the boundaries thereof', 1836:
Nothing ... shall affect or be construed to affect the rights of any Aboriginal Natives of the said Province to the actual occupation or enjoyment in their own Persons or in the Persons of their Descendants of any Lands therein now actually occupied or enjoyed by such Natives.
Return to

Top