WARNING: Visitors should be aware that this website includes images and names of deceased people that may cause sadness or distress to Aboriginal and Torres Strait Islander peoples.
---
The story behind an iconic image
5 Nov 2014
An historic and memorable image has featured prominently in the media in the days since Gough Whitlam's death.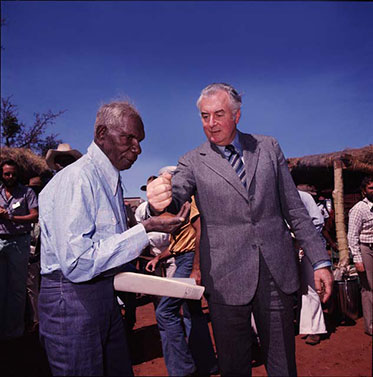 The photograph shows Gough Whitlam pouring dirt into the hands of Gurindji traditional elder, Vincent Lingiari, at the handing back of traditional lands to the Gurindji people at Wattie Creek on 16 August 1975.
The ceremony was the culmination of a long-running dispute between the Gurindji and British aristocrat and owner of Wave Hill Station, Lord Vestey and while most Australians remember this event and the people and story associated with it, far fewer are familiar with the name of Mervyn Bishop, the photographer responsible for capturing this historic moment.
As a child growing up in Brewarrina in western New South Wales, Mervyn Bishop was first introduced to photography by his mother, herself a keen amateur photographer. Another local amateur, Vic King, and an Anglican priest, Brother Richard, also taught and inspired him to purchase his first camera, a Japanese Acon 35 millimetre rangefinder for the grand price of 15 pounds.
In 1963, Bishop was the recipient of a photographic cadetship at the Sydney Morning Herald. In a 1991 interview with Aboriginal photographer and filmmaker, Tracey Moffatt, Bishop revealed that a contact at the Aboriginal Welfare Board had helped him to secure the position through a fund established by the Herald to 'help deserving Aboriginal students'.
It was while working at the Sydney Morning Herald, that Bishop received the Nikon-Walkley Australian News Photographer of the Year award, for a front-page photograph, 'Life and Death Dash', which had featured in the Herald in January 1971. Unlike other photographers who had been similarly awarded, Bishop felt he received little attention from the Herald. This, coupled with failure to offer Bishop a promotion after his award, may have had some influence on his decision in 1974 to work for the Department of Aboriginal Affairs. The establishment of the department in 1972 was one of the earliest reforms of the Whitlam government, fulfilling an election promise to meet the responsibilities put forward in the 1967 Referendum.
It was as photographer for the Department of Aboriginal Affairs that Bishop travelled from Darwin to Wattie Creek to record the handover of land to the Gurindji people. Women's Weekly photographer Keith Barlow flew with Bishop to record the historic event.
In an ABC radio interview, Bishop recalled that the ceremony was performed in 'what looked like a bough shed', which meant that Barlow and Bishop took their initial photographs 'in the shade'. Following the ceremony, after Barlow remarked to Bishop that the photos would be better taken outside in the sunlight, Bishop approached Whitlam to request a re-shoot of the ceremony outside. Mr Whitlam agreed immediately and Bishop remembers helping 'Uncle Vincent' outside for the re-shoot. Other photographers who were present waited respectfully until Bishop, and then Barlow, had secured their images.
Positioned against a background of brilliant blue sky and red desert sands, Whitlam's symbolic gesture, captured so powerfully in this iconic photograph, is a reflection of Mervyn Bishop's Indigenous sensibility of place and space and remains a moving tribute, not only to two great Australian men, but to a never-to-be forgotten moment in Australian Aboriginal history.
At the state memorial service for Mr Whitlam held at Sydney's Town Hall, a small group of Gurindji from Kalkarindji/Daguragu in the Northern Territory visited Sydney to pay their respects and farewell the man they now call 'Kulum' Whitlam.
Many of Mervyn Bishop's photographic works are now held in national collecting institutions, including the National Museum of Australia, National Archives of Australia, National Gallery of Australia, the Art Gallery of New South Wales and the Powerhouse Museum.
More on the struggle for Indigenous land rights
More on the Wave Hill walk-off and handback, 1966-75