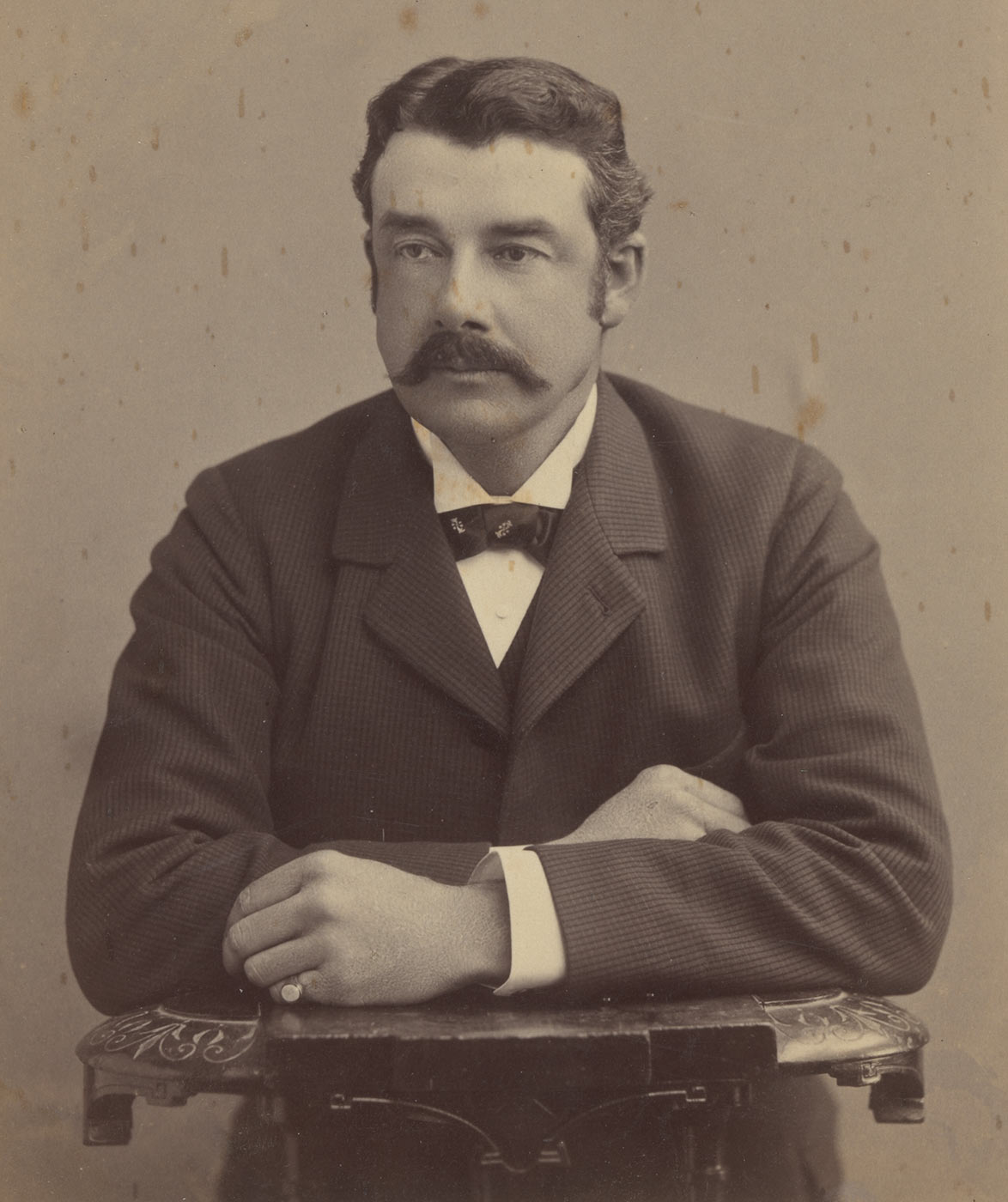 Augustus Lucian Faithfull, generally known as Lucian, was the youngest son of William Pitt and Mary Faithfull. Lucian showed an early interest in merino sheep breeding.
William Pitt Faithfull had selected 10 rams from Sir William Macarthur's Camden Park stud flock to establish the Springfield Merino Stud in 1838.
In 1871 his father organised for Lucian, then 16 years old, to spend time at Rawdon.
This renowned merino stud near Mudgee in central western New South Wales was owned by Richard Cox and gave Lucian the opportunity to learn more about the industry.
Richard taught Lucian how develop desirable characteristics in sheep flocks through selective breeding.
Lucian returned to Springfield and began managing the large Springfield stud flock of 4500 ewes. [1] He decided to establish two new stud flocks: one would comprise fine wool merinos; and the other merino flock would produce stronger wool with heavier fleeces. [2]
As his father aged, Lucian gradually assumed full responsibility for the management of Springfield. Lucian purchased rams from a range of prominent merino studs in Australia and overseas.
Springfield sheep soon became known for the heaviness of their fleeces and for the quality of their wool. In 1878, a Springfield ram was the largest sold at the Sydney sales, and it cut the heaviest fleece. [3]
Transcription of Lucian Faithfull's attributes of 'good sheep'
Good Sheep

Sheep

1. With fineness of wool
1. Very short stapelled hard woolled sheep
2. Trueness of wool
2. Sheep that strip at the points loose the belly wool and have a clean head without top-not
3. Evenness of Fleece not long & short
3. Any that have black or yellow spots on legs or face
4. With curves up to the tips
4. Any that are deformed in any way
5. With density, opening nowhere but the place opened
5. Any that have the wool loose and running into spiral points
6. Well woolled on the points head, belly, face, and legs to the knees, & hocks,
6. With white hairs in the wool
7. With softness to the touch
7. Any remarkably small sheep
8. With yolk in moderation
8. Any with coarse wool on tail & breech
9. Not cobwebby but opening clean
9. Any with wool less than one inch on the ribs when shorn
10. Not the sign of a hair on any bare places or on any part of the fleece
10. Any long legged small bodied sheep
A L Faithfull
April 21st 1872
11. Any with bad constitutions
70 years managing the Springfield stud flock
Ram sales became a significant source of income. [4] Springfield wool and stud sheep won many prizes in Australia and abroad.
Framed portraits of prize rams with names such Phenomenal, Royal King, Commercial Grand and Field Marshal adorned the walls of Lucian's office. With their impressive size, heavy fleeces and bold spiral horns, rams like these became icons of pastoral prosperity in Australia.
Lucian died in 1942. He had managed the Springfield stud flock for more than 70 years.
Springfield and Fonthill studs
After Lucian Faithfull's death, the Springfield stud was managed by his son-in-law Irwin Maple-Brown, and later his son, Jim Maple-Brown. Jim lived at Fonthill, near Springfield and established the Fonthill Stud in 1954. In 1964, after Irwin's death, Jim became manager of Springfield and its historic merino stud.
Throughout the second half of the 20th century, Jim Maple-Brown developed a reputation as an innovative sheep breeder and an influential instigator for beneficial changes within the Australian wool industry. His son Richard Maple-Brown joined him in managing the flock.
In the 1970s and 1980s, Richard and Jim developed the Fonthill poll merino stud flock and a general, non-stud flock, to balance fine wool and meat production. The Springfield stud was gradually absorbed into the Fonthill stud. After the Springfield homestead was put on the market in 2004 and sold, Richard continued to maintain the Fonthill stud.
Shearing the rams slideshow
National Museum photographer George Serras captured these images of shearing the rams at Springfield, in December 2004. About 8000 sheep were shorn in a little over a week.
Explore more on the Springfield–Faithfull family collection
Footnotes
[1] Taylor, Peter. Springfield: The Story of a Sheep sSation, Allen & Unwin, 1987, p. 68.
[2] Ibid, p. 70.
[3] Massy, Charles. The Australian Merino: The Story of a Nation, Random House, 2007, p. 623.
[4] Taylor, Peter. p. 101.
Return to

Top