Mrs Lum Loy is depicted with her mango plantation workers while William J Liu negotiates business for the China–Australia Mail Steamship Line. In 1913 Senator Thomas Bakhap, a former tin miner, was elected to federal parliament as a senator for Tasmania. At left, he is shown addressing a small group of people outside Parliament House, Melbourne.

The China–Australia Mail Steamship Line
In 1914 the outbreak of war led to a shortage of ships trading on the Hong Kong–Australia route as British and German ships had been redirected to Europe.
Although Japan was an ally of Australia during the First World War, the two Japanese shipping lines left plying this route raised their prices. This brought about the opportunity to set up a competitive shipping line.
The China–Australia Mail Steamship Line was established in 1917 by members of the Sydney Chinese Chamber of Commerce, including Thomas Yee Hing, William J Liu, Ping Nam and William Gockson. They purchased the Gabo and the Victoria, but both ships were requisitioned by the Australian government for war service.
The enterprise was beset with other difficulties: raising capital, factionalism between monarchists and republicans on the controlling board, and other competition, particularly from the British shipping lines which returned in strength after the war.
Business and commerce
Although there was a rapid decline in the Chinese-born population in Australia from 29,000 in 1901 to 6000 by 1947, those who remained in Australia became increasingly involved in business and commerce.
As early as 1854, organisations (tongs) promoting the welfare of Chinese people from specific counties, such as the See Yup Society, had been established. The See Yup Society still exists and is one of the oldest continuing organisations in Australia.
As migration from China was curtailed, particularly after 1901, many of the tongs disappeared but they were replaced with all-Chinese organisations that were set up to work in the interest of Chinese merchants and businessmen. The Chinese chambers of commerce in both Melbourne and Sydney were also established around this time.
In 1913, Thomas Jerome Bakhap, the adopted son of a Chinese father and a European mother, was elected to federal parliament as a Liberal senator representing Tasmania. Senator Bakhap was called upon by the Chinese community to assist with difficulties arising from the White Australia policy.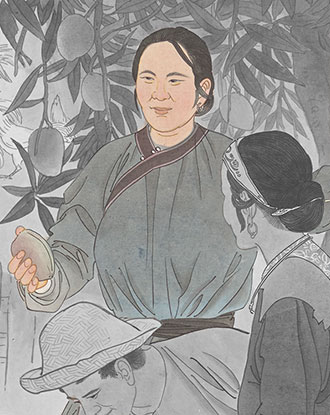 Mrs Lum Loy
Mrs Lum Loy, known as 'the mango lady', set up and ran her own ventures in Darwin, including a mango plantation, chicken farm and market garden.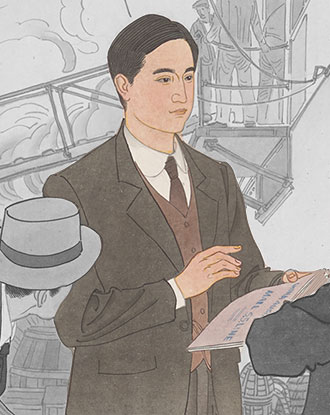 William J Liu
Formed the China–Australia Mail Steamship Line in 1917, with other members of the Sydney Chinese Chamber of Commerce, and was its first managing director. For more on William J Liu see Scene 17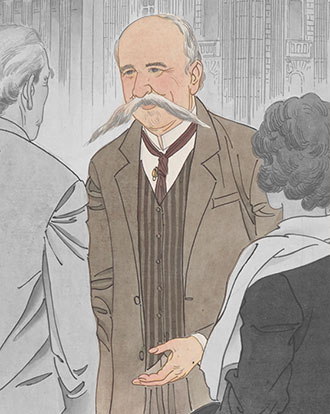 Thomas Jerome Bakhap
Thomas Bakhap learned to speak Chinese from his adoptive Chinese father and used his language skills to support the rights of Chinese workers in Australia.
Return to

Top