Many Chinese labourers were employed in the construction of the Darwin–Pine Creek railway. At right, Chinese labourers are sorting railway sleepers and loading them on to a wagon. Chinese industry contributed much to the development of outback Australia. Depicted centre are agricultural pursuits, including the cultivation of rice, sugarcane and Chinese turnips. In the background, a Murray River paddle-steamer can be seen, along with riverboat captain John Egge.

The labour shortage
Because of the isolation and extreme living conditions in the far north of Australia, it was difficult to find sufficient numbers of workers from the southern states. Following the discovery of gold at Pine Creek in 1872, Chinese people were imported to work the mines.
During the construction of the Overland Telegraph in 1874, the South Australian Government — which administered various aspects of the Northern Territory at the time — imported Chinese labourers from Singapore to Palmerston (renamed Darwin in 1911) to overcome the labour shortage.
By 1886 there were approximately 4000 Chinese living in the Port Darwin area. More than 2000 Chinese labourers were employed to build the railway between Pine Creek and Darwin which was completed in 1889. This is the only railway in Australia built with Chinese labour.
After the South Australian Government introduced restrictions on Chinese immigration, the mining industries suffered a setback. Many leases had to be abandoned due to a lack of available labour.
Contributing to the development of Australia
The Chinese contributed much to the development of Australia's northern regions. They became bakers, fishermen, tailors, market gardeners and tradesmen in the construction industry.
They introduced rice-growing, raised pigs, created the botanical gardens in Darwin and established a Chinatown around the Cavenagh Street area which was razed by the military in the Second World War. The Sue Wah Chin building remains as a reminder of the Chinese contribution to the early commercial life of Darwin.
The Chinese also played a large role in the development of the southern region of the continent. The Murray riverboat captain John Egge was a pioneer of early river navigation.
In the 1840s Egge had been cabin boy to Captain Francis Cadell on his voyages in the China Seas. Later Cadell took Egge to South Australia, where he became a riverboat captain and store owner, trading along the Murray River from the 1860s to the 1890s. Egge's paddle-steamers were named Prince Alfred and Warrego.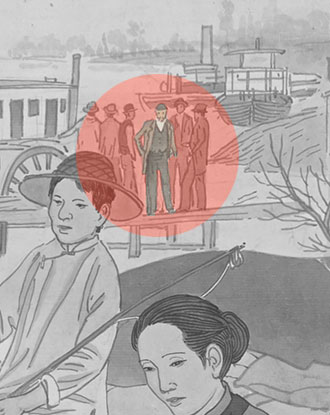 John Egge
A riverboat captain and store owner who traded along the Murray River between the 1860s and 1890s.
Return to

Top