Mary Willsallen was a champion horse breeder, judge and horsewoman and a founder of the Australian Carriage Driving Society.
Mary was a regular competitor at agricultural shows across southeast Australia for more 50 years, and the Museum's collection includes one of her favourite show sulkies, made in Sydney in the 1940s.
The core of the Museum's Willsallen collection dates from 1939, when Mary entered her first show competition, to 2002, the year of her last competition, in the year before her death.
It includes a pony-sized Sydney brass sulky, Mary's driving whip and hat, a horse-measuring stick, a rug made from show ribbons as well as photographs and breeding records.
The collection was donated to the National Museum under the Australian Government's Cultural Gifts Program by Tony Willsallen in memory of his mother, Mary.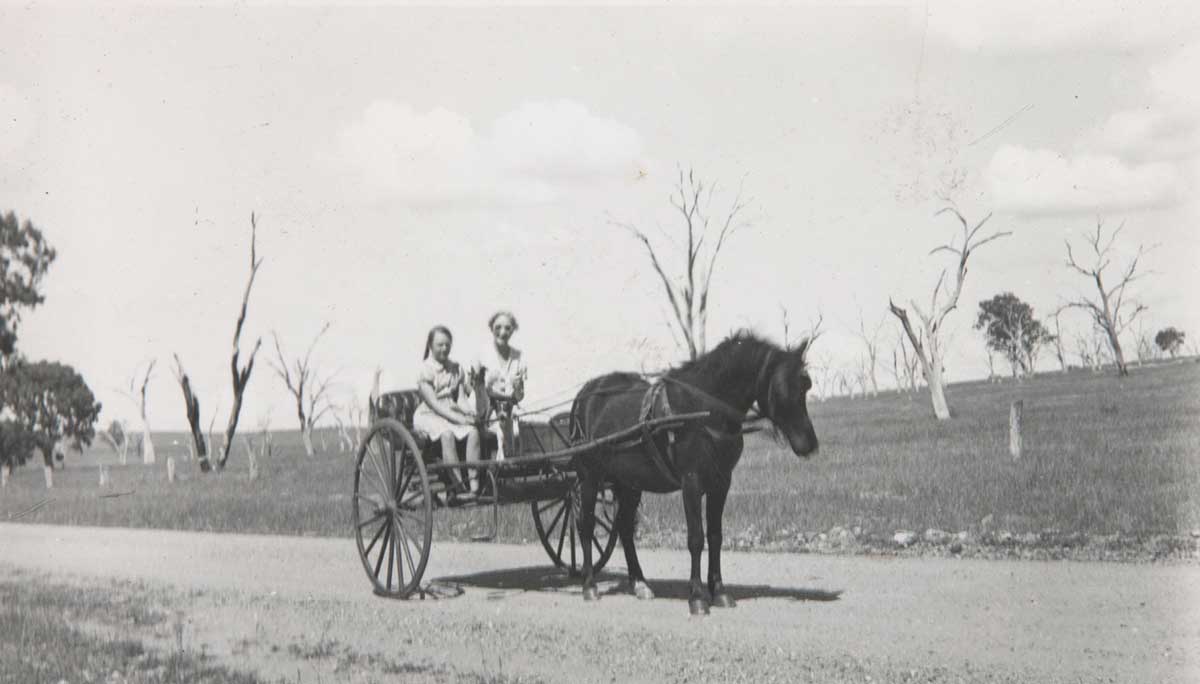 Growing up with horses
Mary Willsallen (née Knight-Gregson) was born in 1927 and grew up on Lowlynn, a property near Harden, New South Wales.
On Lowlynn, horses were an everyday part of life. Willsallen rode and regularly drove a sulky and pony from a very young age.
One obituary noted that from childhood, she was said to have 'conceived a deep and abiding love of horses'.
During Mary's early childhood in the the 1920s, horses were part of daily life across Australia. Over the following decade, however, the power and efficiency of the motor vehicle saw it rapidly replace harnessed horses for haulage and transport.
By the 1930s, horses in urban areas had become a part of the past. They continued to be used in rural areas but had largely been replaced with engines or machinery by the end of the Second World War.
Horses remained a central feature in Mary's life. In 1950 Mary married Michael Willsallen and moved to Dunolly, a property near Jugiong in New South Wales, where she later established a horse and pony breeding stud.
A competition favourite
In 1950 Mary competed in her first show harness event. It was the beginning of many harness and driving events to come in a competition career spanning 50 years. Mary kept sulkies in different sizes to allow her to compete in classes for horses, galloways and ponies.
Each sulky was carefully maintained to ensure the high level of finish required for competition. The Willsallen collection also includes a complete harness for the Sydney pony sulky, which comprises a double bridle, bits, saddle, breastplate, girth strap and reins.
Made by HH Stocks
Mary's sulky was made by HH Stocks, a Sydney coachbuilding firm. Herbert Holroyd Stocks was born in 1893 at the height of the popularity of the sulky in Australia. His father owned and operated a livery stable and Herbert had grown up around horses.
By 1915, Herbert had established his coach building business in Sydney. Though the company eventually moved into motor body building, as cars overtook horses in popularity, the firm continued to work with sulkies and was particularly noted for building sulkies for the show ring.
Sulky history
A sulky is a light two-wheeled vehicle, so-called because it had space for only one passenger – the driver – who necessarily sat alone. [1]
A 'more sociable' [2] version, which could accommodate two people, was developed in Sydney in the mid-1880s from a vehicle imported from San Francisco. This Australian version became known as the 'Sydney sulky'. [3]
From the beginnings of the depression in the late 1880s, the sulky was said to have become 'the most popular vehicle in Sydney'. [4] In 1895 a visitor to the Royal Agricultural Society's Sydney Show commented that, 'No Sydney display of vehicles would be complete without a large representation of her most popular vehicle, the sulky'. [5]
At the time, the sulky was 'the cheapest form of horse-drawn passenger vehicle on sale in Australia'. [6]
Until the 1920s the Sydney sulky remained extremely popular being 'sold in parts or complete by coach builders' suppliers to the trade and public'. [7] Today, sulkies still feature in carriage driving and harness events.
The sport of carriage driving
Mary Willsallen became a respected harness driving judge and in 1971 helped form the Australian Carriage Driving Society. She served on state and federal committees for the Equestrian Federation of Australia and was the first internationally accredited driven-dressage judge.
The object of the dressage test is to judge the freedom, regularity of pace, harmony, impulsion, suppleness, lightness, ease of movement and correct bending of horses and ponies on the move.

Australian Carriage Driving Society
During the mid-20th century, as Australians relied less on horses for haulage and transport, the sport of carriage driving grew in popularity, sustaining the skills and traditions of coach building and harness making.
Harness horse sports
For those who had lived and worked with horses, the change to mechanised transport could be traumatic. The repair and development of horse-drawn vehicles to ensure they could withstand local road conditions had provided well-paid employment for skilled tradesmen.
As the car began to dominate the roads blacksmiths, wheelwrights and saddlers found themselves without a steady stream of work. The sports of carriage driving and harness racing (trotting) gained a strong following around this time. Both sports provided those with a passion for harness horses a continued outlet for their use.
For carriage driving where historic vehicles remained in use, a niche market developed for tradesmen who continued to practice their art to a high degree of professionalism.
Today, carriage driving encompasses many kinds of classes and competitions, reflecting different driving styles and the wide range of horses, including miniatures, Shetlands, Welsh and Australian ponies, Welsh cobs, Hackneys and Friesians, suitable for the sport.
The most popular disciplines are combined driving and show driving. In combined driving, teams complete a dressage test, a cross-country 'marathon', and a twisting course of cones.
In show-driving classes, competitors are judged on their 'turnout' – the quality, presentation and performance of driver, horse, harness and vehicle. Both men and women wear a hat, gloves and apron and carry a whip, and are required to complete a series of figures and turns at different paces.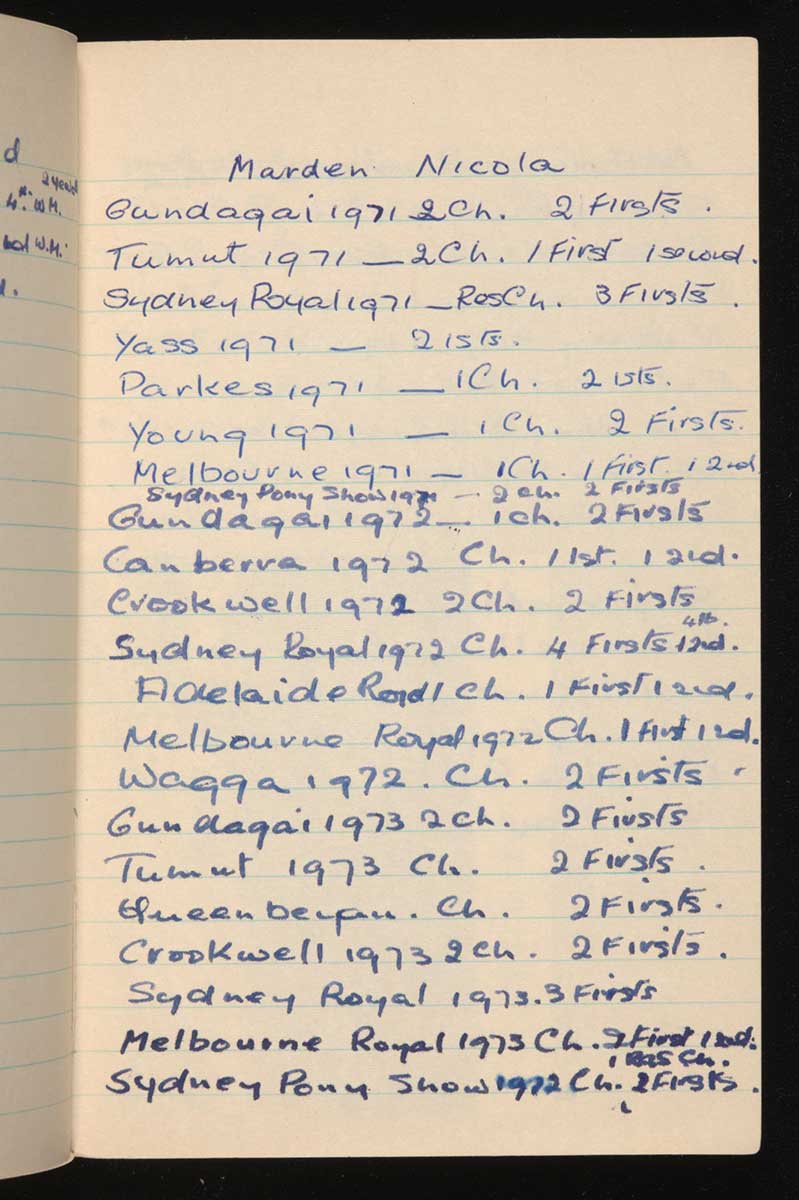 Australian pony and hackney breeds
Mary Willsallen's interest in horse breeds was encouraged by the example of her aunt Caroline McLean, a prominent breeder who established the Burradoo pony stud in 1930. McLean's stallion, Burradoo Rex, sired Lowlynn Silver King, the foundation sire for Mary's Lowlynn Australian Pony stud. [8]
After developing an interest in the Hackney breed, Mary established the Dunolly Hackney stud of ponies and horses. One of the products of this stud, Dunolly Finesse, won Supreme Champion at the Sydney Royal Easter Show 13 times.
Mary's studs produced horses for breed, riding and harness events, and improved local bloodlines by importing stock and sourcing mares and stallions from other Australian studs.
The Lowlynn and Dunolly studs contributed significantly to the development of the Australian Pony and Hackney breeds. Mary kept a prize book in which she meticulously recorded the performance of her horses, and as well as a collection of thousands of ribbons and sashes, of which only a small selection was acquired by the Museum.
At her Lowlynn pony stud and Dunolly hackney stud, Mary sourced, imported and bred ponies and horses that best demonstrated the characteristics of the breed and maintained records in a pedigree book that spans 1925 to 1998.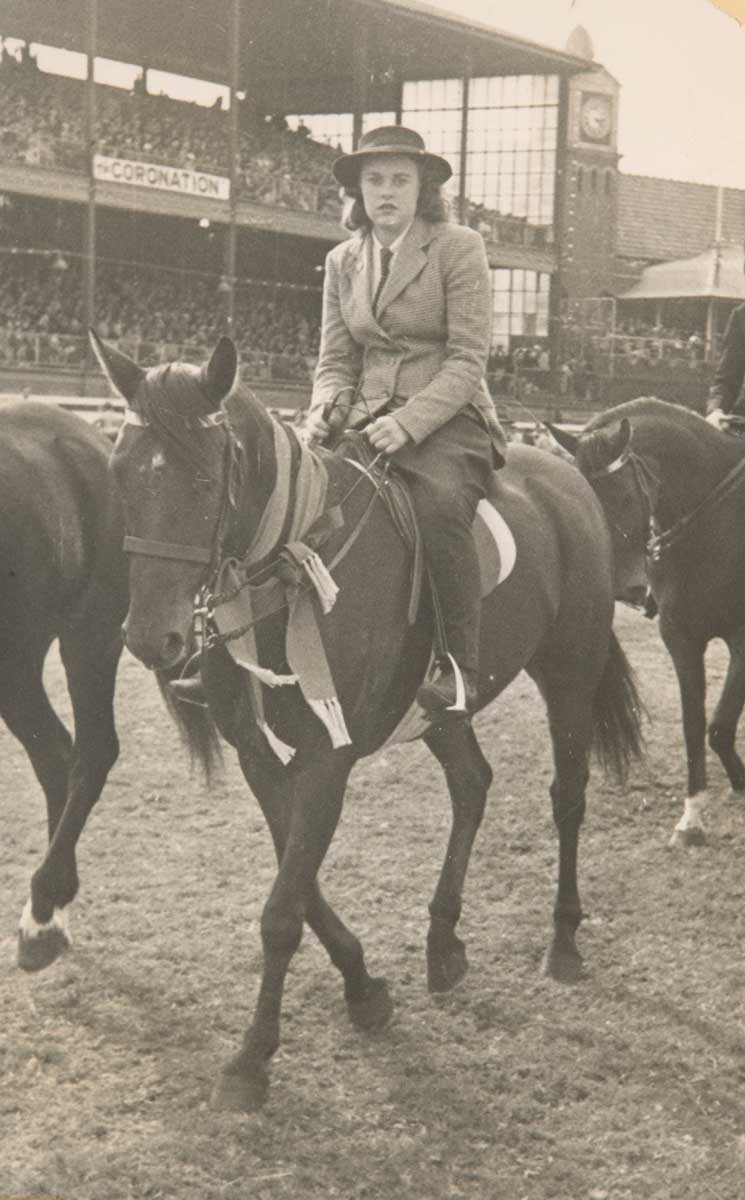 A good showing
In 1941 Mary attended her first Sydney Royal Show. She competed there regularly until 2002, the year before her death.
Ribbons in the Willsallen collection reflect Mary's successes at agricultural shows across south eastern Australia, from the local Murrumburrah and Cootamundra shows to the Sydney Royal Easter Show and the Royal Melbourne Show.
Participation in agricultural shows was one of the main ways for Mary to demonstrate her prowess at carriage driving and horse breeding.
Agricultural shows have their origins in the 19th century. Then, they provided a venue for the competitive expression of the work of farmers, breeders among others, as well as an opportunity for locals to gather as a community.
In modern shows the social and commercial aspects of agricultural shows tend to be more prominent, however the competitive aspect remains important for establishing benchmarks in breeding.
The multitude of ribbons won by Mary in breed, riding and harness classes confirms her ability in these areas, though belies the great determination and effort required to be successful in what are highly competitive fields.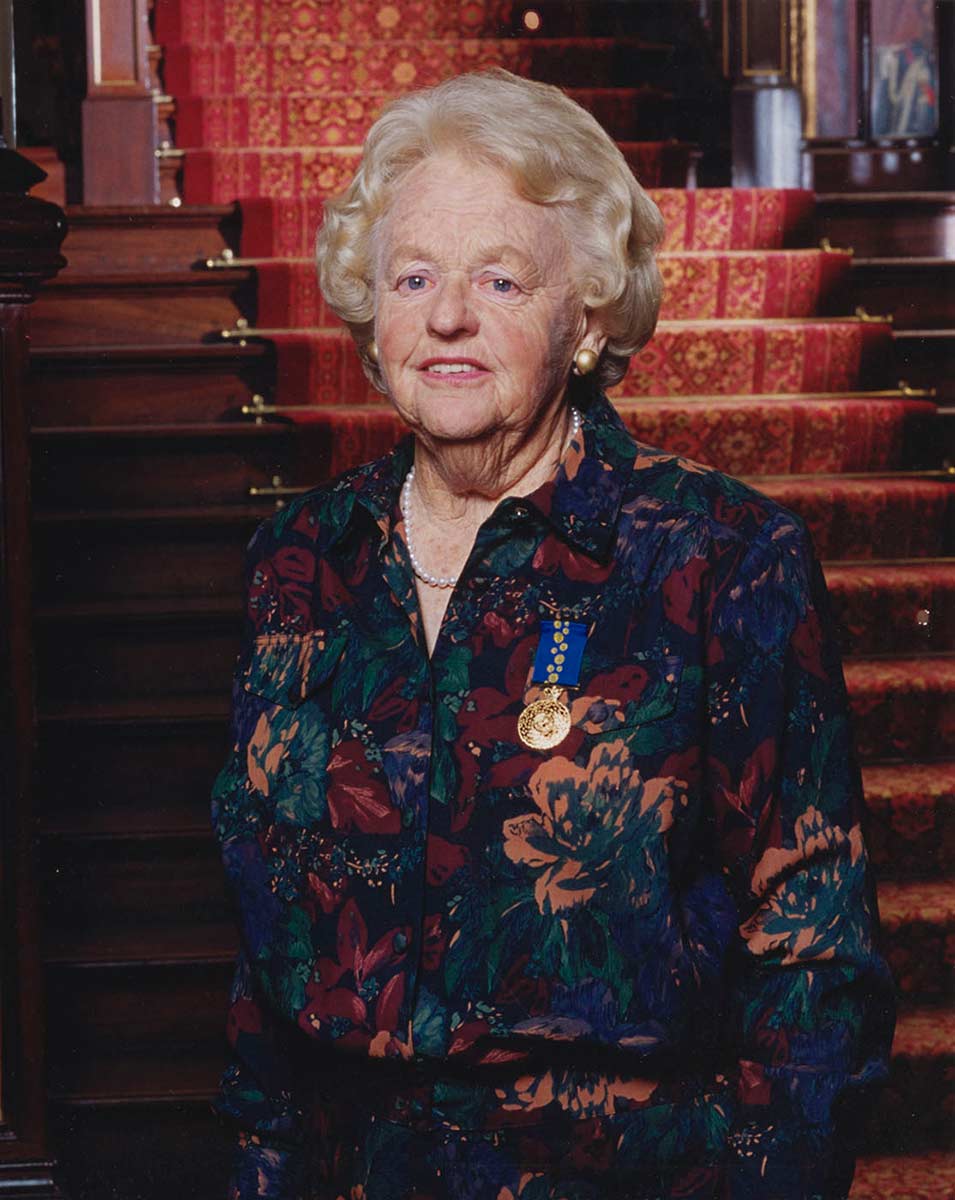 Mary's legacy
Mary's skill as a horsewoman and judge was acknowledged at local, national and international levels.
In 2001 she was presented with a 'Legends Award' from the Royal Agricultural Society of New South Wales. She served on State and Federal committees for the Equestrian Federation of Australia; became the first internationally accredited Driven Dressage Judge; and was appointed Australia's Chef D'Equipe at the 1994 World Equestrian Games held in Holland.
In 1999 she was awarded an Order of Australia for her 'service to the sport of carriage driving'.
Mary's contribution continues to be honoured through the Mary Willsallen Memorial Sash for 'Supreme Champion Harness Horse or Pony' at the Royal Canberra Show and the Mary Willsallen Memorial Perpetual Trophy for the 'Supreme Champion Turnout' class for horses in single harness at the Sydney Royal Easter Show.
Mary Willsallen driving a sulky
A black and white photograph of a woman driving a sulky which is being drawn by a dark-coloured horse. The driver is wearing a light-coloured jacket and a hat with a dark crown and a light brim. She also has a rug over her knees. There is black text stamped on the reverse side of the photograph which reads 'PHOTOGRAPH BY / ALAN ...
Notes
[1] Berkebile, DH, Carriage Terminology: An Historical Dictionary, Smithsonian Institution Press and Liberty Cap Books, 1978, pp. 262–3.
[2] Unstead, RJ, 'From Bullock Dray to Tin Lizzie', in History Today, June 1968, vol. 16, issue 6, p. 413.
[3] Grant, AR, 'An analysis of selected aspects of horse drawn vehicles and coachbuilding in south-east mainland Australia from colonisation to the present', Master of Science thesis, University of New South Wales, 1984, p. 305.
[4] Grant, op cit, p. 305.
[5] Australasian Coach and Saddler, April 1895, p. 13, quoted in Grant, op cit, p. 206.
[6] Henzell, T, Australian Agriculture: Its History and Challenges, CSIRO Publishing, 2007, p. 166.
[7] Grant, op cit, p. 307.
[8] Costello, M, Australian Pony Stud Book Society: Its Growth and Development, 1931–1981, Australian Pony Stud Book Society (Victorian Branch), Ascot Vale, Victoria, 1981, pp. 35–36.
Return to

Top