Daisy Bates (1859–1951) is a contentious and eccentric figure in Australian history who spent many years conducting ethnographic and welfare work in outback Australia.
The National Museum's collection includes a black skirt and ribbed-sleeve top owned by Bates and a signed first edition copy of her 1938 book, The Passing of the Aborigines: A Lifetime Spent among the Natives of Australia.
These old-fashioned garments and book represent what made Bates a household name in 20th century Australia – her popular writings about Aboriginal Australians and her dogged devotion to an antiquated style of dress.
Bates passed these items to her long-time friend Beatrice Raine, who handed them down through generations of her family. In 2012, Raine's grandniece, Jan Robertson, donated them to the National Museum.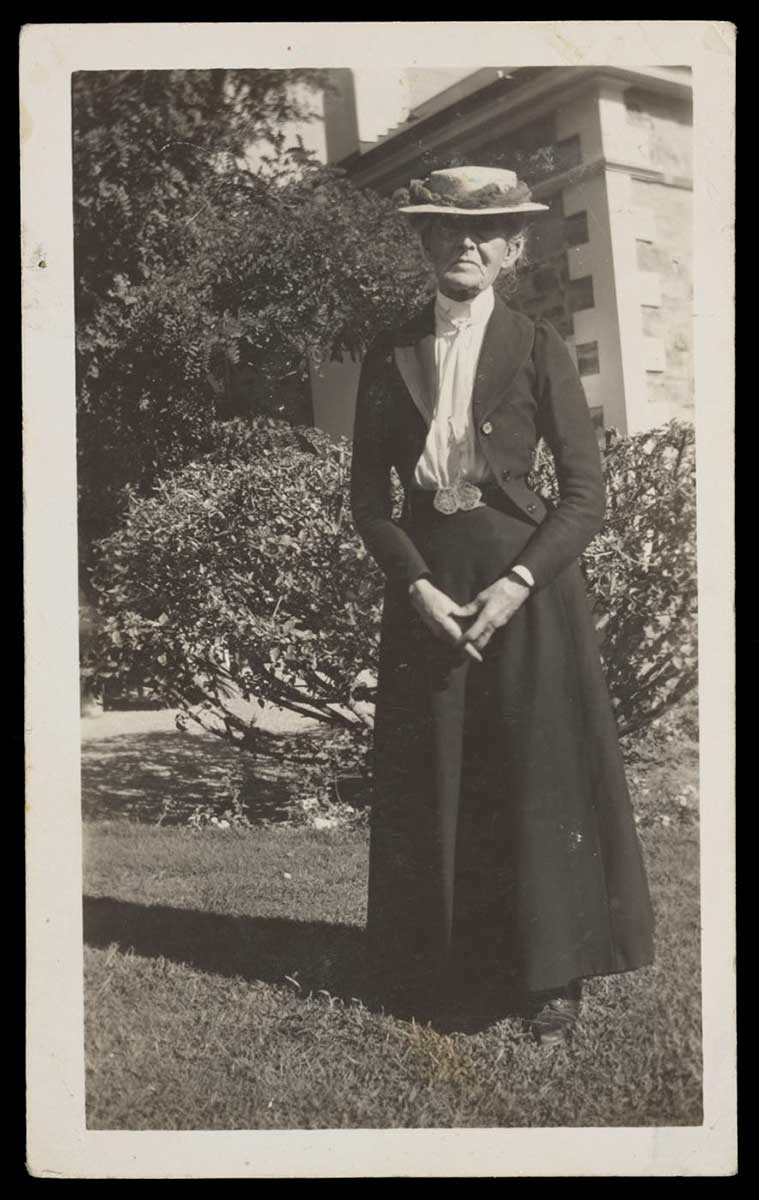 Bates was a Catholic orphan of the Irish famine. She migrated to Australia under an assisted passage scheme in 1883 and quickly reinvented herself as a Protestant Anglo-Irish aristocrat.
Bates spent four decades living and working in outback camps with the Aboriginal desert communities of South and Western Australia.
She was a self-taught anthropologist, linguist, welfare worker, journalist, and political advisor on Indigenous policy.
A devout royalist and Imperialist, Bates hosted three royal visits to her outback camps and was appointed Commander of the Order of the British Empire for her Aboriginal welfare work in 1934.
She died, aged 91, in Adelaide in 1951.
Controversial author
Bates supported her work by publishing articles about her ethnographic findings and political views. In 1934 she wrote a series of 21 widely syndicated articles called My Natives and I, which were edited and published collectively in 1938 as The Passing of the Aborigines.
Although the book became a highly influential international bestseller, its disreputable claims regarding Aboriginal cannibalism and infanticide, and the 'doomed' fate of the Aboriginal race, led to it being criticised as inaccurate and defamatory towards Aboriginal Australians.
The Museum's collection includes a first edition of The Passing of the Aborigines, annotated by the author and inscribed by South Australian chief justice Sir George Murray: 'Daisy Bates' copy of her own book not to be parted with, from her sincere friend GJR Murray 24th Jan, 1939.'
Eccentric dresser
Bates emigrated from Ireland garbed in Victorian fashions. She retained this style of dress throughout her long life, including the decades she spent living out of a tent in simple desert camps.
She chose her formal style of dress to fit in with Australian high society and to set her apart from the Aboriginal people whom she clothed in cast-off European style garments. By the mid-20th century, Bates' old-fashioned appearance was a symbol of her antiquated worldview and eccentricity.
The skirt and top which are part of the Museum's collection were worn by Bates towards the end of her life and probably for decades prior. Typically, she would have worn them with a high-collared blouse, jacket and hat. The collection also includes a cream scarf.
Bates preserved her costumes for decades and rarely disposed of a garment. The acquisition of new clothes was difficult and infrequent due to Bates' camp life in the desert and her limited income.
Bates collection
The National Museum also holds a collection of 12 Indigenous objects acquired by theatre performer Herbert Browne from Daisy Bates at Ooldea, South Australia, in the 1920s and 1930s.
The Daisy Bates and Herbert Browne collection includes eight boomerangs, two spear throwers, a shield with a painted and incised design and an adze with a stone flake mounted in resin.
The Museum's collection also includes a New South Wales Country Women's Association mural depicting Bates, and the Museum library holds two other 1938 first edition copies of The Passing of the Aborigines.
Spearthrower collected by Daisy Bates from Aboriginal visitors to her Ooldea camp
A spear-thrower with a handle that has ruminants of resin on it. The opposite end has a spear tail-rest peg bound onto it with sinew and resin. Longitudinal splits along one side have been pulled together at a hole with sinew. The front half of the concave upper surface is engraved with a zig zag pattern of four parallel lines, ...
References
The Passing of the Aborigines, University of Adelaide
Julia Blackburn, Daisy Bates in the Desert: A Woman's Life Among the Aborigines, Secker & Warburg, London, 1994.
Susanna De Vries, Desert Queen: The Many Lives and Loves of Daisy Bates, HarperCollins Publishers, Pymble, New South Wales, 2008.
Ernestine Hill, Kabbarli: A Personal Memoir of Daisy Bates, Angus & Robertson, Sydney, 1973.
Rowena Mohr, 'Neo-colonialist hagiography and the making of an Australian legend: Daisy Bates', Lateral, Bundoora, Victoria, no. 2, 1999.
Bob Reece, Daisy Bates: Grand Dame of the Desert, National Library of Australia, Canberra, 2007.
Adam Shoemaker, Black Words, White Page: Aboriginal Literature 1929–1988, University of Queensland, Brisbane, 1989.
Lisa Waller, Singular Influence: Mapping the Ascent of Daisy M. Bates in Popular Understanding and Indigenous Policy, University of Canberra, Canberra, 2010.
Return to

Top