The Sparkes cup is a 19th-century engraved solid silver goblet. It was awarded to Australian bare knuckle fighter William Sparkes for good sportsmanship in his 67-round bout against Nat Langham at Richmond, England in May 1847.
William Sparkes was the son of convicts and the eldest of four brothers brought up in a town called Sparkes Run on the Cooks River in New South Wales.
The cup, 13-centimetres high, is sterling silver and hallmarked as being made in London in 1800 or 1801.
Its provenance is difficult to trace during the period between Sparkes' death in the late 19th century and 1949. But in 1949 the owner tried to have the cup valued. We know this because of a letter, dated 25 January, from the editor of the Daily Telegraph newspaper, Cyril Pearl.
In this letter, Mr Pearl informs the owner of his intention to photograph the cup and to publish a story on its history. Mr Pearl also recommended that the owner place the cup in 'some Australian museum'.
The cup later went into the hands of a private collector who subsequently offered it to the National Museum of Australia.
According to contemporary accounts of the fight, Sparkes led until the 63rd round when his arm was broken. Sparkes fought on with one arm until the 67th round when his manager threw his hat into the ring as a signal of defeat. On his return to Sydney, Sparkes was greeted by a crowd at the Sydney quay as a national hero.
Bell's Life in Sydney and Sporting Reviewer, on 18 September 1847, declared that Sparkes' return 'was more like the triumphal entry of a conqueror than of a vanquished man whose prowess had been compelled to yield to superior science, linked with accident'.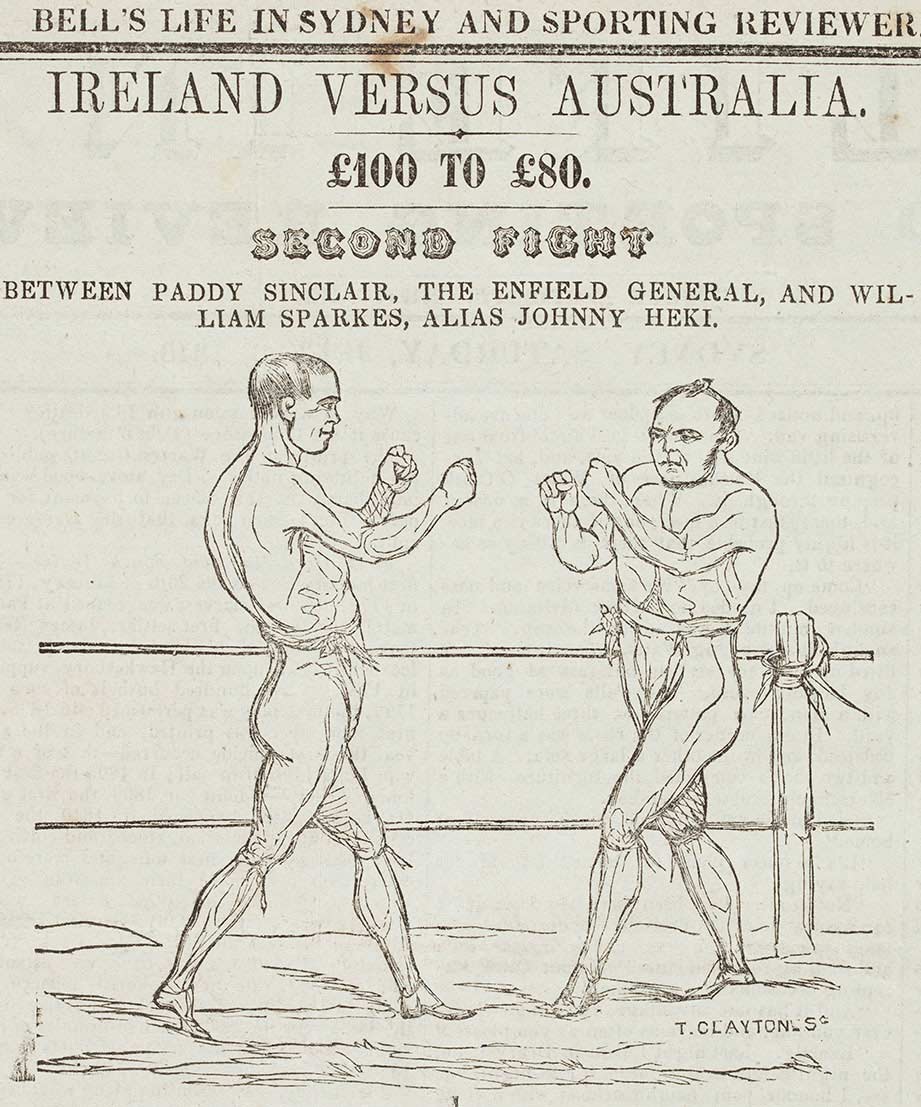 Boxing's humble origins
The Sparkes cup highlights the contribution of bare knuckle boxing to the development of Australia's sporting culture.
Pugilism, or bare knuckle boxing, was a bloody sport that was popular in Australia for about 70 years. It was phased out of mainstream competiton with the introduction of Marquis of Queensbury rules in the 1870s.
Born in 1820, Sparkes was one of the first Australians to pursue a sporting career overseas. He can be seen as a significant figure in the development of Australian boxing from an underground bare knuckle league to a multimillion dollar enterprise.
Despite his loss, the fact that he was awarded a solid silver cup illustrates the close association that boxing has with gambling and the significant amounts of money to be made in the ring.
Sporting prowess
Bare knuckle boxing was an avenue through which colonial Australians could begin to explore the idea of national identity through the hero worship of sportsmen. The ongoing idea of boxers as celebrities can be seen in the mythology that still surrounds 20th-century champions like Les Darcy and Lionel Rose.
Return to

Top