This small gold locket contains a portrait of Australia's 'golden boy of boxing' Les Darcy. It tells a poignant story of heroism, tragedy, love and mourning. The locket was donated to the Museum by Father Kevin Hannan, the son of Winnie O'Sullivan, Darcy's first love.
The locket was found among Winnie' O'Sullivan's personal effects following her death in 1974. However this intensely personal and private memento of Les Darcy is shrouded in some mystery.
Until Kevin Hannan discovered the locket, he had been unaware of its existence. This is not really surprising given that Winnie later married Edmond Hannan and started a family and a new chapter in her life.
The open display of a memento of a former sweetheart would have been inappropriate, to say the least. Perhaps Winnie kept the locket safely hidden, never far from her reach or her thoughts.
Responses to media coverage of the Museum's acquisition of the locket raised another possibility. Winnie's brother, Maurice, was reported to often have the locket in his possession and would willingly show it to anyone interested in Les Darcy's story.
It was apparently attached to a fob chain, which would explain the sturdy gold link rather than a finer one used for a necklace. The front of the locket bears the inscription 'WOS 1917' but the nature of the engraving is such that it could read 'MOS 1917'.
It was once quite common for men to own mourning lockets such as this one. Perhaps Maurice, a close mate of Darcy, owned the locket and when he died it was passed to Winnie. Perhaps Maurice and Winnie shared both the locket and their fond memories of Les Darcy.
What is not disputed is that this tiny locket is a powerful reminder of a cherished friend, the lives he touched and the tragedy of his loss.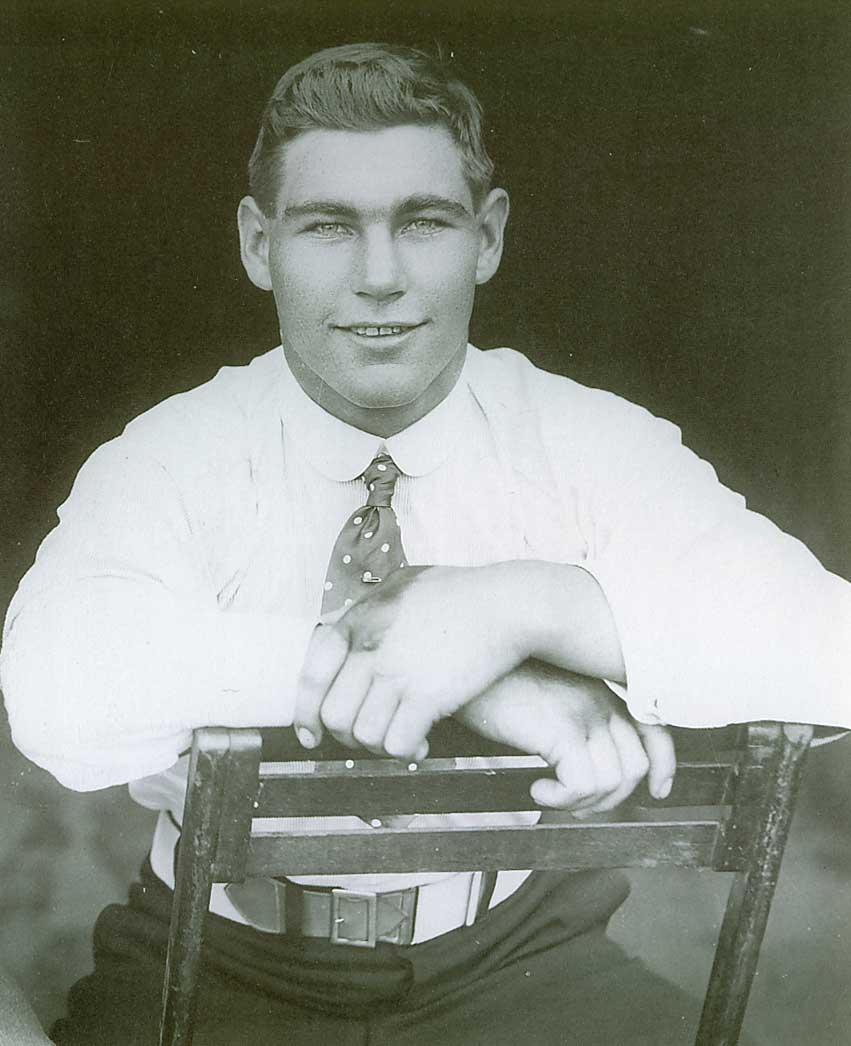 Les Darcy was born into a poor Irish Catholic family in East Maitland, near Newcastle, in 1895. He left school at the age of 12 and worked hard to help support his parents and nine siblings.
He became apprenticed to a blacksmith but it was in the boxing ring that Darcy made his name and his fortune.
His first fight was in 1910 in an illegal boxing match. Darcy won 15 shillings and attracted the attention of several promoters. In 1915 he moved to Sydney to focus on his boxing career.
A few early losses under contentious circumstances did nothing to harm his reputation.
In 1915–16 he won 22 consecutive fights and earned enough money to pay out his apprenticeship and buy his parents a house. Darcy became a national hero.
While living in Sydney Darcy met Maurice O'Sullivan, whose family ran the Lord Dudley Hotel in Paddington. The two became close friends and it was through Maurice that Darcy came to know, and court, Winnie.
Meanwhile, his reputation as a boxer continued to grow – until the First World War and the issue of conscription intervened.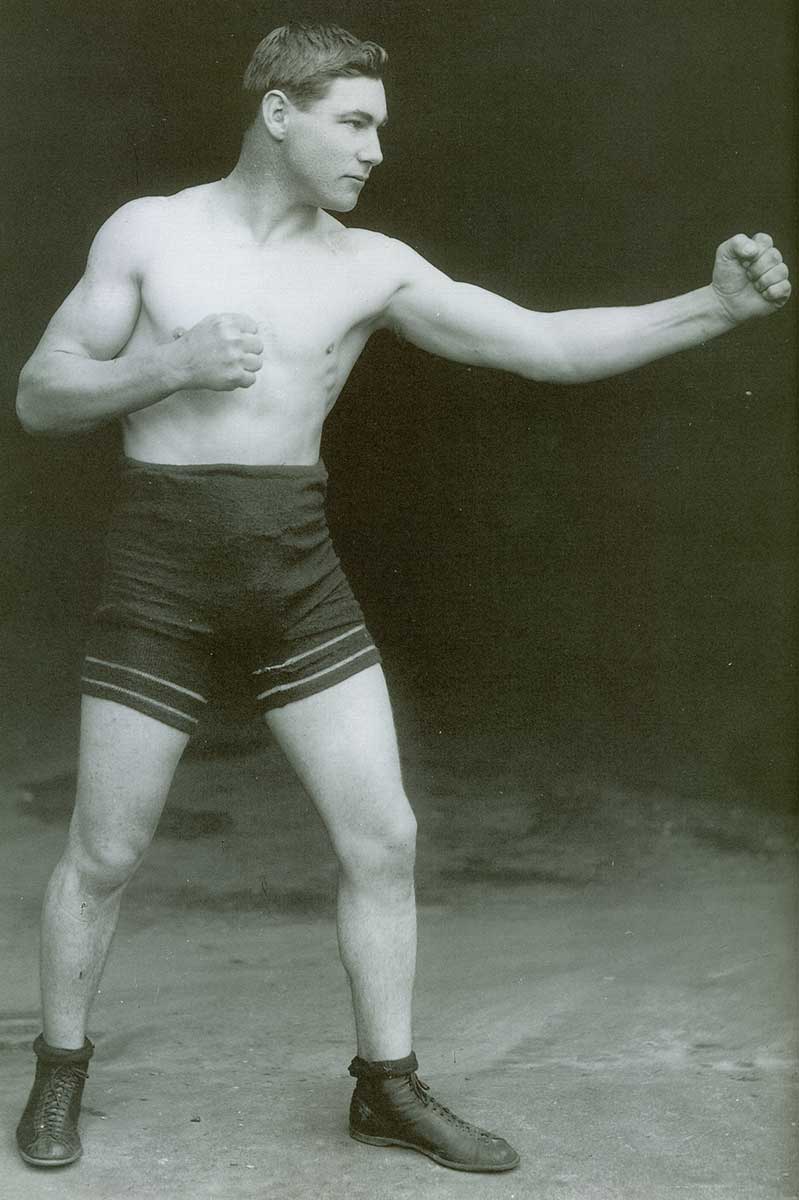 Caught in the crossfire
In 1916 Prime Minister Billy Hughes proposed a referendum on compulsory service in order to maintain numbers for the Australian Imperial Force fighting in Europe.
The referendum divided Australians and exacerbated the rift between Protestants and Catholics.
Darcy, a fit young man, became caught in the debate. He had attempted to enlist but his parents would not give permission to the under-aged boxer.
Instead, he pursued his boxing career and, rejecting an offer from a local promoter to tour Australia, accepted one to travel to the United States.
The disgruntled local promoter spread rumours that Darcy was leaving to avoid military service. The smear campaign worked. Darcy was attacked for shirking his duty and refusing to serve his country.
Men of military age were prohibited from leaving the country without government approval but Darcy was determined to tour the States. He stowed away on a ship on the eve of the first conscription referendum in 1916.
The Australian public was outraged and Darcy was denounced. On his arrival in New York, he became caught up in the American debates over the war and soon found he had been banned from fighting.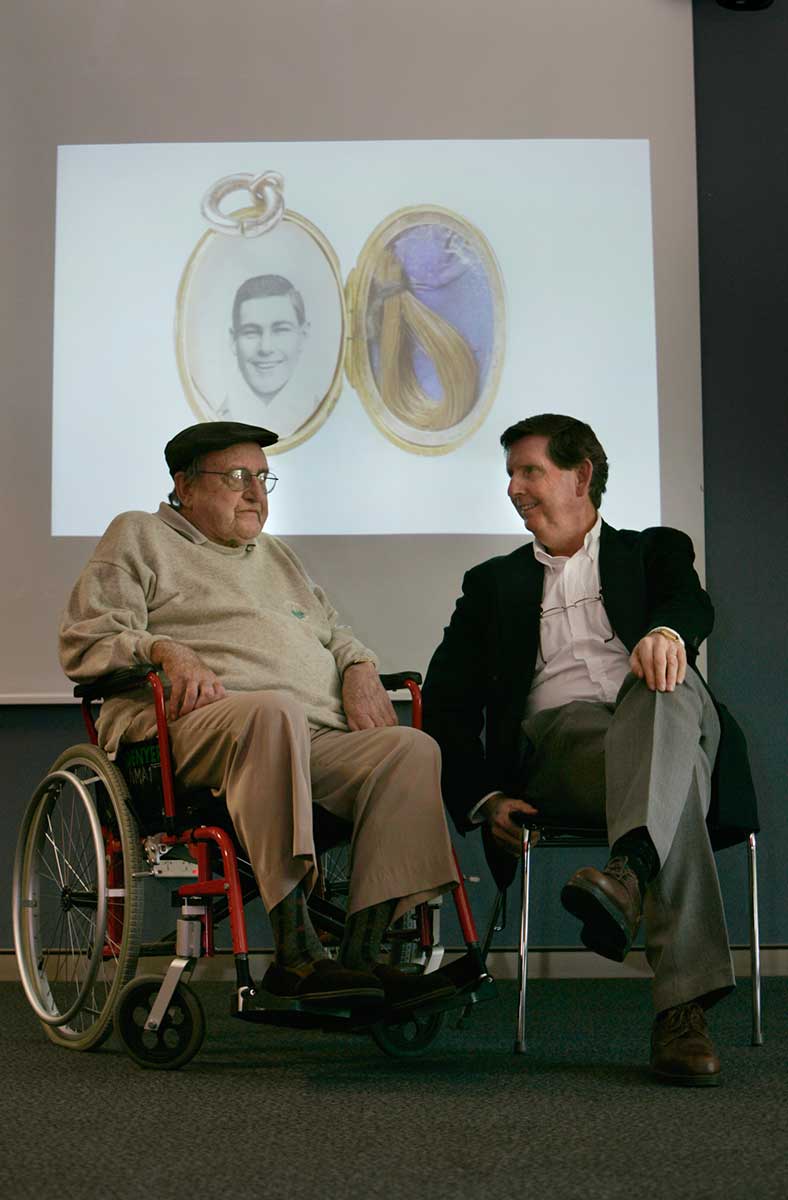 Tragic events
Darcy fell ill in April 1917 as the result of an infection which developed following dental surgery he had in Australia.
Winnie was holidaying with a friend in California and, when she heard he was seriously ill, rushed to be with him. With Winnie and his trainer, Mick, at his side, Darcy died from septicaemia on 24 May 1917. He was only 21.
News quickly reached Australia and the nation fell into deep mourning. When Darcy's body arrived home, hundreds of thousands of people filed past his open casket to pay their respects.
In death, all had been forgiven. Darcy was finally put to rest at the East Maitland cemetery.
This fascinating object and its complicated history speak of the grief that both Darcy's sweetheart and his best mate endured following his death. It also provides an insight into the effects the First World War and the conscription debate had on Australians.
Return to

Top