This silver medal was awarded to James Ferrier Jr for coming second in a ploughing match held by the Coleraine Farmers' Society in western Victoria on 14 July 1869. It was worth the equivalent of £2 2s.
On that day, James Ferrier toiled behind a plough pulled by two horses, endeavouring to stay in a straight line, making neat crowns and evenly cut furrows. He and fellow competitor James Templeton were the favourites for the Class A title.
Templeton won the match and James came second, followed by his brothers John Ferrier in third place, and D Ferrier (either David or Duncan) in fifth. Another brother, Peter Ferrier, unfortunately was unplaced.
For this particular match, James used a plough that was probably made by Coleraine blacksmith Mr W McInnes, and pulled by 'a very steady old pair of horses' borrowed for the event. In previous ploughing matches, James had also competed using a bullock team to pull the plough.
Popular competitions
Ploughing matches were very popular in the late 19th century and many were held by local farmers' or agricultural show societies. They tested the skill of the farmer, the design of the machine, and the ability of the horses or bullocks that pulled the plough.
Like other show competitions, ploughing matches were a significant means of encouraging agricultural innovation and providing a social opportunity to test or display new inventions, sweetened by the offer of prize money.
Coleraine Farmers' Society
The Coleraine Farmers' Society had held an annual ploughing match since at least the early 1860s and these continued until at least 1886. Prizes, including medals and a silver cup (for winning over three consecutive years), were awarded to the best ploughmen over four classes, A, B, C and D, the latter for boys under 16 years.
The Ferrier brothers were regular competitors at the Coleraine Farmers' Society ploughing matches, and often received prizes for their skilled ploughing.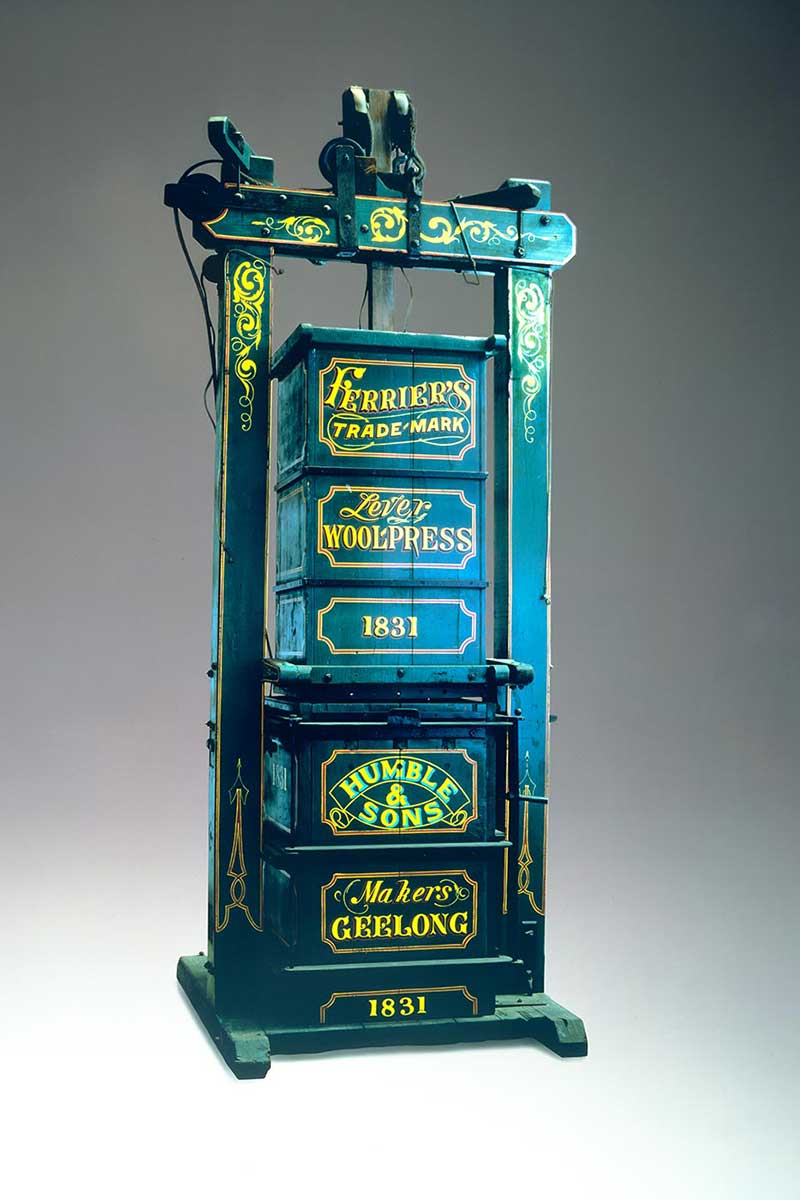 Inventive family
James Ferrier was a member of an inventive family renowned for their resourcefulness and innovative contributions to rural industries.
James and some of his brothers were prolific farmer-inventors, typical of farmers of the 19th century who sought to increase productivity and efficiency on the land through mechanised technology.
Many of the brothers patented new machines or improvements to existing equipment used in wool, fodder, grain production and rabbit control.
The most celebrated invention James is associated with is the Ferrier Lever Wool Press, which he designed in collaboration with his brother David.
The wool press made a significant impact on the increased transport and export of Australian wool from the 1860s onwards.
A Ferrier wool press was one of the Museum's earliest acquisitions – part of a transfer from the Department of Home Affairs in the 1980s – and it seems that it came from the property of the same James Ferrier Jr who won this medal.
Making the medal
The medal is stamped with the name of the manufacturer, WJ Taylor. William Joseph Taylor (1802–1885) was an English medal-maker and dealer who sent a press and dies used to strike medals to Melbourne in 1852 as part of the Kangaroo Office, Australia's first privately-owned mint.
Despite the closure of the Kangaroo Office in 1857, Taylor maintained his connection with Melbourne, receiving orders for commercial tokens during the 1860s and making medals for the Melbourne Regatta and Victoria Rifle Association.
Taylor produced numerous medals with basic designs and blank spaces for customisation for his clients. Some, like this one, were pressed or struck with a generic 'Society of Agriculture and Horticulture' or 'Society of Horticulture and Floriculture' banner that could be used by any group or society with an interest in those activities.
It is likely the Coleraine Farmers' Society ordered the medals from England and they were engraved with the names of the society, event and winner in Australia.
The medal features the profile image of Carl Linnaeus (Carolus Linnaeus in Latin), the Swedish botanist, zoologist and physician who devised a way of cataloguing all living things into a simple hierarchy.
His system, still used today, helped scientists to name individual plants and animals, and understand how they are related to each other. Linnaeus's image was a popular motif in the nineteenth century for groups whose work focused on plants and animals.
Return to

Top