An accomplished rider from Narrandera, New South Wales, Emilie Roach competed at agricultural shows and equestrian events across New South Wales, Victoria and Queensland during four decades of competition, from 1910 to her retirement in 1955.
Roach's family were strong supporters of the Narrandera Show, and Emilie entered her first show-ring competition there at the age of 10.
In 1914 Roach competed as a novice in the hurdles contest at the Sydney Royal Show. She continued to compete there every year until her retirement. She was highly respected and, according to family friend Alan Chittick, 'always immaculately dressed, and with the same immaculate manners, whether winning or losing'.
In 1925 Roach married Jack Burton, who made several record-breaking drives in motor vehicles across Australia during the 1910s and 1920s. The couple lived in Sydney for many years and travelled from there, often by train, to agricultural shows across eastern Australia.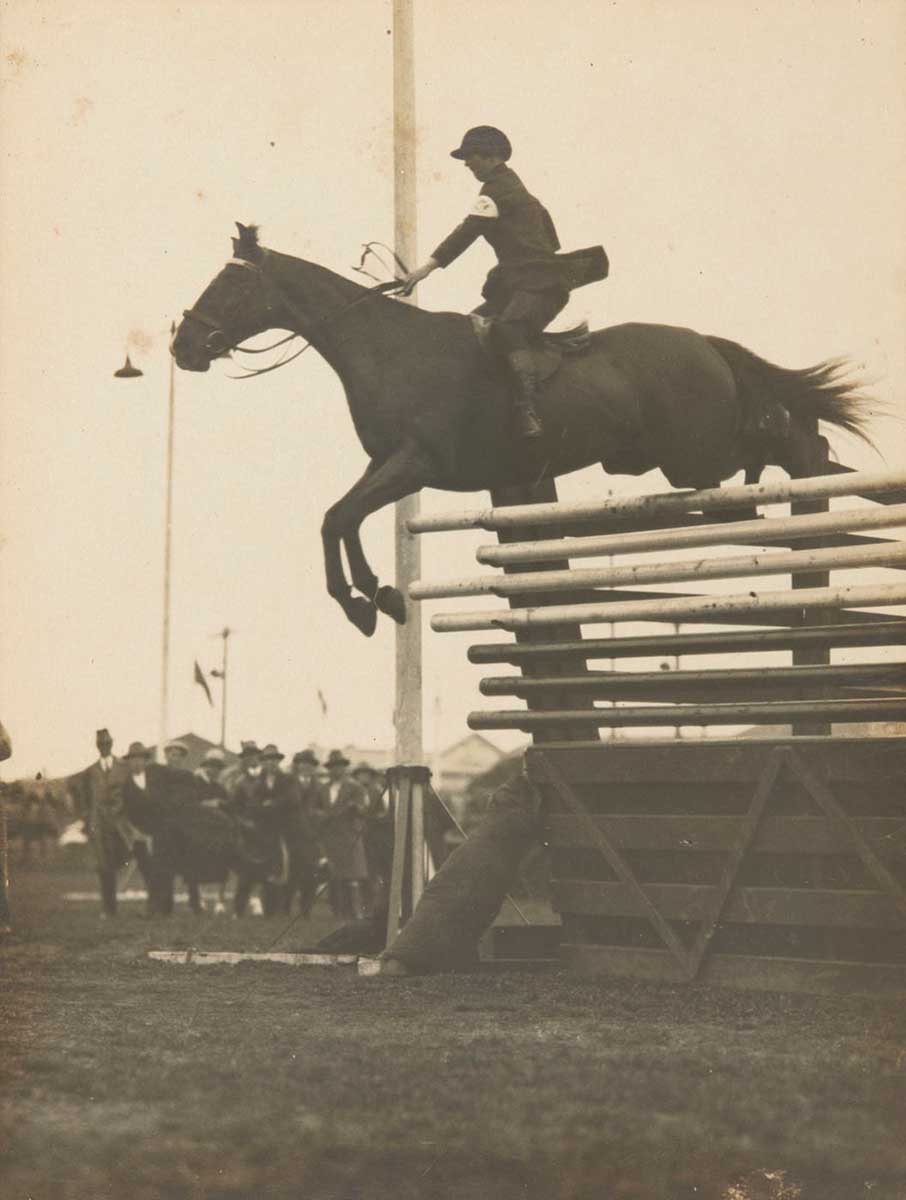 During the early 20th century, show-ring jumping contests emerged as a feature of agricultural shows across Australia.
Owners and trainers developed teams of jumpers, and hired a stable of riders, travelling through the season to compete across hunting courses, hurdles, high jumps and water jumps.
Jumping contests reached the height of their popularity during the 1920s and 30s, as increased prize money enabled owners and riders to earn a living from the sport.
Alan Chittick, in his book High Wide and Handsome, stated that 'the show-ring jumpers had a tremendous public following, mainly because the stars of the sport went to the public and appeared in every little town in eastern Australia as they travelled the show circuit'.
Most competitions were halted during the Second World War, and many were not subsequently revived. Instead, showjumping contests using European-style obstacles grew in popularity.
Roach and Dungog's records
Throughout her career, Emilie Roach rode almost exclusively for Narrandera locals Bob Chittick and Will Weir, forming partnerships with their most successful horses.
Roach was reputedly the first female rider to record a show-ring jump over seven feet (2.13 metres), riding Weir's horse Musician in 1920.
She dominated show-ring jumping contests during the late 1920s and early 1930s riding Bob Chittick's horse, Dungog.
In 1927 Roach and Dungog set a new Sydney showground record of 7 feet during the Royal Spring Fair.
In 1929 they set a new Australian record of 7 feet, 2 inches (2.18 metres) at Newcastle. They also broke their Sydney showground record at the Royal Easter Show in April 1929, with a jump of 7 feet 1 inch (2.16 metres).
Later that day, Bob Chittick rode Dungog to set a world men's 'under lights' record of 7 feet 6 inches (2.31 metres). Roach and Dungog continued their record setting run, travelling to Brisbane to set a new record there of 6 feet 11 inches (2.1 metres).
Will Weir's Lady Radium, a chestnut mare with a baldy face and four white feet, was another of Roach's favourite horses. Roach and Lady Radium had many successes throughout the 1920s and won every event they contested at the 1930 Sydney Royal Show.
In 1929 Roach and Lady Radium won the hunting contest at the Sydney Royal Show, after which the judge commented that Roach was the finest horsewoman he had ever seen.
Photograph of Emilie Roach next to mount 'Dungog'
A mounted black and white photograph of Emilie Roach next to mount 'Dungog' who wears a prize ribbon around its neck. The photograph has been mounted on hard card which exhibits some adhesive residue on its rear. There is also lead pencil writing on the back of the photo and an encircled '192'. The photograph is stored in Folder...
Return to

Top