The Sydney Gay and Lesbian Mardi Gras was first held in 1978 with a march of just 2,000 people. Today it is one of the largest pride festivals in the world, and attracts thousands of international and domestic visitors. Due to Covid-19, border closures and physical distancing, it might be difficult for some to attend traditional Mardi Gras events this year, so we're bringing you some of the Mardi Gras highlights from our collection.
First Mardi Gras – Defining Moment
On 24 June 1978 a small group of gay and lesbian people, operating as the Gay Solidarity Group, staged a day of events in Sydney. The intention was to promote gay and lesbian culture and encourage political activism against the discrimination they routinely experienced.
The group organised a march and public meeting in the morning, and a street parade in the evening. The violent police response to the parade brought national attention and helped to establish the parade as an annual event.
The parade is now the most attended event in the Mardi Gras calendar and in 2019 drew an estimated 500,000 spectators and participants. The march is led by the 78ers, a group of LGBT activists who marched in the original Mardi Gras parade.
Ron Muncaster – Lucille Balls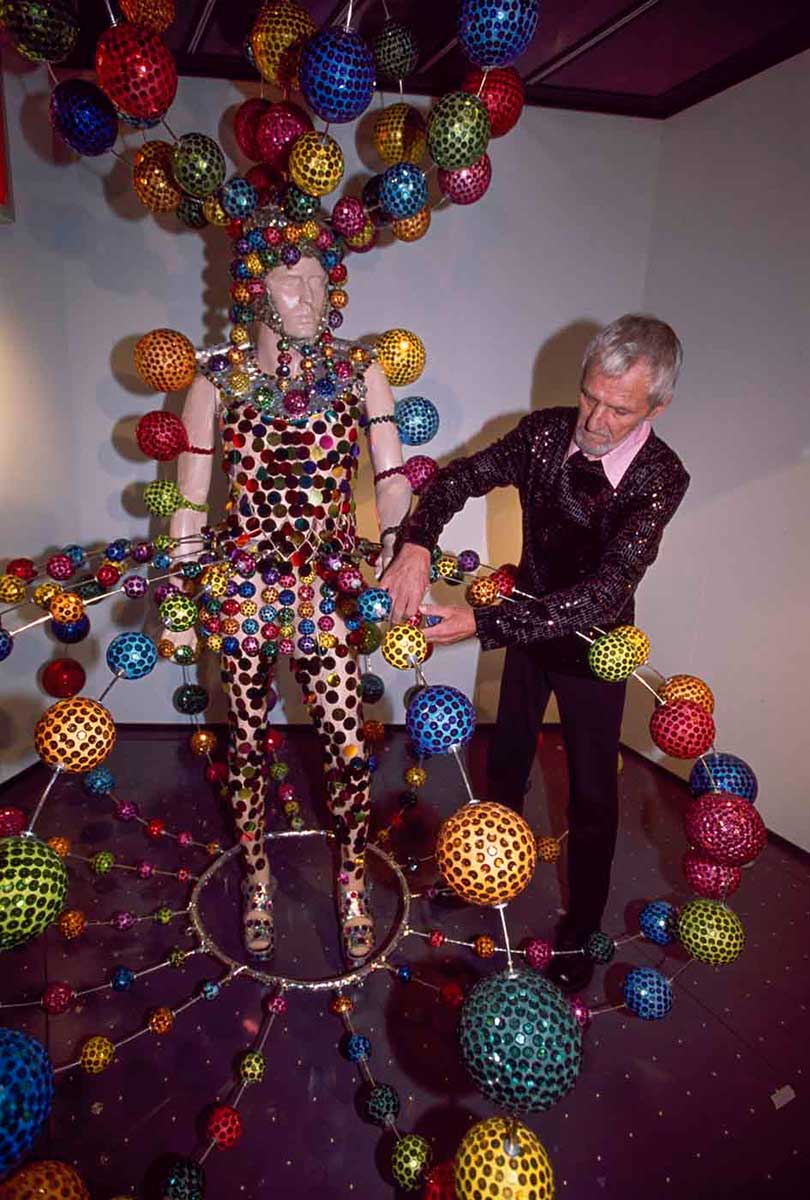 Ron Muncaster was a well-known costume designer and one of Mardi Gras' most successful designers.
He participated in the costume competition every year, and was awarded more prizes for his costumes than any other designer in the history of the competition.
The Museum holds 'Lucille Balls', one of Muncaster's more daring costumes. It is composed of fibreglass rods and a Styrofoam ball skirt, fishnet singlet and stockings, collar, headdress, belt, shoes, armbands and rings. It was made for, and worn by, Muncaster's partner, Jacques Straetmans.
In 1994 'Lucille Balls' won first prize for the Sydney Gay and Lesbian Mardi Gras costume award.
History of LGBTQIA+ politics
In 2018 Mardi Gras marked its 40th anniversary. To commemorate the milestone, the Museum hosted a thought-provoking discussion on LGBTQIA+ politics in Australia.
The panel included former High Court Justice The Hon Michael Kirby AC CMG, comedian and actress Jordan Raskopoulos, historian and author Dr Shirleene Robinson and director Robyn Laverack.
Pride and Prejudice
Forty years after the first Sydney mardi gras and months after Australia achieved marriage equality, we consider whether Australia has reached the end of the rainbow. Or has the fight for LGBTQIA+ rights just begun?
Open player in a new tab
Presenters:
Michael Kirby, Robyn Laverack, Jordan Raskopoulos, Shirleene Robinson, Cathy Van Extel
We'll keep bringing objects, collections, exhibitions and programs from the vault as part of the Museum from Home experience. Stay tuned!
Pair of buckled sling back platform shoes with peek-a-boo toes
These shoes form part of Ron Muncaster's prize-winning 'Lucille Balls' costume worn at the 1994 Sydney Gay and Lesbian Mardi Gras. The costume also includes a skirt, headdress, collar, singlet, sequinned fishnet stockings, sequinned armbands and rings.
Return to

Top