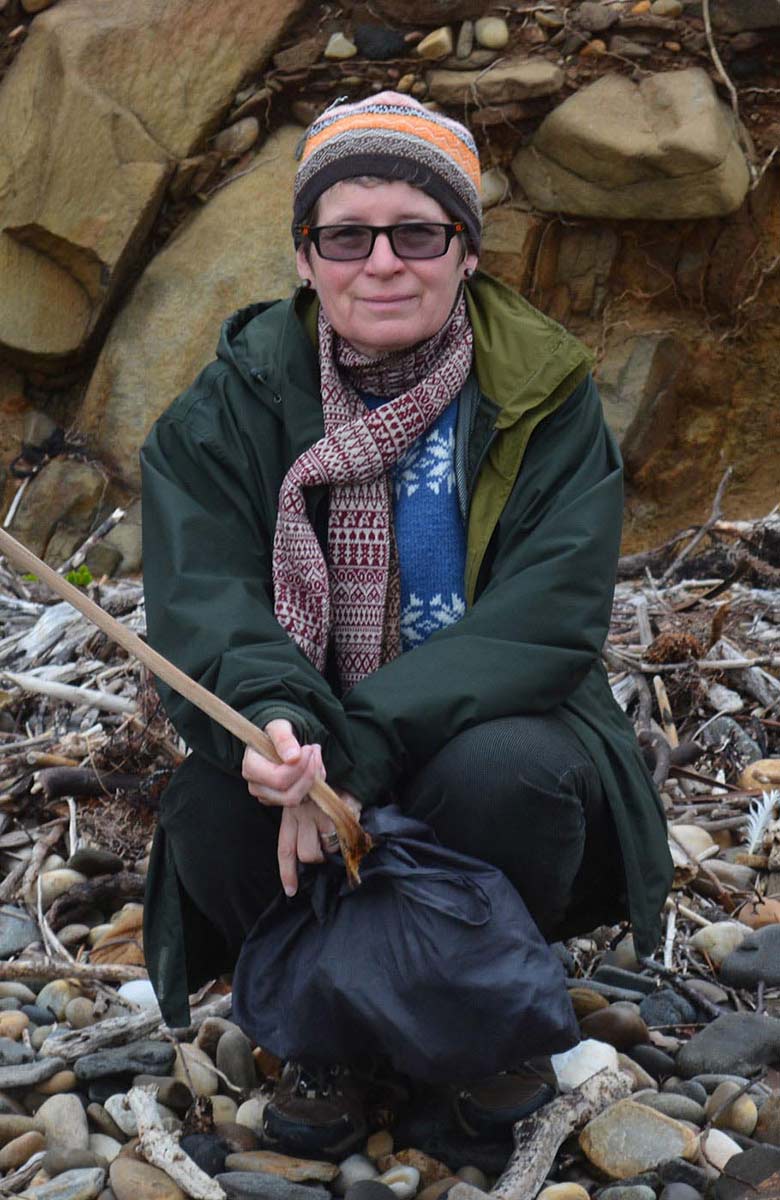 Julie Gough is an artist, freelance curator and writer who lives in Hobart. Her research and art practice often involves uncovering and re-presenting conflicting and subsumed histories, many referring to her own and her family's experiences as Tasmanian Aboriginal people.
Gough's traditional maternal Country is Tebrikunna, in far north-east Tasmania and her Trawlwoolway descent is through the family of Woretemoeteyenner, the eldest daughter of Mannalargenna.
Gough holds a PhD (Transforming histories: The visual disclosure of contentious pasts, University of Tasmania (UTAS), 2001), MA (Goldsmiths College, University of London, 1998), BA Hons (UTAS, 1995), BA Visual Arts (Curtin University, 1994), BA Prehistory/English Literature (University of Western Australia, 1987).
Her current work in installation, sound and video provides the means to explore ephemerality, absence and recurrence:
I work to understand our past, to learn what happened to bring us, in Australia, today to this point of cultural impasse. It is my history I am working with: stories, events, people, cultural practices, objects, Country. Each artwork builds upon the last to create windows into what has impacted my family and my people over the past two centuries to become the fractured, default inheritance of colonialism. I set out on journeys bearing particular questions, to discover, to reconsider, test, and make my alternative response to the mainstream given order of things.
She has exhibited widely in Australia since 1994 including: undisclosed, National Gallery of Australia, 2012; Clemenger Contemporary Art Award, National Gallery of Victoria, 2010; Bienniale of Sydney, 2006; Liverpool Biennial, England, 2001; Australian Perspecta, Art Gallery of New South Wales, 1995. Gough's work is held in many public collections.
Gough curated: the touring exhibition Testing Ground, 2013; tayenebe: Tasmanian Aboriginal Women's Fibre Work, 2009, Tasmanian Museum and Art Gallery, National Museum of Australia; and was on the curatorial team for INSIDE: Life in Children's Homes and Institutions, National Museum of Australia, 2011.
There was a sense of urgency to communicate with the objects before our time was up. I had to let them know we are still out here, waiting for them, remembering them; that they weren't forgotten.
Julie Gough
Younah, Parateer, Drummernerloonner, Narrucer, Pyterrunner, Pignacommiana, Parthemeenna, Tingernoop, Warrameenaloo, Thielewanna, Planobeena, Kittewer, Wottecowwidyer, Dromethehenner, Tanganutara, Pelloneminner, Ghonneyanner, Drayduric, Meethecaratheeanna, Pangernowidedic, Goneannah, Wapperty, Trucanini

The longest-surviving Tasmanian Aboriginal kelp water carrier was probably made by one of the 23 Tasmanian Aboriginal women mentioned above, while they were living at Oyster Cove Aboriginal station south of Hobart. The water carrier was displayed at the 1851 Great Exhibition in London, before being donated to the British Museum by the negligent Superintendent of Oyster Cove, Joseph Milligan.

This precious object was made by our Old People and my response to visiting it in London was to undertake a re-making, a form of sister carrier, with new purpose.

In Tasmania, I went to the kelp beds at South Bruny Island, near Adventure Bay, the likeliest source of the bull kelp (Durvillea potatorum) that formed the carrier held in the British Museum. I harvested the sticks from the same area, and the sand from the island's isthmus. At Oyster Cove, I collected the Lomandra and Dianella leaves to make the handle. The same sand that helped form the carrier also transforms it into a vessel for telling time – a time keeper.

Suspended, with a hole in its base, Time Keeper is repurposed; rather than holding water, it trickles sand into a conical pile beneath, a statement about time spent apart – between the carrier, its homeland, its people, and its intended purpose.

The accompanying video projection brings place and objects together, virtually, given the unlikelihood of the object's repatriation. When considering grains of sand, the time between now and 1850 is 165 years, more than 60,000 days that the British Museum-held kelp carrier has been absent from home. The film presents the beach where the kelp was sourced for my contemporary carrier, my visit to the original water carrier in the British Museum storage facility, and contributes the sounds of both places to the exhibition. I hope the homeland that the original water carrier hasn't heard for generations can be absorbed by it while in the National Museum of Australia. A bittersweet reunion.
Explore the other artists
Return to

Top