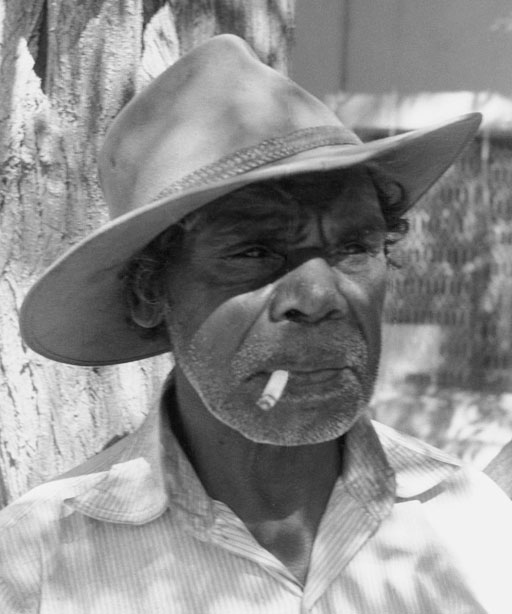 about 1934–84
Tim Leura was raised on his traditional lands and became a skilled woodcarver. After working as a stockman he moved to Papunya with his wife and family to work on the construction of the new government settlement. An original member of the Papunya painting movement, he applied techniques derived from his earlier experience with watercolours to obtain unusual atmospheric effects in his work.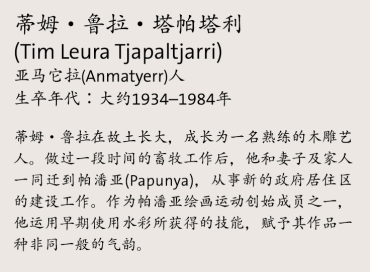 Honey Ant Hunt, 1975

The 3 hills at Papunya form an important Dreaming site, representing the body of a huge ancestral Honey Ant. They also indicate where ancestral Honey Ants returned to the ground after travelling in the Dreaming. The underground network of ant chambers is regarded as a meeting place. On the surface above these chambers, ceremonies are performed to re-enact the ancient journey and revitalise the supply of honey ants and the conception of human honey ant children.
Trial by Fire, 1975

After initiation, a novice must prove his traditional hunting and survival skills. The novice in this story was tested by his teachers, who lit a bushfire while he was out hunting. As the menace of the fire built, two terrifying figures emerged from the smoke haze to test the novice to the point of endangering his life. The novice used the fire to kill a kangaroo and avoided danger by burning an area downwind to act as a fire break. The burnt ground is represented by the ash-coloured pattern in the painting.
Return to

Top