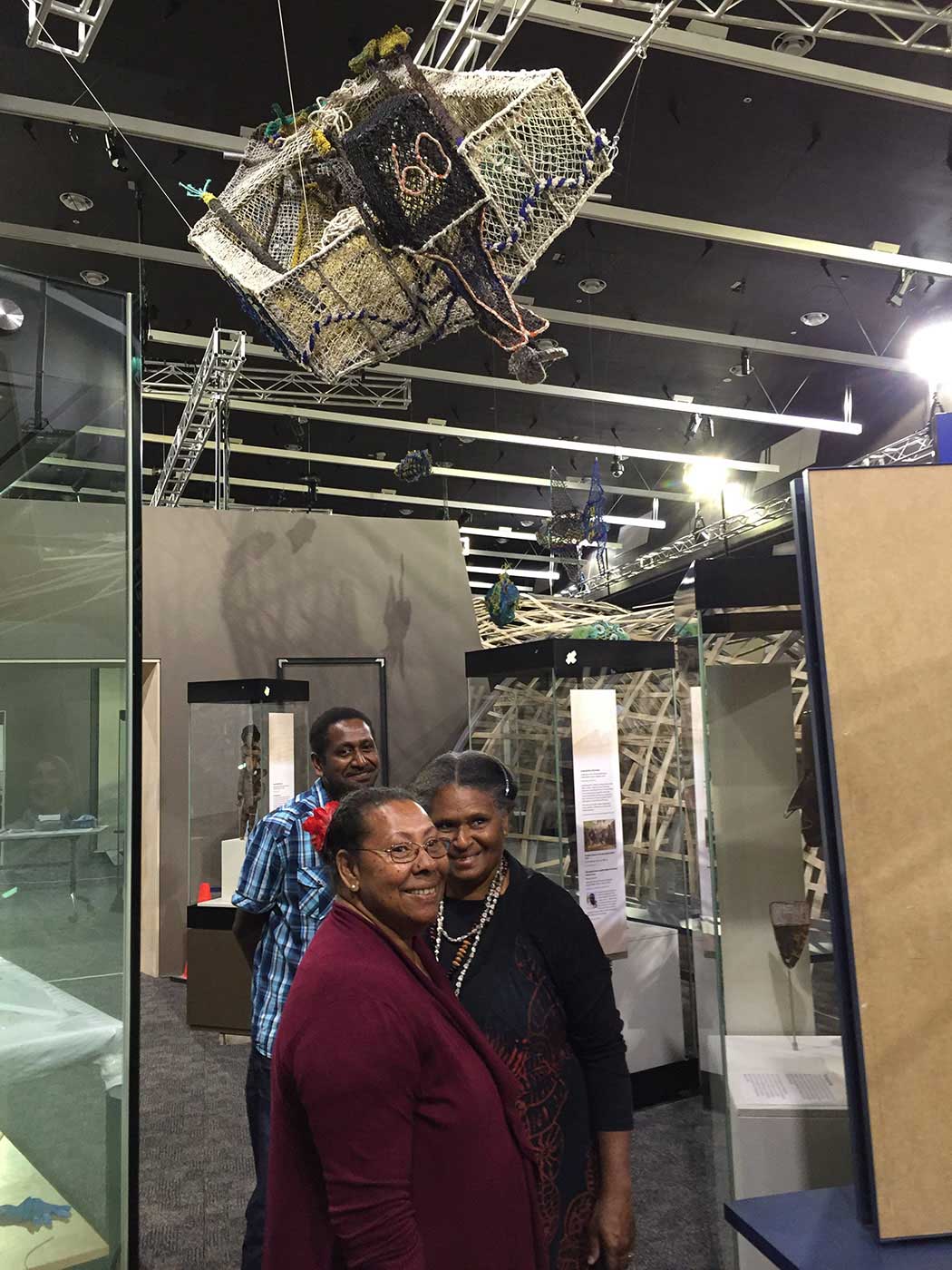 Erub (or Darnley Island), in the Torres Strait is the centre of a flourishing artistic style using 'ghost' nets (discarded fishing nets).
The Museum welcomed Florence Gutchen, Racy Oui-Pitt and Jimmy Thaiday from Erub in the lead-up to Encounters.
During the visit, Florence, Racy and Jimmy visited their work on display in the Museum, viewed other objects in Encounters and met with His Royal Highness The Prince of Wales.
The ghost net objects, created by Erub Erwer Meta (Darnley Arts Centre), are built up from simple steel structures, before applying the ghost nets.
Jimmy Thaiday, artist:
So, our ghost net, we get ghost net from the rangers, bring some from when they go round the island. They find some and they bring it. They bring, like, nets and ropes and … Yeah, and we turn that into ... turn that into art.
The ghost net objects reflect the Erub community's cultural connection to the sea – with the objects taking the forms of dinghies, fish, squid and fish traps.
The process of creating a ghost net object involves much of the Erub community, with Erub Erwer Meta working to include as many people as possible.
Racy Oui-Pit, Erub elder:
Like, first it was thinking, oh it's going to be hard, and things like that, but, you know, when we all team up to do things like that, everything sort of go really easy.
The discarded fishing nets are a serious environmental issue for the Erub community, with the nets killing marine life near the island. The local community has found a remarkable way of using these nets to share their culture in the Torres Strait.
Florence Gutchen, Erub elder:
We are concerned about the ghost net. The ghost net is a threat to our marine life. And the sea; it's our livelihood. Because when the fishermen [lose their nets overboard], somehow the ghost net ripped away, it's trapped to the coral and it kill all the marine life, like the turtle, dugong, fish.

And that's why, like, the ranger's bringing the net to us. Then we go out and get some net. Like when we go out on the reef, we are trying to find net or rope ... we are interested in every small bit of net now. We bring them things so we can create all kind, like artwork.
Return to

Top