With the passage of the States Grants (Science Laboratories and Technical Training) Act 1964, the Menzies government effectively began federal funding for independent and religious schools.
This followed decades of lobbying by Catholic schools and began a process whereby today they receive most of their funds from the Commonwealth. By contrast, the states are the main funder of government schools.
Sir Robert Menzies, 19 November 1964:
I said … that we would find £5M. a year for the improvement of scientific teaching facilities in secondary schools and that we wouldn't discriminate between State secondary schools or what are called independent secondary schools … because our purpose is to help scientific teaching … to reach its highest possible level of efficiency.
Public and private school divide
One of the most bitter sectarian debates in Australian history came to a head in 1964. The Coalition government, led by Robert Menzies, introduced limited federal funding for both government and non-government schools.
Catholic schools, which had campaigned for government funding since it ceased in the late 1800s, hailed the funding as a victory for equality and common sense.
During the 1870s and 1880s a majority of Australian colonies had passed laws that effectively stopped public funds going to non-government schools. The move established a tradition of government funding going only to government schools. There was an expectation that only private funds should be used for what were mainly church-based independent schools.
The Catholic Church tried to restore government funding to its sector. But it was unsuccessful, apart from securing some minor states grants.
Catholic Church reacts
By the 1960s the situation in church schools was becoming desperate. Nearly a quarter of all students attended non-government schools, with 83 per cent of those at Catholic schools.
The number of baby-boomer children attending school into the secondary years had skyrocketed. Catholic schools, which relied on parish-raised funds, were suffering. They had old buildings, insufficient teacher numbers and overcrowded classrooms.
By 1962 the Catholic sector had had enough.
The New South Wales town of Goulburn became a hotspot of dissent after a strike closed the town's seven Catholic schools. The action resulted from a directive by the Southern Area Director of Education that one of the toilet blocks at St Brigid's Primary School needed an urgent upgrade in order to meet health and safety standards.
The parish could not afford the remediation work. After wide consultation with Catholic authorities, a decision was made to undertake a six-week closure of the town's Catholic schools.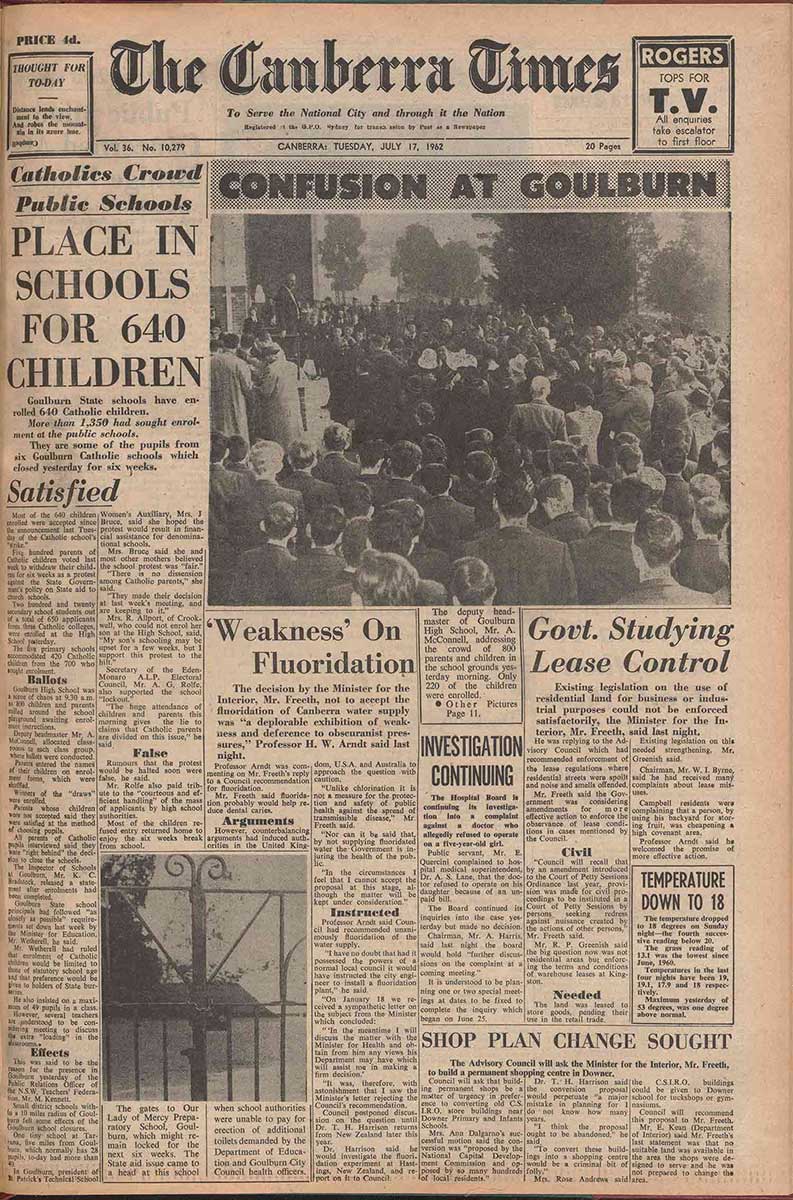 Goulburn strike
On 16 July 1962 about 2,000 Catholic children descended on the town's six government schools, which could only take 640 of them.
The schools did their best, welcoming the new arrivals, while the Catholic nuns escorted children to their new schools, handing out food and moral support.
The issue attracted national media attention and divided the town. As Moira Najdecki, Director of Catholic Education for the Archdiocese of Canberra and Goulburn, observed 50 years later:
The strike is still talked about and there are still differing opinions on it. But there is no doubt these schools were absolutely at the point of desperation, they had no money in the bank, were bursting at the seams … and made a pretty radical and unusual step to do something.
Government response
The Goulburn strike lasted only one of its planned six weeks, but its effects were long-lasting. It is generally viewed as the catalyst for federal funding to the independent schools sector.
Before these events both major parties opposed federal funding for non-government schools. Both had, however, occasionally used Section 96 of the Constitution, which stated that 'the Parliament may grant financial assistance to any State on such terms and conditions as the Parliament thinks fit', to extend their involvement in state education matters.
In his November 1963 election launch speech Prime Minister Robert Menzies placed a heavy emphasis on education. In the wake of the Australian Labor Party's 1955 split, with most of its Catholic support moving to the Democratic Labor Party, Menzies sensed an opportunity to shore up the Catholic vote by supporting its schools.
But he had other things in mind. The Cold War was raging, and the Russians had recently launched their landmark Sputnik satellite. Facing the prospect of Russian dominance in space, Western nations such as Australia and the United States had come to see science education as crucially important.
Accordingly, Menzies announced 10,000 Commonwealth scholarships for secondary students, regardless of the schools they attended. In his election policy launch on 12 November 1963 he announced:
There is a special need for improved science teaching in the secondary schools, if we are to keep in step with the march of science … We will make available £5 million per annum for the provision of building and equipment facilities for science teaching in secondary schools. The amount will be distributed on a school population basis, and will be available to all secondary schools, Government or independent, without discrimination.
Non-government school funding takes off
Menzies was re-elected in 1963 and moved quickly to pass the States Grants (Science Laboratories and Technical Training) Act 1964.
In 1968 grants for school libraries began, and operated in parallel with the science laboratory grants. And in 1969 funding per student was introduced, at first for non-government schools and then, from 1972, for public schools as well.
There would be no going back. Today both Coalition and Labor governments support funding of all school sectors, with federal funding for the independent sector now outstripping funding of public schools in many places.
The issue remains controversial, with various reports and funding models having been created in an effort to remedy perceived inequality.
References
Emma Macdonald, 'The genesis of state aid', The Canberra Times, 14 July 2012
Robert Menzies' 1963 election speech
Senate Inquiry into Commonwealth Funding for Schools, 11 August 2004
Craig Campbell and Helen Proctor, A History of Australian Schooling, Allen and Unwin, Crows Nest, 2014.
Andrew Hamilton, 'How schools funding became such a problem', Eureka Street, vol. 28, no. 11, 6 June 2018.
AW Martin, Robert Menzies: A Life, Volume 2: 1944–1978, Melbourne University Press, Carlton, 1999.
Updated: 28 September 2022
Return to

Top