The Chinese Youth League of Sydney is shown raising the Chinese national flag to mark the victory of the Chinese Communist Party in 1949. This was the first time the new five-star red flag was raised in Australia. Melbourne hosted the 1956 Olympic Games. John Wing is depicted here, about to mail his letter to the Melbourne Olympic organisers. Wing's letter requested that all athletes march together to demonstrate the need for peace and international unity through sport.

The relationship between Australia and China
Mao Zedong (Mao Tse-Tung), the leader of the Communist Party, announced the establishment of the People's Republic of China on 1 October 1949. Many Chinese associations around the world celebrated this victory by raising the new five-star, red Chinese flag.
The relationship between Australia and China was complicated by the intensifying Cold War, which pitted East against West, and communism against capitalism.
Closer to home, the Menzies government committed Australian troops, including a bomber squadron, transport aircraft and a team of army advisers, to Malaya (now Malaysia) to help quell a predominantly Chinese communist guerrilla offensive.
During April 1950, the Australian Peace Council held a congress in Melbourne. Arthur Locke Chang, representing the Chinese Seaman's Union, spoke to great effect of the need for peaceful international co-existence.
Chang continued his work for peace by attempting to improve Australia–China relations. He advocated diplomatic recognition of China by Australia and became a founding member of the Australia China Friendship Society.
Increasing world tension and unity in sport
The 1956 Melbourne Olympic Games were staged during a time of increasing world tension. The People's Republic of China withdrew from the Melbourne Olympics but the Taiwanese sent a delegation. The Hungarian Revolution against Russian domination had been crushed by the invasion of Russian and other Warsaw Pact forces on 14 November. Egypt declared the nationalisation of the Suez Canal in defiance of Great Britain and its allies.
In reaction to these events a 17-year-old apprentice carpenter from Melbourne, John Ian Wing, brought about a change in Olympic Games proceedings. He wrote to the Games organisers suggesting that during the closing ceremony, the athletes should walk, not in their national teams, but as a massed group, to show their common humanity and unity in sport. This idea was accepted by the organisers. To the surprise of the spectators and commentators at the closing ceremony, the 500 athletes walked around the track mingled together.
John Wing was honoured at the opening of the Australian Institute of Sport in 1986.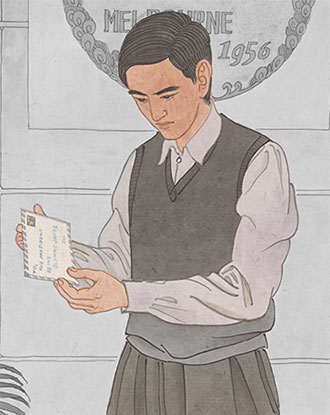 John Wing
Seventeen-year-old apprentice carpenter who suggested that all athletes at the 1956 Melbourne Olympic Games march together to demonstrate unity.
Return to

Top