We are no longer updating this page and it is not optimised for mobile devices.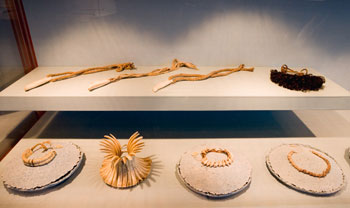 This section provides scholarly articles and other background information on Cook's voyages and the Cook-Forster Collection.
'Cook-Forster Collection: Pacific cultural heritage' by Brigitta Hauser-Schäublin and Gundolf Krüger offers an overview of the collection: the artefacts, the cultures encountered, the voyages and the story of how the Georg-August University in Göttingen came to house this amazing collection.
'Cook's voyages: Pacific encounters' by Michelle Hetherington is a detailed history of the three Pacific expeditions of James Cook (1768-1771, 1772-1775, 1776-1779/80).
'Collecting from the collectors: Pacific islanders and the spoils of Europe' by Jennifer Newall looks at the meeting of European and Pacific cultures arguing that 'the passion to acquire exotic objects was mutual'.
Cook timeline: 1728 to 1799 provides key dates. See the Australian Dictionary of Biography online for a comprehensive Cook biography.
Two 'zoomified' maps that enable a close examination of the Pacific islands visited on Cook's voyages and contemporary Pacific island trade routes.
Return to

Top