We are no longer updating this page and it is not optimised for mobile devices.
Privacy statement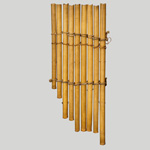 As a Commonwealth of Australia Government agency, the National Museum of Australia complies with the Privacy Act 1988 (Commonwealth of Australia). This statement outlines the Museum's practices in relation to collecting, using and disclosing information via its website.
Cookies and website traffic
The Museum uses technology called cookies to record information about your access to the website and to provide increased security. Cookies are small pieces of information that can be stored on your hard drive (persistent cookies) or in memory (session cookies). Cookies do not contain personal information and cannot be used to identify you.
The Museum also automatically collects general website traffic information (for example, number of visitors and what are the most visited pages) to assist us to provide a superior service. When you visit the website the Museum may make a record of your visit and record or log some or all of the information below for statistical purposes so as to evaluate the quality of the website's content and services.
No attempt will be made to identify individual users or their browsing activities except, in the unlikely event of an investigation, where a law enforcement agency may exercise a warrant to inspect the Museum's internet service provider's logs.
Collection of personal information from email
The Privacy Act 1988 (Cth) defines 'personal information' as information or an opinion (including information or an opinion forming part of a database), whether true or not, and whether recorded in a material form or not, about an individual whose identity is apparent, or can reasonably be ascertained, from the information or opinion. The National Museum of Australia will only record your email address if you send us a message. The address will be used only for the purpose for which you have provided. We will not use your email address for any other purpose and will not disclose it without your consent.
Disclosure of personal information
This website is a collaborative project between the National Museum of Australia and the Institute of Cultural and Social Anthropology, Georg-August University of Göttingen.
Any questions, comments, feedback or other correspondence received by the National Museum of Australia through the website may be forwarded to the University of Göttingen for information or response. The National Museum of Australia will not disclose your personal information to any other person or organisation unless you have given your consent or the Museum has advised you, at time the information is collected, that it is our usual practice to disclose the information.
The Museum may also disclose your personal information if it is required to do so by law.
Comments or concerns
For comments or concerns regarding privacy please contact the National Museum's Privacy Contact Officer, email privacy@nma.gov.au.
Return to

Top