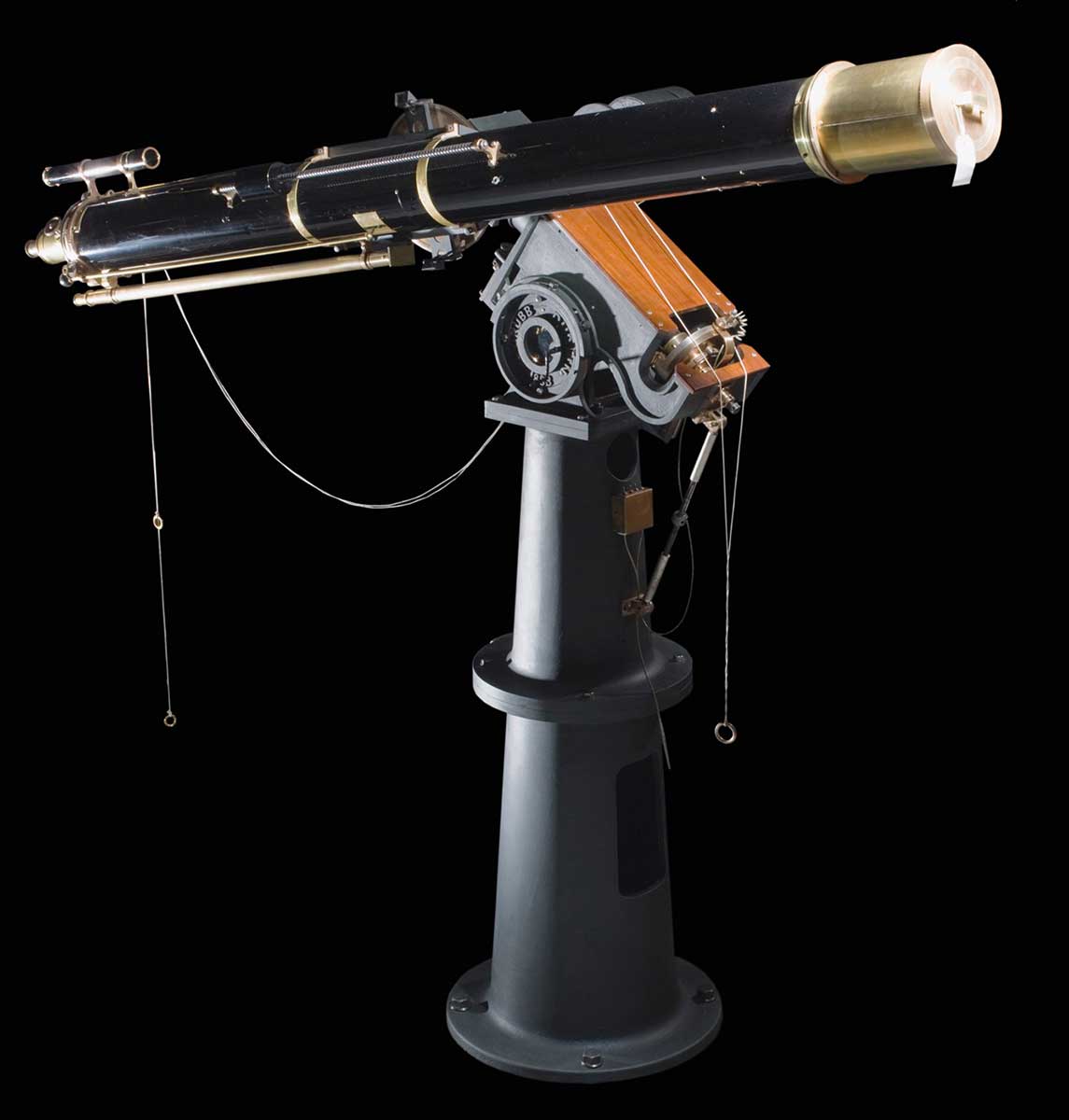 Amateur astronomer William John Macdonnell purchased this telescope from Thomas Grubb's Astronomical Instrument Works in Dublin, Ireland, in about 1885.
Macdonnell imported the telescope to Port Macquarie in New South Wales. There he installed it in a purpose-built observatory behind the Bank of New South Wales, where he worked as manager, and turned it to the heavens.
Macdonnell used the telescope in a range of observing programs, focusing on transit events, comets, sunspots, double stars and the features of the planets. He was forced to sell the instrument during the financial crisis of the 1890s.
The telescope then passed through the hands of a number of Australia's amateur astronomers.
The Sydney architect EH Beattie used it extensively from 1906, publishing many scientific papers based on his observations. By 1921, however, the telescope had been dismantled and placed in storage, where it remained for most of the next 85 years.
The Museum acquired the telescope in 2005 and has returned it to working condition, as it would have appeared in the late 19th century.
This telescope is a refracting type, using an objective (comprising two lenses) of around six inches (15 centimetres) diameter to form an image of the object under observation. It is equatorially mounted, meaning that its main axis is parallel to the Earth's axis of rotation. This enables it to be set to follow the stars as they appear to move across the sky.
Engineering innovation
In the 1880s this telescope was a cutting-edge scientific instrument incorporating innovative features such as the capacity to keep sidereal, or star, time as it tracked an object through the sky.
This meant that an astronomer could move the telescope to observe one star or planet after another without having to stop each time to complete time-consuming calculations locating the celestial bodies.
How to calculate sidereal time
1:16
The 'spirit of inquiry' in Port Macquarie
Curator and historian Roslyn Russell talks about the work of amateur scientists, including astronomer WJ Macdonnell, in the New South Wales coastal town of Port Macquarie.
1883 Grubb Refractor Telescope
1883 Grubb Refractor Telescope with associated parts and attachments. The telescope has a tapering cast iron base in two parts. The polar axis assembly is made from cast iron and brass, and comes with three separate disc weights. The declination access assembly is made from cast iron and steel and comes with a cylindrical weigh...
Return to

Top